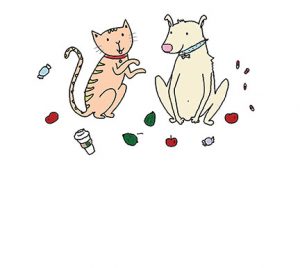 A look at the unexpected multitude of foods which can poison our pets
Sadie was only trying to find some extra food to munch on. But instead of finding yummy treats, she wandered into junior Mol­ly Nelson's mother's bathroom and found a bar of Dove soap.
Soon after, Sadie's stom­ach got upset. After finding a half-gnawed bar of soap in the backyard, Nelson's family knew their dog had been poisoned.
There are many products, human foods and plants that can cause pets to have diges­tive problems, kidney failure, liver failure and even death. Each year, the American Soci­ety for the Prevention of Cruel­ty to Animals handles around 180,000 cases. On average, they get 750 phone calls each day regarding questions about poi­soned pets.
According to the ASPCA website, onions, garlic, avocado, chocolate, coffee and salt are harmful human foods for pets.
World Languages Chair Lisa Camp's dog, Pearl, was poisoned when he ate peanut butter.
"She went down very quickly in a matter of one day," Camp said. "We spent a fortune at the emergency ani­mal hospital keeping her alive through the night."
Although most dogs can tolerate peanut butter, it can sometimes be too fatty for dogs to digest.
Chocolate is a food most owners know is dangerous for their pets. Certified Veterinary Technician Jessica Driscoll works at Pet Poison Helpline. Regarding which toxin she en­counters the most, she said, "al­though several foods can cause serious poisonings, we see a high volume of cases involving dogs ingesting chocolate."
One such case happened to junior Staci Shelby's aunt's dog. She was poisoned a couple of months ago after eating three chocolate bars out of a pantry.
"Besides throwing up on the carpet and my aunt having to clean it up, my aunt had to pay $150 to get the dog's stom­ach pumped," Shelby said.
But foods aren't the only thing that can poison pets. Chrysanthemums, tulips, lilies and azaleas are among some of the plants that are poisonous to pets. When treating a sick pet it is important to know that hu­man drugs such as ibuprofen are poisonous even in a mini­mal dose. Ibuprofen is the most com­mon human drug to poison dogs. Signs include swol­len mouth, vomit­ing and lack of eating. Cats are especially attracted to the ADHD drug Adderall, accord­ing to ScienceNews.
Cleaning supplies can also cause problems for pets if consumed, like Nelson's soap-ingesting dog. The ASPA and Pet Poison Helpline recommend keeping cleaning supplies in cabinets or in separate rooms that pets cannot access.
In all, it is better to avoid feeding pets any human food. Dog owner and Upper School Spanish teacher Susan Bondy, who owns a Coton de Tuléar, advises that even giving pets small scraps of food can be dangerous.
"Our breed of dog is very susceptible to pancreatitis and by feeding her too many table scraps, we overloaded her sys­tem with too much fat and made her extremely sick," she said.
It is impor­tant to remember that be­cause of their size, pets are un­able to consume and process the same amounts of foods and liquids as humans can.
There is no concrete way to tell if your pet has been poi­soned and "signs/symptoms will vary depending both on which toxin the pet was ex­posed to and on the amount of the toxin," Driscoll said. How­ever, she advised that it is bet­ter to be safe than sorry and to contact a veterinarian or pet poison control center immedi­ately if a pet is acting unusual.
If at all possible, it is im­portant to bring a sample of what the pet consumed because the faster the vet­erinarian knows what hap­pened, the faster they can determine and execute the necessary steps for the pet's care.
Driscoll recommended "pet-proofing" the house and said, "When it comes to caring for your pet, prevention is the best medicine."
Poison Control Number:
(888)-426-4435
– Charlsea Lamb