Hiring of Independent College Consultants Increases
School counselors and students reflect on why college applicants are looking toward independent counselors for guidance
As the competition for ad­mission to top universi­ties has increased over the past years, so has the number of students hiring inde­pendent college consultants.
A recent Huffington Post article noted that in 2013, 26 percent of college applicants— three times more than in 2003—hired an independent college consultant. Hockaday is just on par: a January survey revealed that 24 percent of the Class of 2014 hired one.
Deciding to Hire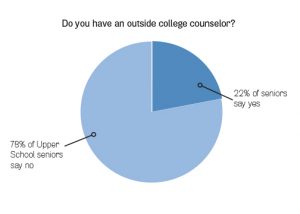 Senior Mary Margaret Hancock is one of the students who hired an inde­pendent college con­sultant, whose name remains undisclosed, at the beginning of last summer.
After her initial consultation, Han­cock met with him only one more time at the beginning of senior year. At this second meeting, they discussed her col­lege list that she had formulated with Hockaday's Associate College Counseling Director Courtney Skerritt. He advised that she should try to add some harder schools to her list. "There were initially no Ivies on my list, but he en­couraged me to go for UPenn," she said.
The rest of her interac­tion with the independent consultant occurred via email, sending essays back and forth. Hancock felt like her consul­tant was critical. "He thought it needed more direction. I ended up revising it seven more times with him before I sent it off to UPenn," she said.
For Hancock, her indepen­dent college consultant offered a different perspective of her essays. But Director of College Counseling Carol Wasden not­ed that she and her colleagues, Associate Directors of College Counseling Elizabeth Jones and Skerritt, often exchange advice. "So for students who simply want another perspec­tive, that's very easy to get," Wasden said.
Senior Connie Deng also communicated with her in­dependent college consul­tant, who is based in Atlan­ta, through technology. She Skyped with him about twice a week to review essays.
As an international stu­dent, Deng wanted someone who was more of an expert in that field. "For international students, the admissions pro­cess is way different than the process for domestic students," she said. In Decem­ber, she was not ad­mitted Early Decision to her first-choice school, although she was accepted Early Action to a couple other universities.
Hancock was ac­cepted Early Decision by the University of Pennsylvania in De­cember, and she does believe hiring an inde­pendent college con­sultant benefited her. "I think it definitely increased my chances of getting in," she said.
Choosing Not to Hire
Senior Emily Marucci was also accepted Early Decision by the University of Pennsylvania in December. However, she de­cided not to hire an indepen­dent college consultant.
"I wasn't really sure how much they could help me," she said. But Marucci has a personal connection with her counselor, Skerritt. Skerritt has sponsored Marucci's club Ca­reer Mentoring Board since her sophomore year. "By the time I was assigned, I knew her pretty well, and I think."
At the beginning of her own college application pro­cess, senior Shreya Ahuja met with several college consul­tants for an initial consultation but ultimately decided not to hire a consultant at all.
One reason Ahuja and Marucci chose this option was that they wanted to do things on their own schedules. In ad­dition, financial costs were a major reason. "They're ex­tremely expensive," Ahuja said. "I wasn't sure that the benefits would outweigh the costs."
Outside college consul­tants typically charge $150 per hour, according to The Huff­ington Post. This means that, on average, families will spend approximately $3,000 total. Deng said that, like most in­ternational students, she paid more than $10,000 up front for unlimited sessions.
This is no small amount of money, and Hockaday's Col­lege Counseling Department is aware of these high costs. "I just hate to think of a family spend­ing a great deal of money on someone who may give them bad advice," Wasden said.
But the ultimate reason Ahuja did not hire an indepen­dent college consultant is that she wanted the work she did to be her own.
"I don't really buy into the idea that I should tailor my application into something that the college wants or likes, because in the end, whoever I am needs to be revealed through that application, and the only way that can be true is if I have full control of that process," she said, adding, "I felt like I could do a good enough job that I would feel comfortable sending in my own applications."
Ahuja was denied admis­sion to Stanford University Re­strictive Early Action, but she does not regret her decision to not hire an independent con­sultant. "For me, I like the idea of just having the integrity of my application being my entire style and thought and reflect­ing who I am."
She did take some advice from her initial consultations, though, such as contacting some of her colleges to show she was interested. "They gave me enough pointers so I could get started, but I didn't think they could help me that much after that," she said.
Ahuja's parents and a few of her friends did read her essays, although she did not really use Wasden, her Hock­aday college counselor, as much for them. By contrast, Marucci emailed and met with Skerritt numerous times to refine hers.
Necessary or Not
Deng did not think her Hockaday counselor, Jones, would have enough time to spend with her. "It's not that they don't do good work, it's just that they have so many they might spread themselves thin," Deng said.
But Wasden believes that she and her colleagues are ca­pable of guiding students well through the admissions pro­cess. "Do I think that there's a need for any single Hockaday students who needs help? I do not," she said, adding that Hockaday has one of the low­est counselor-to-student ratios in the country. According to a 2010-2011 report by the Ameri­can School Counselor Asso­ciation, the national average is 1:471. This year, Hockaday's ratio is 1:40.
Marucci thought that Skerritt guided her well through the admissions pro­cess. "Hockaday college coun­selors do a really great job helping you sort through your colleges, narrow down your top choices and give you all the information that you need in order to make an informed de­cision," she said.
Wasden does understand why a family might hire an independent college consul­tant. "If I had a student who attended a high school that did not have dedicated college counseling or did not have a counselor who was capable of guiding my child, I would look for some help," Wasden said. "With that said, Hockaday is not that place. To you all, we're just sort of normal. But within the profession, we're nationally known."
Wasden's multitude of cre­dentials include being Presi­dent-Elect of Texas Association for College Admission Coun­seling, evaluating applications for Boston University and Mas­sachusetts Institute of Tech­nology and running the Texas Association for College Admis­sion Counseling conference for three consecutive years to train high school counselors.
"We feel pretty confident that we have a good skill set to give you guys good guidance," she said. "For someone to say 'I need to hire another perspec­tive' seems kind of silly to me."
Marucci did not seek nu­merous perspectives, only showing her essays to Sker­ritt and her parents. "I think that having too many opinions makes it complicated to figure out which direction you should be going in," she said.
The College Counseling Department has surveyed stu­dents in the past asking why they hired independent consul­tants. Some responses included hiring because their older sib­lings had one or they knew one with a good reputation. One question asked students if they felt their needs were not being met in the office. "The answer was absolutely not," Wasden said. "So I don't know if it might be akin to hiring an academic tutor, just like we have excel­lent teachers here."
Hockaday's college coun­selors can call colleges, advo­cate for students and write letters of recommendation for their students. "Independent college consultants can't do that," Wasden said. She hopes that Hockaday families will truly consider their reasons for hiring an independent college consultant. "What can an inde­pendent counselor do for them that we can not?" she asked.
Wasden noted the irony in the subject. "It's funny, to me, a little bit, because I don't think students here realize how often people who don't attend Hocka­day call us and try to hire us." Un­like those at some other schools, Hockaday college counselors do not accept these offers, instead choosing to invest their time and energy into their students.
Taking Caution
No credentials or expe­rience is required to go into business as an independent college consultant.
"There are people who've never made a decision on a file, seen an application or worked in admissions, and they're guiding people on the admissions process based on stuff they've made up in their own heads," Wasden said. "So, that worries me also—that you might be receiving advice from people who frankly don't have good advice to give."
Wasden fears students might hire the wrong kind of outside college consultant.
"Frankly, a lot of these folks might be somebody who was fortunate enough to be ad­mitted to an Ivy League insti­tution, and based on that, they start a business. And people think, 'Oh my gosh, he went to Harvard, he must be prepared to tell me about an entire in­dustry,' and that worries me a little bit," she said. "I can't perform surgery just because I went to a university with a medical school."
With the growing competi­tion, parents often want to do as much as possible for their daughters to maximize their chances of acceptance, and one way of doing so is hiring an in­dependent college consultant. "I think it gives you a sense of security," Hancock said.
That was the initial reason Ahuja sought after an indepen­dent college consultant. "I was like, 'if I don't get in, I want to think to myself that I did every­thing I could.'"
Wasden believes this need for self-assurance drives these thoughts. "A lot of that is driven by fear," Wasden said, "But we have data. And our data shows that students who don't work with anyone but us do beauti­fully in the process."
– Tiffany Le