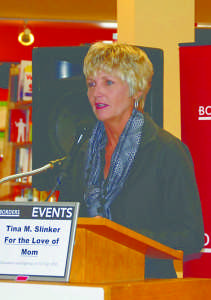 Loss and leadership have been two major aspects of Director of Athletics Tina Slinker's life. Through motivational speaking and writing, Slinker has used these two pivotal aspects of her life to inspire and help others outside Hockaday's athletic buildings.
Slinker spoke on Feb. 1 at That a Girl and Friends Speakers Agency's Wonder Woman conference series, which brings together a wide range of speakers to share their experi­ences to a variety of audiences from small groups to fortune 500 compa­nies.
The Wonder Woman series is mainly focused on sharing the pow­er of the individual woman and the importance of faith and maintain­ing a relationship with God. During the series, Slinker recounted her ex­periences from the loss of her moth­er and father in order to help others.
"We all need to go through hard times because it is how you respond that matters," she said.
While speaking during the con­ference, which was held at the Gos­pel For Asia headquarters in Car­rollton and was simulcast for free online to a larger audience of all ages, Slinker emphasized three cen­tral points: not being afraid to feel, developing a passion and not allow­ing the world around us determine our worth.
To open her talk, Slinker en­gaged with the audience using a se­ries of questions— questions that highlighted the similarities be­tween people and pushed the audi­ence to evaluate different aspects of their lives she said. "When life is hard and things seem unfair, what is it that gets you up in the morning?" she asked her audience.
Throughout her speech Slinker also wove in experiences from her current position as the Hockaday Varsity Basketball coach by using references to athletics, underscoring the importance of focusing on living in the moment.
"If we win the game, if I make varsity, if I score the winning goal— well what if you don't. What we re­ally have in our control is the day to day—effort, interaction, and build­ing of friendships and ourselves," Slinker said.
Slinker looked back on her past speaking and life experiences to pre­pare for her speech.
Slinker first started speaking as a college basketball coach at the University of North Texas from 1989-2008 and has continued over the years.
In 2009 Slinker wrote a book re­garding the loss of her mother titled "For the Love of Mom: For Everyone Who Suffers Loss." She wrote about her experiences learning to manage loss and finding ways "to make my
life a 'better different or a different better,' a new way to celebrate and take my mom with me going for­ward," Slinker said.
During the time that Slinker lost her mother and her father, she also lost her job and her house. She even badly injured her leg.
Nearly five years after the re­lease of her book, on Dec. 6, Slinker also spoke at the Winspear Opera House in downtown Dallas for the TEDxTurtleCreekWomen event. TEDx is a program owned by the private non-profit Sapling Founda­tion whose goal is to share ideas and stimulate conversation. The main points she underscored in her pre­sentation were similar to the points she made during her Feb. 1 talk. She highlighted the importance of the willingness to be vulnerable.
According to Slinker, one of the most difficult parts of speaking at TEDx was the 12-minute time slot and the fact that the talk was live. "It is the speech of a lifetime be­cause it is live," she said. "I wanted to leave people with a couple of things and with a message that touched their hearts."
Slinker hopes to continue speaking in the future. "TEDx was like a dream for me and all you can do is put out your dream and do what you can to make it happen and then when it does to enjoy it," Slinker said.
– Alaina Rodriguez