Council Takes the Initiative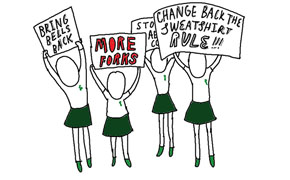 Upper School Student Council holds discussions as a part of the Whole Girl Initiative
The Whole Girl Initiative, instigated by the Upper School Student Coun­cil, promotes the idea of students having a healthier lifestyle at Hockaday and in their personal lives.
Upper School advisories di­vided into pairs to participate in the Whole Girl Initiative discus­sions during conference on Jan. 21. The Council prepared three questions in advance to spark discussion among students about the causes of stress at Hockaday and how to alleviate it.
"We wanted students to take it in whatever direction they wanted to see what those main causes of stress were," se­nior Meredith Mihalopoulos, Student Council President, said.
The first part of the initia­tive was the completion of the High School Survey of Student Engagement that students took last spring. Questions regard­ing students' lives at Hockaday provided statistics for Student Council.
The discussion was meant to incite more anecdotal thoughts than factual ones. "We wanted to hear more of personal experiences from the students," Mihalopoulos said.
Upper School advisors re­corded the results of the dis­cussion and relayed them to Student Council. On Feb. 5, the Council split into subcommit­tees to analyze trends between the discussions to try and cre­ate a less stressful environ­ment at Hockaday.
"We might want to learn about more specific details like 'What are different factors that play into it?'," Mihalopoulos said, "And then we would want to look into getting more evidence and collecting more data."
One of the main points talk­ed about during Upper School Math Teacher Karen Sanchez's advisory's discussion was the issue of teachers being strict about the three-test rule; if a student has three major assess­ments scheduled on the same day, the rule states that they are allowed to reschedule one.
Head of Upper School John Ashton said that test calendars similar to those implemented in the Middle School curricu­lum have been considered at the faculty level to help man­age with scheduling assess­ments on the same day.
"If you have a significant schedule issue, you need to be comfortable with your teachers and talk with them," he said.
Mihalopoulos hopes that in the future, Hockaday girls will not only be able to achieve a sense of balance but also be able to defeat the perfectionist mindset at Hockaday.
"I think that Hockaday can continue to do a better job of encouraging students to pur­sue their interests no matter what they are, and that they re­ally don't have to 'have it all'," Mihalopoulos said.
Ashton said that a critical part of Upper School at Hocka­day is empowering girls to live meaningful lives.
"I want you girls to feel like you're driving this car, not the ones being driven," he said. "I want to see you girls living a life that is meaningful to you, as de­fined by you."
– Erin Thomas