Seniors Take a Bite Out of Apple Laptops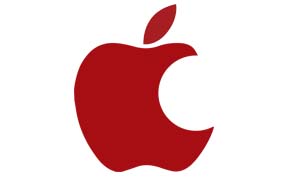 More and more seniors are exchanging their Toshibas for MacBooks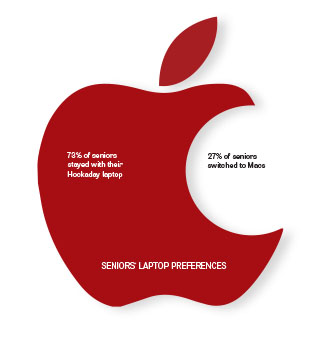 When walking down the senior hall­way, you no longer see a homogenous line of gray Toshiba laptops perched on girls' laps. Now, your eyes are met with com­puters not seen much on cam­pus before. Many seniors are switching to Apple and filling the halls with Macs.
With a wireless internet connection that all laptops on campus can access, Guestnet, over one-fourth of the senior class is no longer using their school-provided laptops.
Before this year, only Hockaday students, teachers and approved guests had access to the internet at Hockaday. The few students who did bring their other laptops to school were not able to connect to the Hockadaisies wire­less. The availability of Guestnet now elimi­nates that concern.
"Guestnet was made available in re­sponse to feedback that I received from campus visitors who were un­able to access the internet without contacting tech for a unique password," Director of Technology and Informa­tion Resources Jason Curtis said. "I felt it would be benefi­cial to all visitors to have this access with no extra setup."
Many seniors who will soon be purchasing new lap­tops for their first year of col­lege found it easier just to make the switch now instead of buying the new Lenovo laptops Hockaday currently has stu­dents buy. "I knew I would be switch­ing over to a Mac for college so I wanted a year to get used to it," senior Marisa Salatino said.
Senior Payton Scott, who switched to a Mac this year, said she uses her Mac laptop for all of her school work and is able to use just as many programs on her Mac as she was on her old Toshiba. "It doesn't crash at all, unlike my Toshiba," she said. Her laptop, just a year old, has never had to be taken into the Apple Genius Bar, where­as her Toshiba was frequently taken up to the Com­puter Resource Center (CRC).
The 13- inch MacBook Pro starts at $1,199 and the Toshibas started at $2,000 with downloaded software. The new Lenovo ThinkPads (to which Ho c k a d a y switched last year) cost $1,950 per student.
Scott said one of the biggest ad­vantages to the Mac is the battery life. A new Mac's battery life is 10 hours while a new Toshiba's battery lasts about three and a half hours. "It's really nice that I don't have to have my Toshiba plugged into the wall all the time," she said.
Senior Paige Goodman, who opted to stick with her Hockaday computer, said that she didn't find it necessary to buy a new laptop just yet.
"I just don't see the need to buy it now because my Toshiba is working relatively fine and if something does go wrong with my laptop during school, then I can go to tech," she said. "But if I have a non-school sup­ported laptop, then I'm on my own." Apple computer war­ranties are one year, while the Hockaday laptops have a four year warranty during which students can take their com­puters to the CRC.
According to Lowry, Hocka­day is trying to transition away from a Hockaday server based information system to a Sky­drive. "We're moving towards what they call a cloud environ­ment," he said. "Your access will be on the internet, not the Hockaday server, so you can ac­cess it anywhere."
The move away from a centralized Hockaday server will also eliminate the pro­cess of synchronization. All of Hockaday's data will be stored on the Skydrive.
The downside to not using the Hockaday Toshiba com­puters, however, is the lack of access to campus printers and other services.
Curtis said the Guestnet is much more restricted than Hockadaisies. There are more blocked websites and services, and there is no access to the Hockaday internal network and printers. "This is to ensure that visitors do not use up all of our network resources by engaging in intensive bandwidth, such as streaming media," he said.
Scott said that she often logs into the computers in the ARC to print her files or email documents to friends.
Another drawback is that the Macs don't have the One­Note program that many teach­ers use to teach, Salatino said. She cannot view her math notes or answer keys her teach­er posts. But other programs such as Adobe Photoshop, Ado­be Reader and Smart Notebook are all on the Macs.
The Guestnet's avail­ability for everyone now has made Hockaday's laptop pol­icy a lot more lenient. Stu­dents, teachers and guests finally have Curtis to thank for this flexibility.
– Anisha Anand