Study Grants Further Faculty Education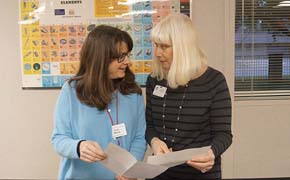 Bundled up in her blue scarf—the weather was unusually frigid for June—Upper School English teacher Dr. Katherine Downey meandered through the packed sidewalks, walking past the farmer's market filled with cheese mongers and fishmongers, inhaling the scent of baking ba­guettes wafting down the street and listening to the whispered conver­sations between the French natives. Her mile-long walk took her not to a tourist destination but to the Amer­ican University in Paris. Hockaday was sponsoring this trip to France so that the English teacher could con­tinue learning French.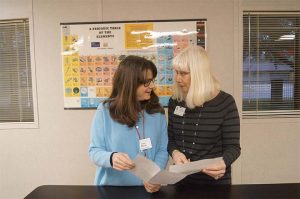 Last June Downey participated in a three-week-long language im­mersion program at the American University in Paris. Her studies and travels were made possible by the Prentiss Grant, which Hockaday of­fers to its faculty every year.
"The experience of living some­where else was amazing," Downey said. "I was able to learn about something that does not necessarily relate directly to my field of work because I'm an En­glish teacher, which was exciting."
To honor the teaching that their daughters, Paige '92 and Kennedy '99, received at Hockaday, Michael and Pa­tricia Prentiss established the Prentiss  Grant in 1999.
"Every year two teachers re­ceive Prentiss Grants," said Cathy Murphree, Pro­vost and Assistant Head of School for Academic Affairs. "That fund pro­vides more fund­ing than a normal study grant would, and it lets people do some pretty cool things."
The Prentiss Grant is only given to two or three teachers each year.
Faculty can also apply for general study grants which are independent from the Prentiss Grant. The three main grant categories are academic, curriculum and travel study grants, though there are many others that Hockaday offers.
Faculty members apply for a general study grant by submitting an application to the study grant committee, outlining the program that he or she would like to study and how it would support their con­tributions to Hockaday. Virtually all proposals for general study grants are accepted. For the 2012-2013 school year, there were a total of 46 grants awarded, and approximately half were summer grants.
"It seems to be getting more popular as word gets out, which is great because that's what we want," Murphree said.
Study grants can range from a few hundred dollars to a few thou­sand, depending on the programs that faculty apply for. The funding for academic study grants comes from the Professional Development Fund and the Ela Hockaday Fund, which are supported by contribu­tions to the school.
"Study grants allow teachers to specialize in current fields and get more academic preparation or ex­plore new fields," Murphree said.
From Teacher to Student
At 6:35 every Monday night, Up­per School history teacher Lucio Ben­edetto packs up his silver MacBook Pro Laptop, tosses a few books into his bag and drives to the Universi­ty of Texas at Dallas. He strolls into a classroom, but instead of taking a seat behind the professor's desk, he takes a seat as a student. Benedetto sheds the role of a teacher and be­comes a pupil.
"It's interesting that I get to teach the girls during the day and then turn around and be taught by a pro­fessor at night," Benedetto said.
Currently working toward his Ph.D. in Humanities Studies and Lit­erature, Benedetto attends classes ev­ery Monday night from 7 to 9, and the Hockaday study grant provides some of the funding to help him do that.
Benedetto said that his studies have helped him relate to his students. "It's fun sort of being in a classroom and being on the other side of the table," he said. "You get to feel what your students are feeling."
But Benedetto is not the only teacher who is also a stu­dent. Upper School science teacher Kirsten Lindsay-Hu­dak is using her study grants to help further her education and acquire a Master's Degree of Science in Biology through an online degree program from Mississippi State University. She said that returning to school re­minded her of what it was like to be a student.
"I think just the simple act of being a student makes you a better teacher because you're walking in the same shoes," Lindsay said.
Time Management
With manila folders full of Hockaday papers stacked up next to his computer, another heap of papers for his research piled on his desk and books for his literature course inter­spersed throughout his office and living room, Benedetto ad­mitted it can be hard to balance both work life and student life.
"It can be hard to do both, but it makes me more disci­plined since I tend to be more of a procrastinator," Benedetto said.
Lindsay agreed that it is difficult to juggle student life, work life and personal life. As Lindsay tried to write a major paper for her online course, her three-and-a-half-year-old daughter, Olivia, tugged on her arm and repeated "Mommy, Mommy," distracting Lindsay from her research—not to men­tion the school work she needed to grade if she hadn't already done so.
"I, of course, want to spend as much time with my family, but it's hard to be a student in school, work a full time job and have a family to take care of," Lindsay said. "It's a lot easier when learning is your full time job, and you're not learn­ing and teaching."
However, Lindsay said that this experi­ence has helped her manage her time bet­ter. "It helps you figure out where you want to spend your time," she said. "You figure out those things that you did before that may have not been necessary. Time becomes a much more precious com­modity that it was before."
Improving the Classroom
Anatomy students, acting as doctors, dipped the thin test strips into the yellow solution, waiting to see if the tips turned pink, indicating which women were "pregnant" since the strips model how a real doctor would identify pregnancies or risks in pregnancies. This lab that the students conducted last October stemmed from Lindsay's own courses.
Junior Lilli Boren, one of the anatomy students perform­ing the experiments, said that "it was really cool to see how pregnancy tests worked, so I'm glad we did it. I think it's great Mrs. Lindsay goes to school, too, because if the teachers are bet­ter educated, I'll be better educated, too."
Lindsay was able to incorporate her knowledge into all of her classes, not just her anatomy classes.
"It's actually very exciting. I've used a lot of what I've learned in my class­es," she said. "I've been able to update labs, I've been able to update the informa­tion in general but I've also been able to add in labs."
Benedetto said that his studies have also posi­tively impacted his teaching. He has been able to provide tips and advice to his students through his own experiences.
"I teach APUSH, and the girls [were] working on their ju­nior research papers, and I tell them that I myself have at least two to three 'JRPS' that I'm writ­ing that are 10 to 20 pages long depending on the class," he said. "I can share little tricks to writ­ing research papers I've learned and aid them."
Not only Upper School teachers take advantage of the grants offered by Hockaday. Lower School science teacher Amy Banks, who is currently using a study grant to help her achieve her goal of earning her Master's Degree in Education in Curriculum and Instruction with a concentration in STEM, said that the first study grant she received allowed to her take a course that helped her remember the material she would be teaching.
"It was a huge content re­fresher for me," Banks said. "It wasn't necessarily that I didn't know the information, I just felt more comfortable and confi­dent in the material afterwards. I think it's very hard to teach something you're not solid in."
Though her studies have helped her immediately inside the classroom, Banks said that they have also helped her de­velop a completely new curric­ulum. "One of the things that it's led me to already is that I've proposed and will be teaching a new course in the fourth grade next year," she said. The new class is called "Invent to Learn," which is an interdisciplinary course that incorporates sci­ence, technology, engineering, aesthetics and mathematics.
"The class is going to be a sort of a tinkering maker. It's sort of 'I have a problem, what am I going to do to solve it?'" Banks said. "I'm excited about it, and I think my third graders are re­ally enthusiastic. It all probably came out from the study grant."
In the last five years alone, Hockaday has funded a total of 191 study grants, allowing fac­ulty members to improve them­selves and their students. Over the course of the last two years, Hockaday has funded advanced degree programs for 16 teachers and staff members each year.
Thirty-five teachers have re­ceived the Prentiss Grant to date. The Prentiss Grant rotates each year between Lower, Middle and Upper school teachers. This year, it was offered to Middle School teachers, who applied in Janu­ary. Middle School science teach­ers Patti Black and Olga O'Reilly were announced as recipients of this award in February.
Black will spend eight days in Alaska's wilderness with other expert photographers as a part of Alaska's Inside Passage Photo Expedition. O'Reilly will utilize her Prentiss Grant to travel to Scandinavia to explore geographical formations.
"I think that study grants are an amazing resource for teachers to have available. It's one of the great pleasures and benefits of working at a place that fosters the idea that we are life-long learners," Benedetto said. "It's a great, great thing that Hockaday helps you out with. It just gives you the incentive to say, 'Why not?'"
"Why not?" is exactly what Downey said to herself before she applied for the Prentiss Grant. Except now, with her improved knowledge in the French language, she can say, "Pourquoi pas?"
– Courtney Le