Middle Schoolers Paddle Their Way to Victory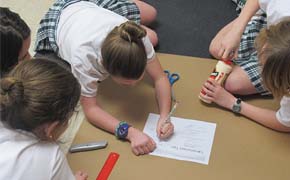 A new Middle School canoe-making elective provides students with fun, interactive and unique opportunities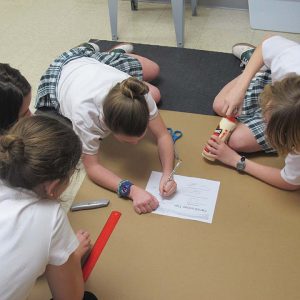 The newest Middle School science elective, Boat Making, entered its second year at the start of the spring semester. Headed by seventh grade sci­ence teacher Peggy Cagle, the program incorporates engi­neering skills and competition to build a fast, impermeable, cardboard canoe.
Last May, Middle School students climbed into their cardboard, duct-taped canoes in teams of two, not knowing whether or not their boat was going to float or sink, ready to paddle across the Hockaday Residence Pool, the culminating last challenge of their semester-long boat-making elective.
"We just sat in it and had oars, so we tried to row our selves through. It worked a little bit, but by the end all the boats were half collapsed," said eighth grader Mira Mehta who was one of the guinea pigs of the pilot course.
Many students will be paddling again this year.
"I think a lot of [the stu­dents] from last year are going to try to do the elective again this year and improve on their boat design," Cagle said. "It was exciting and fun, and I'm look­ing forward to doing it again this year."
Not all students made it to the finish line. "Most of them made it down one length of the pool, but only one boat made it down and back," Cagle said.
Cagle drew her inspira­tion from a freshman college engineering assignment that required her to build and race cardboard boats against other schools and other engineers.
The elective, however, is geared to Middle School­ers. The task is to construct a cardboard, duct tape and waterproof canoe big enough for two people and buoyant enough so students can paddle down and back the length of the residence pool. The use of cardboard added to the chal­lenge because the girls needed to figure out a way to prevent the material from becoming saturated with water.
"The challenge was mak­ing the boat and trying to fig­ure out a way for it to stay afloat because we were going to be in it," Mehta said. "We didn't want it to sink and get wet."
Different from other elec­tives, students did not receive a lot of instruction on how to build their boats, except for a few classes spent researching different boat models.
"I didn't want to make this a class where they had to sit down and listen to me talk," Cagle said. "You get to use your hands, you get to be active and you get to be a part of a team."
The course required a more hands on learning en­vironment than a traditional classroom setup. "We didn't really learn the science be­hind it," Mehta said. "It was more designing our boats and seeing whether or not it would work."
Mehta was the only girl from her grade to participate in the course last year. "It was hard to work together with girls that I had never spoken to before, but when we did, it was a lot of fun," Mehta said.
The elective requires teams of students to collabo­rate on ideas, research differ­ent boat models and problem solve to achieve their goals.
"I think it's fabulously fun, and if you look at the educa­tional part of it, it has engi­neering, creativity, problem solving—everything we want you all to apply to everything you're learning," Head of Mid­dle School Linda Kramer said.
During the canoe races, the students exercised their problem-solving skills by re­acting to the changing condi­tions of their canoes. "They were thinking on the spot; if the boat was beginning to sink, they were thinking of ways to adjust," Kramer said. "That's one thing that I re­ally loved because it required quick thinking."
In the future, Cagle would like to collaborate with more experienced students. "It would be nice to have some Upper School mentors for our teams," she said.
Since physics is a required Upper School science course, "they can probably learn from the Upper Schoolers' experi­ence in that way," Cagle said.
– Claire Fletcher