The Skype is the Limit
Hockaday third graders Skype with schools around the world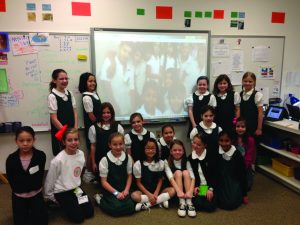 Your memories of Hocka­day Lower School are probably filled with dig­ging for clay in the sand­box, playing mission impos­sible in P.E. and wearing green jumpers. However, the new generation of Lower Schoolers will remember more worldly experiences from their young­est years. That's because they are Skyping with people from around the world.
This year, Lower School teacher Karen Roberts intro­duced Mystery Skyping, a pro­gram that connects students from around the world via webchat. Hockadaisies connect with another elementary school class in a location unknown to the daisies, and the students ask each other geography-type questions to locate each other on a map.
Thus far, the program has proven to be both fun and edu­cational. Third grader Jocelyn Beard said, "It doesn't even feel like I'm learning, and then I re­alize how much I've learned at the end."
Roberts discovered the program through Twitter and from her professional learn­ing network with other teach­ers, and she introduced it to her social studies classes since the students are currently learning about geography. The program involves schools not only in the U.S. but also in countries such as France, Hungary and Sri Lanka.
During their Social Studies class periods, the third-grade class Skypes weekly, and the video sessions usually last 20-40 minutes. During each session, every student has a specific task assigned to her as the class be­gins to guess the location of the students on the other end of the webcam. The positions include mappers, inquirers, runners, a photographer, a blogger and even a student who live-tweets what is going on.
"My favorite job, I have to say, is runners and inquirers. I've been both, and an inquirer is the person that asks ques­tions, but the runners are more important than the inquirers because they go from the geog­raphers to the inquirers and tell them what questions to ask [the other class]," said third grader Annie Hurley.
Once the classes figure out each other's location, the girls enjoy discussing the similari­ties and differences in their schools and communities. An­other one of Roberts' students, Ella Weathersby, said her fa­vorite thing about the program is "seeing how the two classes are different. They ask ques­tions like 'do you see rattle­snakes everyday?' so it's fun to hear the stereotypes."
So far, the third-grade class has had the opportunity to chat with students from schools in Hawaii, Canada and even an international school in Venezuela. Skyping across different time zones requires the teachers from both class­es to coordinate the meeting times. This can be difficult but has proven to be a fun experi­ence for the girls.
Beard has enjoyed the expe­rience. "There's this one school that we mystery skyped, I think New York City, and they had a playground on the roof," she said.
Hurley also found that the experience improved her geog­raphy skills. "We have this huge geography test that's coming soon," she said, "so I think it's go­ing to work."
Roberts plans to continue with the program in future years due to its popularity among students and its success in teaching the girls about geog­raphy. "As long as I'm still teach­ing Social Studies, I'll keep do­ing it because the girls love it," she said. "It's lots of fun."
– Manisha Ratakonda