International Assembly Videos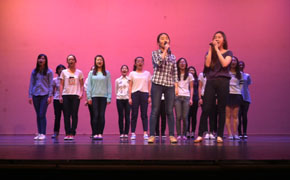 The International Assembly today during conference period showcased the Hockaday Upper School's diversity in its talents.
The program included a traditional Indian and Bollywood dance, a French song from the movie The Hunchback of Notre Dame, a Chinese peacock dance, a Swedish song, a remixed traditional and modern Mexican dance, the song "Let it Go" from the movie Frozen, sung in Chinese, a Japanese dance and a Korean dance.
Senior Anita Wang and junior Anesu Nyatanga were the emcees for the event, riding in on a scooter and a skateboard, respectively, to begin the show. In between their commentary, the audience showed their enjoyment of their peers' performances with loud cheers and clapping.
To see two of the performances, see the videos below.
Japanese Dance
Performers: Seniors Lindsey Okada, Mimi Li and juniors Vicky Su and Snow Zhou
Music: Follow Me by E-Girls
[youtube width="560″ height="315″ video_id="Cy1mB0hOY6E"]
Korean Dance
Performers: Seniors Audrey Kim, Jennifer Kwon, juniors Tammy Yoon and Anesu Nyatanga and sophomore Amanda Xiong.
Music: I Don't Need a Man by Miss A; Electric Shock by f(x)
[youtube width="560″ height="315″ video_id="dhYF4q2txxM"]
– Mary Clare Beytagh