What's the Stitch?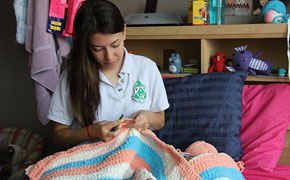 Sitting alongside her grandmother, then 8-year-old senior Shelby Cohron pulled yarn over the hook in her hand, beginning the very first loops and stitches of not only a simple yarn chain but also her love for a lifelong hobby: crocheting.
Now, after a few breaks through­out the years, Cohron has been cro­cheting a myriad of patterns, mak­ing unique and special gifts for her friends and teachers.
Cohron makes multiple ani­mals and characters from TV shows for her friends and teachers.
"It can make someone's day to receive a handmade gift," she said. Out of the more than 30 amiguru­mi, the Japanese name for the cro­cheted stuffed toys, that Cohron has made over the past two years, she has only kept four: a small Totoro, a bird, a guinea pig and a whale.
One of the first pieces that Cohron crafted was a red bird that she now keeps on her bookshelf. The red bird is also her favorite piece, even though she also enjoys creat­ing miniature whales out of bright blue and white yarn and round black, glossy bead eyes. The whales take about 20 minutes each to cre­ate while other pieces take around four hours each, depending on the number of colors required and the complexity of the pattern.
"They are all pretty easy [to make], just time consuming," Cohron said.
One of the pieces that has taken Cohron the longest to make so far was a purple dragon monster, consist­ing of two black button eyes, a white felt stomach, two black horns, and a purple crochet body, otherwise known as Felix. She made the drag­on monster as a gift for senior Anna Lim. The toy took about two weeks of on and off work to make.
Senior Samantha Kim thinks that Cohron crochets fast, though. Kim received a Totoro, a character that is a mix of a raccoon and an owl from an Japanese animated film, from Cohron and now keeps it on the shelf in her dorm room.
"It was really cool and it is amaz­ing how she is actually really quick about it," Kim said, remarking on the speed in which Cohron is able to create the tiny stuffed toys. Cohron made Kim's gift in just four hours.
Cohron is speedy at crocheting the small toys in part because she often carries her crochet hooks (she uses 3.5-4 millimeter hooks) and red heart yarn around with her. They are handy when she has free time.
Deciding on designs and what to create next is also why Cohron en­joys crocheting. When she has time or is bored, she goes on Pinterest for inspiration for new designs. She pins all of her inspirations on her board titled "Crochet <3" which consists of over 100 different pins, ranging from crocheted fruit to Powderpuff girls. She also makes her friends' requests or finds patterns that she thinks they would like.
"I should really charge peo­ple so I can make money," Cohron joked, since she gives most of her creations to others.
Part of the appeal of crocheting for Cohron is that it is therapeutic and a good stress reliever.
"You don't have to think about it too much and you get something cute at the end," she said. It also helps her relax when she is worried about a test or school work.
Cohron is not the only one who in the recent years has fostered a love for amigurumi. In 2006 amigu­rumi was one of the most popular items purchased on Etsy, an online craft marketplace. Its popularity has slowly been growing since the 1950s.
Cohron plans to continue cro­cheting as she gets older and, just as her grandmother taught her, per­haps one day teach her own grand­children how to crochet.
– Alaina Rodriguez