Sophomores Sadie Lidji's and Whitney Middlekauff's films were selected for the Dallas Film Festival 
Hipster titles, and new talent, have made high school film go from a "blow off coursework" to places beside Hollywood pictures.Advanced Film sophomore students Sadie Lidji and Whitney Middlekauff were nominated by the Dallas Film Society to show their films, "Kiss the Boys and Make Them Die" and "Rolling Alone," respectively, in the North Texas High School Shorts Showcase at the Dallas International Film Festival. Their films were screened at the Perot Museum on April 6 at 4:15 p.m.
Their films were among 16 selected from a pool of about 200 other applicants. Each school could only submit three films.
"It's a huge honor, and this year is the first time Hockaday's submitted. I didn't think my movie about a cotton ball would be chosen," Middlekauff said. This is the first win for both Middlekauff and Lidji, who, last year, gained their first film experience in a St. Mark's film course.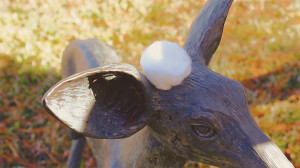 "Rolling Alone," a story in which a lonely cotton ball goes on an adventure trying to make friends with two deer statues, started out as a small project for advanced film class.
"Whenever girls are stuck, I usually give them a small project to get their creativity flowing." said  Upper School film teacher Glenys Quick. The only requirements for this project were the usage of a cotton ball, Hockaday statues and a line of dialogue: "You are not alone."
The footage that Middlekauff filmed that day became "Rolling Alone." She wrote the screenplay after the fact, voicing over the film of the cotton ball.
Lidji, on the other hand, wrote a very complicated screenplay before filming "Kiss the Boys and Make Them Die." Her creative process centered on a mental image of a girl in a forest holding a fortune teller. Lidji was also inspired by the cinematography of Spike Jonze, director of "Her" and "Where the Wild Things Are."
Using her friends as actors, she shot all of "Kiss the Boys and Make Them Die," during the four day "snowpocalypse" from December 6-9. This black comedy narrative is about a 16-year-old girl awakening in a forest surrounded by mysterious yellow fortune tellers, the day after being betrayed by her boyfriend, unaware of why or how she got there.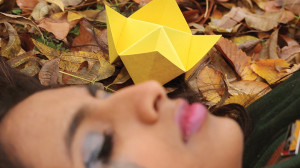 "I feel like we were selected because of originality." Lidji commented. "That's what a film festival is, seeing things you can't get at any Cinemark."
Both films, one light-hearted and fun, the other darkly beautiful, represent the best of Hockaday's new film program.
"Film isn't just about quizzes and a test," Lidji said, describing her different film experiences. "It's about ideas flowing together and then spilling out onto a white screen.
To view these films by Lidji and Middlekauf, visit hockadayfourcast.org/?p=7908
– Kate Clement