Girls Incorporate STEM, Block by Block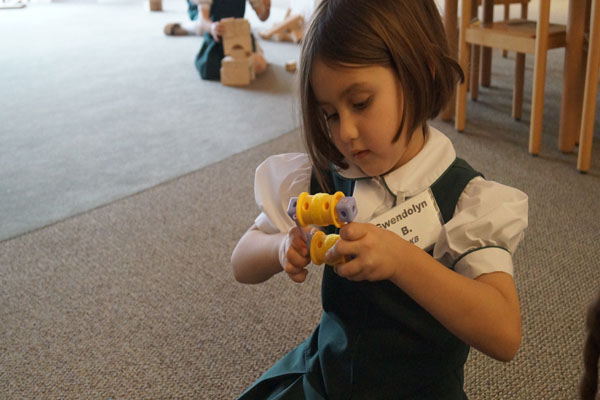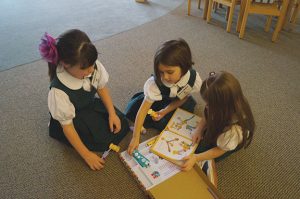 Super Bowl XLVIII heads to a commercial break. On television screens nationwide, girl after pink-clad girl scampers down the front steps of her house bearing a classic girls' toy—anything from stuffed animals to dolls to dollhouses too large for their small hands.Each joins the throngs parading down the street towards the park, where a rocket ship is being con­structed with the mostly pink toys. Using a pink, purple and yellow en­gineering toy called GoldieBlox, the girls launch the rocket.
The advertisement contrasted with the football melee and the other commercials featured during the Su­per Bowl Feb. 2. By winning the recent Intuit QuickBook's "Small Business Big Game" competition, California-based startup GoldieBlox had their shot at changing the parade of sen­sualized women and alcohol-bearing men as well as "the pink aisle."
GoldieBlox are engineering toys consisting of a construction set in "girly" colors and a storybook that includes design ideas. They are mar­keted currently at girls ages four thru nine with the goal of inspiring them to stick with science, technol­ogy, engineering and mathematics fields. The books feature characters such as Goldie, her friends Ruby and Katinka and Goldie's dog Nacho, fig­urines of which are included in the GoldieBlox con­struction sets. Ideally, the sets can build girls' "spatial skills, engineering principles and confidence in problem solv­ing," according to the Goldie­Blox website.
The company is rapidly growing from its inception as a crowdfunding campaign two years ago and is now selling its third product. According to Abby Dixon, a representative for GoldieBlox, "when the commercial aired in the third quarter of the Big Game, it led to an 18,000 percent in­crease in traffic to GoldieBlox.com immediately."
GoldieBlox set cost $20-$30 and are sold nationwide in many toy stores, including Toys "R" Us, Target and most local toy stores, as well as on the GoldieBlox website. The toys also ship to Canada. At least a third of Hockaday prekindergarten teacher Brenda Bennet's class owns a set.
In March, the prekindergarten­ers were working on a structures unit in science class, so they had a day to build freely with wooden blocks and to take turns with a GoldieBlox set. Prekindergartener Gwendolyn Beck­er, to whom the GoldieBlox belonged, said that she enjoyed both kinds of blocks equally. However, when she is at home, she plays with the Goldie­Blox with her mom or sister more of­ten than with wooden blocks, which her brother prefers.
Gathering Girls
Debbie Sterling, founder and CEO of GoldieBlox, noticed the dearth of women in her field and regretted that she never knew about engineering until late in high school. Sterling end­ed up as a Mechanical Engineering and Product Design major at Stanford and after graduating came up with the idea for a toy to "introduce girls to the joy of engineering at a young age," the GoldieBlox website said.
"In a world where men largely outnumber women in science, tech­nology, engineering and math and girls lose interest in these subjects as early as age 8, GoldieBlox is deter­mined to change the equation," the website stated.
The storybook aspect of Goldie­Blox is an attempt to connect with girl's strong verbal skills, the Gold­ieBlox website reported, in order to keep them more engaged with the engineering concepts. In addition, they introduce a problem—such as needing to get Nacho clean—and then guide girls through the engi­neering process of finding a solution, the same way adult engineers would approach their jobs.
There is also a reason behind the color of the toy: it aims to attract girlswho visit "the pink aisle" of Barbies and princess dress-up gowns.
But some people are skeptical of the toy. Lower School science teacher Laura Guerra is not a fan of the overall product GoldieBlox offers, though she does agree with the mission of introducing girls to science and engineering concepts.
By encouraging girls to build, "you are directing them to professions that didn't come up as appropriate for women in the not so distant past," Guerra said, "so certainly any time you can expose a kid to anything like that would be beneficial, and I think their hearts are in the right place."
It is the method that she doesn't agree with. Guerra believes that giving children stories and instructions can lock them into one story, which can stifle their creativity.
Alumna Elise McDonald '09 finished a systems engineering degree at the Southern Methodist University less than a year ago. In addition to agreeing with GoldieBlox's mission, she thinks some of their specific approaches, like the girly colors, could be good ideas.
"There's nothing about engineering that says it has to be about a black, white, brown and navy world. There's nothing that says you can't come in cute clothes and cute shoes to work and still be an engineer," she said, "so I think that building the color and the fun aspect in early, if it also grabs their attention, great, as long as you carry that all the way through."
Aside from color, McDonald recognizes that there are stereotypes that don't recommend engineering to girls. She noticed in college that most engineers had influence in their families starting from young ages encouraging them to think about the field. She guessed, in fact, that over half of her classmates had engineers in their family already.
"I think engineering is sometimes seen as 'oh, that's really hard,' and particularly for girls, 'oh, it's a guy's field,'" McDonald said, "So the more you can see someone or interact with someone who's an engineer, you don't have that scare factor or the exclusivity factor."
Upper School science teacher and Junior Engineering Technical Society sponsor Leon de Oliveira, who is an engineer, said that women entering engineering must "be prepared to be assertive," but added that he didn't think that was something "Hockadaisies have a problem with."
Many have suggested that a certain stigma of "nerdiness" may be keeping girls away from engineering as well. GoldieBlox's Ruby, however, is a "princess-turned-engineer." At SMU, McDonald said, all of the engineers were "involved in something outside the engineering school. Nobody was holed up in the lab at all times." She was in a sorority and one of the student programming organizations.
In addition to trying to take stigma away from engineering, GoldieBlox has been trying to help introduce girls to the thought process of engineering, McDonald believed. She appreciated the combination of construction set and storybook that GoldieBlox offers, less because it caters towards girls and more because it reflects engineering processes. In college, she was "always given a problem,a situation that you're trying to solve for a specific need."
In college, problems can be the treatment of water or turning glass into a touch-screen. "When you're younger, you want to look at something like 'we want to put Goldie on a parade float— how do we do that?'" McDonald said. "You want to make it fun and engaging in a way that a four-year-old or a five-year-old will enjoy."
Telling Their Own Stories
Guerra took issue with the stories and instructions included with GoldieBlox. She compared the play of the prekindergarten girls the day they played with both the wooden blocks and a set of GlodieBlox. She highlighted several students who narrated stories of evil witches living in the wooden block castles they were building as examples of good, imaginative, creative play.
When Becker heard about these made-up stories, she admitted she had "never really thought of that idea. But I like using the book because it gives me ideas of what I can make, and all the other books that can have ideas for different kinds of blocks, not just GoldieBlox."
Guerra, however, worries about this. "With GoldieBlox, I know that Gwendolyn said that she liked that it came with a story, but they're locked into that story, because it's someone else's story, it's not their own," she said.
Instead, she prefers the openness of toys like legos and wooden blocks. "Not just the level of play, but the level of work that they [the prekindergarteners] were doing was so much richer with the wooden blocks. It was their own creation," she said.
Despite the debate on the merits of the storybook, the GoldieBlox company believes that their toys are beneficial because they tap into girls' "strong verbal skills," which could attract them to using the engineering toys, thereby encouraging them to think about the field.
De Oliveira, a Lego fan as well as the JETS sponsor, doesn't mind the availability of the story and instruction set. He believes that storylines and instructions can serve as a good jumping off point for any toy, Legos included.
"Legos are pretty daunting. I mean you get a box of a bunch of little pieces and are told to make something," he said. By following instructions, people learn tools with which they can then become creative, he said.
But de Oliveira actually thinks that construction sets should not be marketed in different colors and for different audiences between girls and boys. "I would rather see a more unisex toy like an Erector Set," he said. "Not necessarily market it towards girls or boys but show kind of a cooperation of everyone playing with the toys together."
There may always be disagreements on how best to change the proportions of women to men in STEM fields. GoldieBlox is only one idea for approaching the concepts with young girls. Things are already changing McDonald said, with the number of women in engineering growing.
"Yeah, engineers are kind of quirky, but they have personality, and they're so smart," she said. "Being with other smart people, I didn't realize how important that was coming from Hockaday. So that's probably one of the things I liked the most."
She admits it can be challenging, but thinks that getting girls thinking about it at a young age is great. "While the preparation to be an engineer is hard, what you do when you get there is so rewarding that it's very worth it. So don't let the male or hard factor keep you away from it."
– Emily Wechsler