Seniors "Rush" into Greek Life
Seniors continue to debate over whether or not to join a sorority in college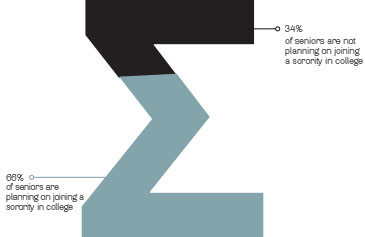 As the senior class pre­pares to leave the halls of Hockaday and head to different college campuses all over the globe, a fundamental question they must ask themselves is wheth­er or not to join a sorority, a society of female students in a university or college. Recruitment, also known as "rush," does not begin until August or January of a girl's freshman year at college. When it begins in January, it is called "deferred" rush, so for the student's first semester, she is living in dorms with other freshmen.
However, the true sorority process begins much earlier, even as early as January of a student's senior year of high school.
The process re­quires choosing which sororities to rush and acquiring one recom­mendation letter and two letters of support for each sorority, usual­ly from alumnae of the university.
Pam Porter, mother of Megan Porter '13, who is a 1985 Baylor University graduate and board member of the Dallas Pi Phi Alumnae Club, said that Hockaday girls have not been particularly interested in sororities in the past, and she is working very hard to change that.
"Girls at Hockaday have just not been educated in the sorority process," Porter said. "Several years ago, me and a couple of Hockaday moms started these information sessions so girls would know what to expect from the re­cruitment process."
Porter, who was a Pi Phi member herself, believes that there are many benefits to being a part of a sorority. "It makes a large university smaller. It gives you a subset of people to socialize with, and you get to be very close with all of them," Porter said. "I still see some of the girls from my sorority at least once every few months. They are my go-to girls."
Senior Maddie Lee, who will be attending Southern Methodist University next fall, agreed with Porter that a so­rority is great for providing auto­matic friends.
"It gives you a really good op­portunity to bond with different girls, but the great parts of sororities are the alumnae connections," Lee said. "Those con­nections, that net­work, will help with the job search and really help and carry you through life."
While Lee sees no downsides to belonging in a sorority, Porter acknowl­edges the reasons why some girls might not choose to join. "It can be a financial strain. And pledging does take time. Some people think they are ex­clusive, but I disagree," Porter said. "And even if you aren't in one, there are plenty of other social outlets. Of course, I'm fairly biased."
When joining a sorority, costs include required clothes for pledge week, and, if accept­ed, new member fees, housing and event funds and more. Pledging is also a time-con­suming, several-step process that includes a week devoted solely to visiting with different sororities, nar­rowing down your choices and visiting with a few soror­ities again, pro­vided they choose you as well.
Senior Caro­line Broughton, however, believes the downsides outweigh up­sides. "I just don't want to be in that e n v i r o n m e n t where academ­ics just aren't taken seriously and where there is so much cattiness…or where you have to live in a big house full of girls," Broughton said. "I am going to college to learn and study. The sorority stuff just doesn't ap­peal to me."
Another factor that in­fluenced Broughton's deci­sion was the stories she heard from her mother and former sorority girls.
"My mother, who had a 4.0 GPA, belonged to a sorority that put her on probation for not attending enough parties. Other girls I've talked to have said that sororities are just an extension of high school," Broughton said. "I'm ready to take the next step in my life. I'm ready to be an adult."
Broughton has heard from her mother that academics are put on the backburner in sororities, and while this may be true for certain universities, many colleges require sorority members to have a minimum GPA in order to partake in social events, hold office and maintain a spot in the sorority. In fact, a national study conducted by the University of Missouri-Kansas City shows that all fraternity and sorority GPA is higher than the overall collegiate GPA. The rules and regulations suggest that this may simply be a common stereotype.
However, Broughton ac­knowledged that there are many girls who do choose to join sororities, and they do so because it's right for them. "For people that maybe don't make friends as easy, sorori­ties are great. There are also hot meals readily available," she said.
Lee and Broughton r e p r e s e n t the two sides to this debate. Of the 73 senior girls who responded to a poll conducted by The Fourcast, 66 percent are planning on join­ing a sorority in college. Of this 66 percent, a majority have heard the bad rumors about sororities and know all the downsides, but are choosing to pledge anyway. For them, the upsides outweigh the down­sides.
Sororities are often a family tradition, as several girls noted in the survey. It is part of their family his­tory to pledge and belong to a sorority. Charity and service opportunities, long-lasting sisterhood and fun parties were also among the top rea­sons Hockaday seniors will be joining sororities.
Despite their differing opinions and the split within the Hockaday senior class, Broughton, Lee and Porter all agreed that the question of whether or not to rush a soror­ity is, in the end, a personal de­cision that every senior must make before heading off to college.
"It's not for me," Brough­ton said. "But some people are going to rush and join a sorority and have the time of their lives."
– Alexis Espinosa