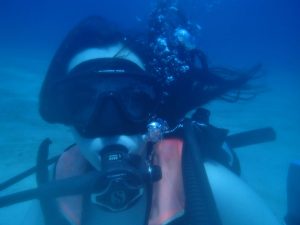 It is 10 a.m. on a Wednesday during Spring Break, and sophomore Nicole Krampitz—donning a scuba hood, a weight belt, two wetsuits, dive booties, fins and a 30-pound air tank—hovering 10 feet beneath the 90-degrees Fahrenheit water of the Caribbean Sea offthe coast of Roatán, Honduras,her eyes guarded behind a scuba mask, focused on a man hovering two feet in front of her.The man, Nicole's father Dan­iel, closes his right fist and points his thumb up, signaling his imminent ascent. In response, Nicole gives an "okay" sign by connecting her right thumb and forefinger into a circle and holding her other fingers straight.
"We do scuba diving as a fam­ily, so it is partly about going on ad­ventures together," Nicole's mother Marlyn Mayo said. This family trip was a cruise that included stops in Honduras and Belize.
However, it was only five months ago, on Nov. 22, that Nicole acquired certification as a scuba diver. Nicole said that she has aspired to be a cer­tified scuba diver since she was eight. "I've always liked just being in the ocean," she said. "I like seeing all the things underwater."
Mayo observed Nicole's interest in scuba diving very early. "Haveyou  ever seen 'Little Mermaid 2,' where the human daugh­ter of Ariel is nat­urally drawn to the sea? Well, that character has al­ways reminded me of Nicole," she said.
Nicole credits her early interest in scuba diving main­ly to her parents, who have been scuba diving for 20 years. "When I was little, my parents always used to go scuba diving, and I could never go," she said.
Her involvement in scuba diving opened up an outlet for Nicole, mak­ing the activity "seem more realistic and less exotic."
The minimum age requirement for the certification process is 12, but Nicole, now 16, did not acquire her cer­tification immediately because of the time constraints and the challenges of finding a convenient location.
Nicole first enrolled in a class course, "Open Water Certification," at Lone Star Scuba, read the "Open Wa­ter Diver Manual" and attended class­es, during which she was assessed on the information in the book.
Passing these assessments was a prerequisite to the second portion of the process, scuba diving in a pool. "You learn how to clear your mask, what to do if your air stops working and differ­ent descents," she said.
In order to complete the certificationprocess, Nicole had to attend an additional session scuba diving out­side of a pool. Nicole decided to scuba dive at Clear Springs Scuba Park in Terrell, Texas, where she trained un­der the guidance of an instructor.
There are over 20 different levels, including arctic diving, cave diving, and diving with a certain type of air. Nicole currently is in the first level, open water dive, and can scuba dive as deep as 60 feet. However, she can­not have anything above her head. "For recreational diving, most of the beautiful, colorful fish and coral are really at a shallow depth where they can get sunlight," Mayo said.
However, Nicole hopes to prog­ress to the next level, advanced open water dive, at 100 feet. "I want to go fur­ther, so I can dive deeper," she said.
Nicole believes the activity has opened her eyes to more expansive views of nature beneath the surface. "There's a lot of things that unless you scuba dive you can't really see," she said.
Nicole believes that scuba div­ing can contribute to the study of marine biology. But aside from us­ing scuba diving to help her stud­ies Nicole hopes to use it to make an impact on the world by enacting a program in certain parts of the ocean. "I want to help protect more of the ocean or explore the parts that haven't been explored."
– Catherine Jiang