Teacher Takes on New Role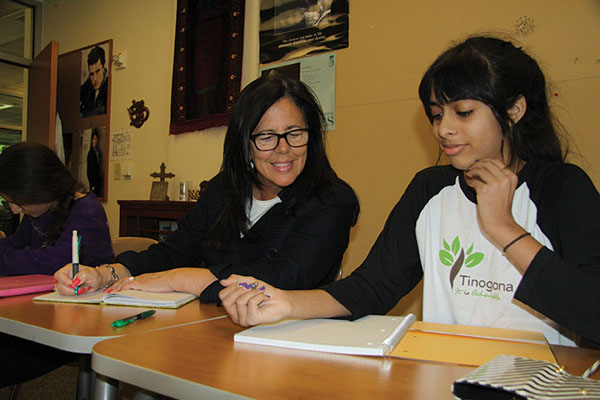 Lower School Teacher Marcela Gerber takes Comparative Religion
In Upper School history teacher Steve Spencer's Comparative Religion class, students furiously scribble notes as he lectures on Hinduism. While 15 stu­dents sport green and white plaid skirts, one student is out of uniform. That student is Marcela Gerber, Lower School Spanish teacher. Gerber, an Argentinian native who immigrated to the U.S. 40 years ago, was inspired to enroll in the class because in her home country, where the majority of the population is Catholic, "[the population] learns very little about other religions," Gerber said.
Gerber pursued tak­ing the class about 15 years ago when the Head of Lower School asked Spencer to make a presentation about world religion to the teachers dur­ing a Lower School faculty meeting. "Ever since then, Se­nora Gerber has said she was interested in taking the class," Spencer said.
After she cleared her sched­ule with Lower School Head Randal Rhodus and her atten­dance with Spencer, Gerber enrolled for the class through Upper School Registrar Sharon Wright, just like any other Up­per School student.
Previously, she had want­ed to take the History of Art and Music course, taught by Fine Arts Department Chair Ed Long, but was not able find a free period in her schedule. "This year, when I heard that my schedule would allow me to take [Comparative Religion], I went for it," she said.
Gerber gives up her free period to attend the class but does not mind.
"For me, I would rather have my prep period after school and attend the class," she said. "I have the luxury to not only be part of the class­room but also to learn."
Since she is auditing the class, Gerber is not graded or required to take quizzes and tests. But that does not deter her dedication to the course. Gerber routinely takes notes and completes the homework, fulfilling her role as a student instead of teacher.
Other students have en­thusiastically welcomed her into the class. "When I in­formed the students that Se­nora Gerber was going to be participating, I just heard positive feedback," Spencer said. "Some of the students had her as a teacher and are more familiar with her, and that's giving them the oppor­tunity to reconnect."
Sophomore Julia Pas­quinelli, who is in the same Comparative Religion class as Gerber, said, "It's motivating to see a teacher sitting next to you in the same class, be­cause you know she isn't do­ing it for the grades, but that she is doing it for the sole purpose of learning."
For Gerber, the best part of attending the class is not only learning but also reflect­ing on her past experiences as a Hockaday teacher: many of her fellow classmates are girls that she had taught in Lower School.
"I think it's amazing to see the very beginning of these girls and see them as women, speaking actively," Gerber said. "Now I can see why Hockaday has been in there from the very begin­ning. We build women."
As she transitioned be­tween being a Lower School teacher and an Upper School Student, Gerber noted a few differences. "It had been re­ally hard for me to control myself to not be only one talking, but more the recipi­ent than the giver of the les­son. I'm not in control of this class," Gerber said.
Additionally, because the Upper School curriculum can be more lecture-based, as op­posed to the Lower School's more interactive type of learning, Gerber finds herself in a different type of learning each class period. "I haven't been in a lecture type setting for a long time," she said. "I cannot do that type of devel­opment [in Lower School], so it's fun to be sitting on the other side."
According to Spencer, Ger­ber has merged seamlessly into the classroom setting. "[Her at­tendance] hasn't changed the dynamics of the class in any other way," he said. "Because I know her so well, it just doesn't feel different at all."
From her experiences as a student now, Gerber would like to continue exploring Up­per School classes. "I would like to take any class that has to do with diversity of culture, reli­gion or history," she said. "By learning this, I can understand our student population."
– Sunila Steephen