The Kramers, the Boureks and the Curtises discuss what it is like to work at the same place as their spouses
Dressed in a white gown with flowers in her hand, Linda Kramer, current Head of Middle School, made her way through Graduation Terrace in October of 1999. She walked past the smiling faces of Middle and Upper Schools' students and faculty while being showered in bird seeds and applause. She was celebrating a life-changing event: her marriage to Steve Kramer. Fifteen years later, the couple is still working at Hock­aday. Although every married couple bickers now and then, some can agree on one thing: working at the same place is quite convenient and can strengthen a relationship.
How They Met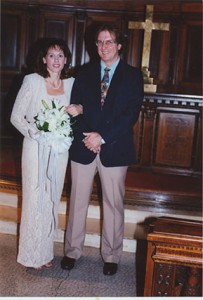 Steve Kramer was appoint­ed to a teaching position at Hockaday in 1978. Linda Kramer came to the school in 1986, and the two first met in 1987 while working on a committee that dealt with setting up and stan­dardizing faculty salaries. The two did not start going out until the late '90s. "We knew of each other for 12 years as colleagues, but we never really spoke to each other," Linda Kramer said.
The Kramers are not the only married couple working at Hockaday. The Boureks and the Curtises met during their college years before coming to Hocka­day. Middle School math teach­ers Terry and Shane Bourek met at a dorm party while at Texas A&M University in College Sta­tion and got married after Terry graduated in 1989. Similarly, the Curtises met while attending a freshman English class over the summer at Hardin-Simmons University in Abilene, Texas. The couple got married in December of 1995.
Roles at Hockaday
Since their appointments to the school, the Kramers have remained in separate depart­ments; Steve Kramer in the Up­per School and Linda Kramer in the Middle school. "I see her once or twice during the day, but that comes specifically be­cause I need to see her for some reason or she needs to see me," Steve said. "She's dealing with Middle School issues and I'm dealing with teaching and Up­per School issues."
On the other hand, Terry and Shane Bourek are both math teachers in the Middle School. After having her two daugh­ters, Katie Bourek '13 and junior Sarah Bourek, Terry stayed at home and tutored Dallas-area students in the evenings. Two of her students were Hockaday girls, which sparked the couple's interest in the school.
Shane began teaching at Hockaday in 1999, and Terry came a year later in 2000. Ini­tially, the school did not want a married couple working in the same department, let alone the same subject. "When I ap­plied, they [Hockaday] said, 'We are not going to hire a husband and wife in the same division,'" Terry said.
In spite of this, she submit­ted her application and was eventually hired. "After a few months, reports started com­ing back that not only were they okay with us being married, but that they really liked how we were back to back," Terry said.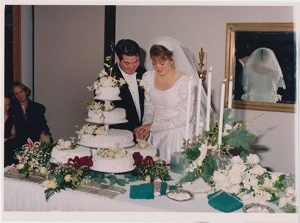 Melissa and Jason Curtis started working at Hockaday during the 2012-2013 school year. Jason was hired as Director of Technology, and Melissa worked in the College Counseling office before taking on her current position as Director of Auxil­iary Programs. Before coming to Hockaday, the Curtises worked at The Laurel School, an all-girls school in Cleveland, Ohio.
"I felt that Hockaday knew that it was possible that we would both work here, and it wasn't so much that I wanted to work at the same school where Mr. Curtis was, but I wanted to work at another girls school," Melissa said.
Couple Cooperation
Shane Bourek teaches sixth grade math and Terry Bourek teaches seventh grade math, making it easier for the couple to cooperate and share ideas.
"He says wonderful things about me. They [sixth grad­ers] come in with this mindset that they are going to be able to learn and that we're going to have a fun year," Terry said. "He makes my job easy so I'm very, very lucky."
The Curtises have also ben­efited because working at the same place has allowed them to share similar experiences. "It's nice to be able to have conver­sations about work and really have the other person under­stand the situations with an inside perspective. We can ap­preciate each other's work to a greater degree because we see how much is poured into it per­sonally," Jason Curtis said.
Contrastingly, the Kramers do not overlap with each other's work in their respective depart­ments and keep things at the professional level, treating one another as colleagues. On spe­cial occasions such as birthdays or Valentine's Day, the Kramers refrain from taking extravagant measures. "I am philosophi­cally opposed to commercial holidays," Steve Kramer said. "Mother's Day, Valentine's Day; I don't do anything. On the other hand, there will be times when I'll get her flowers just to get her flowers."
In fact, this past Valentine's Day, the Kramers decided to go to the movie theater to watch "Lone Survivor," a movie that, according to Mr. Kramer, "isn't exactly a Valentine's Day movie."
Working at the same place has not made commuting any easier from the Kramers due to their different arrival and de­parture times. The Curtises also have difficulty organizing car­pool because have two daugh­ters who attend Hockaday, sev­enth grader Emily and second grade Abby, as well as a fourth grade son, Ben, who attends Brentfield Elementary in Rich­ardson. "We kind of take turns, one of us brings the girls and the other one takes our son," Melissa Curtis said.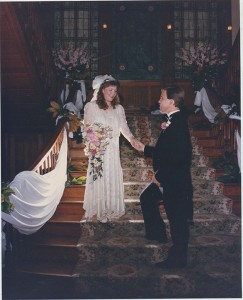 According to the Bourek's daughter, Sarah Bourek, hav­ing her parents at Hockaday is a huge advantage. "It's defi­nitely convenient when I need forms to be signed or when I want a dollar for the vending machine and I don't have one," Sarah Bourek said. "And it's re­ally nice that they work here, because I feel like if they had different jobs, I would never see them."
Colleagues treat the mar­ried couples at Hockaday like any other teachers. However, in the case of the Boureks who often have the opportunity to each lunch together, the reac­tion is quite different.
"What I think is funny is sometimes he'll already be in the cafeteria and I come in and someone is already sitting next to him and they'll go 'Oh, do ya'll want to sit together?'" Terry Bourek said.
For these three couples, working at the same school has had a positive effect on their relationships, bringing them closer together as a family.
"The best way to strength­en any relationship is to de­vote time to it," Jason Curtis said. "While we aren't able to spend solid blocks of time to­gether at work, we are able to eat together and see each other in the hall. Having those mo­ments only serves to bring us closer together."
– Inaara Padani