Judging a Woman by Her Books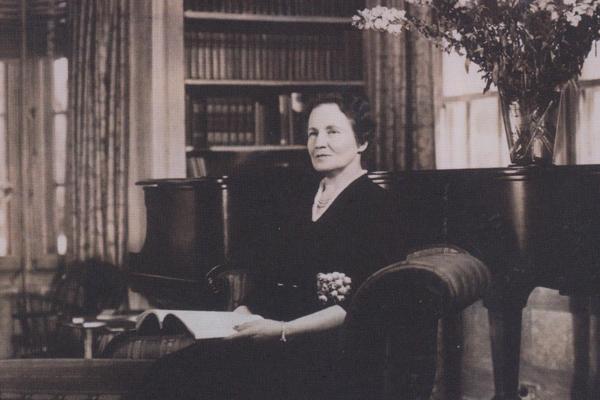 Guest Writers Audrey Kim and Lindsey Okada leafed through Miss Ela Hockaday's 1,500+ book collection, reminiscing on how these books reflected our founder's philosophy, thoughts and ideas.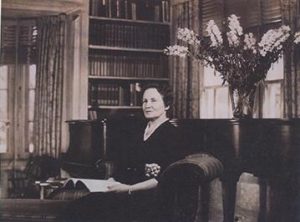 When we first think of Miss Ela Hockaday, we can't help but imagine Harry Pot­ter's Professor Miner­va McGonagall. From her gray hair to her austere demeanor, Miss Hockaday resembles the strict pro­fessor in more ways than one. We mentally categorize her as a nonfiction kind of per­son, someone who would stack her bed­side table with large volumes overflowing with history and fill her bookshelves with the classics.And for some part, Miss Hockaday's physical collection fits into this mental shelf. Like any respectable, forward-think­ing woman, her book collection is no in­significant matter. The physical inventory spans a lengthy 82 pages, impressively listing more than 1,500 books stored two or three rows per shelf in the Upper School Library.
In addition, journeying past the ad­ministrative hallways of Hockaday to the Centennial Exhibit in Memorial Dining Room, one will discover her treasure trove stowed away under lock and key. These select books are immensely valuable as they have traveled through time, some published as early as 1807, and are now crumbling at the spines. We came across old books, new books, books in good con­dition and books we were no longer al­lowed to even touch. Her collection spans many years and includes many different types of books—from analytical essays, to travel guides, to religious texts and even popular fiction.
Formerly a teacher in Oklahoma, Miss Ela Hockaday knew her way around education when she opened up her all-girls school in Dallas. Coming from a back­ground of educators—her father, a teach­er—Miss Hockaday knew that education was important for women. We can imag­ine Miss Hockaday nodding in agreement with Harry C. McKwon while reading "Character Education," which touches on the importance of a Student Council—ju­risdiction female students had never gov­erned before. Another great find in Miss Hockaday's collection, Walter Scott's "Tales of a Grandfather," a series of books that retell the history of Scotland to a child, could very well correlate with Hockaday's rigorous approach to educating children. Scott intentionally wrote the book as a se­ries of stories directed toward a 6-year-old boy because he believed that children pre­ferred taking on the challenge of intellec­tual topics, instead of having the material "dumbed down." Such a push to provoke the higher intelligence of children is strik­ingly reminiscent of Miss Hockaday. From the rigor of her curriculum to the very caliber of each student, she elevated the standards of education for younger minds. These books were not just a part of her col­lection that sat on her shelf but rather the fundamentals upon which she built her life and her own school.
When we pour over the rows and rows of books in her collection, we begin to see Miss Hockaday as "Alice in Wonderland," traveling between worlds. With a curios­ity and sensitivity to happenings around the world, Miss Hockaday collected travel guides, such as "Pocket Atlas and Guide to London" and even books in various dif­ferent languages, ranging from German to Japanese. Books such as "Historie de Jeanne D'arc," in French, or Kate Green­away's "Malbuch fur das kleine Volk," in German, make it apparent that Miss Hock­aday took an interest in other cultures and languages. In fact, her love for travelling and the wonders of the world mirror her investment in taking her students overseas in travel groups. A cosmopolitan figure in the blooming town of Dallas, Miss Hocka­day looked beyond her rural upbringing and encouraged her students to follow. In a photograph taken around the early 1950s, Miss Hockaday, by then in her 80s, on a boat bound for Europe, holding none other than "The Pocket Guide to Europe" by Charles R. Jacob. However, even if her final destination was not London or Paris, Miss Hockaday also might have felt the pull of attraction from the exotic languages of the world, paralleled her possession of books such as "Modigliani" by S. Taguchi, written in Japanese. From her profuse col­lection of travel guides, adventurous nov­els and at least 25 foreign language texts, Miss Hockaday's book collection shows a globetrotter's respect for other cultures and an adventurer's excitement for travel.
Establishing an on-campus chapel and allotting time during the school day for spiritual reflection, Miss Hockaday was a deeply spiritual woman. So we were not surprised to find that, not only did she own the Bible, she also owned an ad­dition two copies of "The Book of Job." Another book in her collection, Harry Emerson Fosdick's "On Being a Real Per­son," may shed some light on Miss Hocka­day's view of religion. He believed that faith wasn't defined as a certain system of theology but rather an individual, mental experience, perhaps the same kind of ex­perience Miss Hockaday wanted to give her students through education. Lloyd C. Douglas's "The Big Fisherman" reveals that Miss Hockaday enjoyed fictional tales spun from a religious basis, along with her more serious, religious books. But despite her theological beliefs and deep rever­ence for spirituality, she decided that The Hockaday School would not be religiously affiliated. This decision could be analyzed as a profoundly progressive choice for her time because it allowed the school to open up its classroom doors and hallways to diversity and freedom of religion. Since the start of the school, Jewish students at­tended Hockaday, while many organiza­tions throughout Dallas were excluding the Jewish community. And, in turn, such families and students contributed to the de­velopment of the school. Miss Hockaday created an environment of collaboration and acceptance at her school by providing a safe place for students to interact with others who came from a different cultural and religious background.
However, choosing to open her school doors to the greater diversity of young women was not her only bold choice when starting the school. A strong, independent woman, with ideas that left the standards of girls' schools of the early 1900s in the dust, Miss Hockaday never shied away from the questioning eyes of the public. She must have truly shocked neighbor­ing schools, even the people of Dallas, by founding a school for girls on Four Cor­nerstones, one being Athletics—a focus that girls' schools had never faced before.
For her time, Miss Hockaday had many innovative ideas that challenged in every way the male-dominated world of the early 1900s. Because of this, we were not at all surprised to recognize Jane Austen amongst the many authors of her collection. We can easily imagine Miss Hockaday and Elizabeth Bennett, the intelligent, witty heroine of "Pride and Prejudice," teaming up together to chal­lenge the very rules and naysayers of soci­ety as strong, female individuals. Picture, for a moment, Elizabeth Bennett, an avid walker, and Miss Hockaday, a revolution­ary of girl's physical education, engaged in a lively conversation, ridiculing those who believed that a little exercise for women was inappropriate. The female authors, and even characters, in her collection re­flect the cutting edge, female empower­ing mindset from which she approached school. In an inscription to the book, "Ro­mola" by George Eliot, Sarah B. Trent, Miss Hockaday's good friend writes, "the story of an ideal woman for an ideal wom­an." A splitting image of George Eliot's character, Romola, Miss Hockaday exhib­ited the poise of a lady with the intensity of an intellectual. Furthermore, she attracted the minds and friendships of other brilliant women. Over the years, she fostered a deep friendship with Gertrude Stein, collected a few of her books, personally invited her to speak to the girls, and spent hours chatting over the unimaginable depths of society. Not only did Stein show respect for Miss Hockaday, many other female authors looked to her example, including the war-experienced Vera Brittain, whose writing and work provided an active and poignant voice in the women's movement of the 1930s. Hockaday's collection is teem­ing with at least seven of Vera Brittain's books, from "Account Rendered, a Novel to Testament of Friendship: The Story of Winifred Holtby." In fact, Brittain took it upon herself to carefully inscribe almost every one her of books for Miss Hockaday.
It's easy to make assumptions about people before we get to know them, espe­cially when the person isn't as open as a book. Even though Miss Hockaday seems like such a "classical" person, her shelves would be filled with thrillers, sentimen­tal fiction and books that were exceed­ingly popular. "Dracula" by Bram Stoker was so popular during its time that even Miss Hockaday owned a copy. Surprising, right? Miss Hockaday owned a book about a vampire. Maybe it was her gifted imagi­nation that drew her to the twists and turns of fictional plots. Like how we flip through channels to find a thrilling TV episode, Miss Hockaday flipped through books to find that same exciting element of action. Also dotted throughout her collection are sentimental books—18th century novels that elicit emotional responses from read­ers and characters. This genre relies so in­tensely on the display of sensitive feelings that it provokes us to step back and imag­ine Miss Hockaday sitting down and open­ing up a work of sentimental fiction for pleasure reading. Maybe it was the story's artistic ability to evoke emotions. Maybe Miss Hockaday felt a deep connection to the emotions the characters felt. Knowing that she took the time to read popular sen­timental fiction of the day, our black and white mental image of Miss Hockaday warms with color as we begin to see her softer side. We know she seemed like a stern woman, but after you take your ste­reotyped mental image and make her read "Dracula," there is no way that your men­tal picture will be the same. Not only did she support her interests of education and travel by collecting books on those topics, but she was also diverse enough in her in­terests that she added popular books, even fictional ones, proving that she was such a Renaissance woman.
In a sense, Miss Hockaday's life, in­terests and values are as present in each book over her collection to the world around her. By taking time to look at her books, we felt the joy of getting to know Miss Hockaday on a personal level, even though we are generations apart from hav­ing such a luxury. From books delineat­ing the history of education in Texas to volumes filled with plot twists and turns for a young heroine, Miss Hockaday's col­lection never ceased to surprise us. Even though Miss Ela Hockaday wasn't, and still isn't, the easiest book to read, once you get past her intimidating cover and read into her life, her story is so worth it.
– Audrey Kim and Lindsey Okada