A New Trend Ignites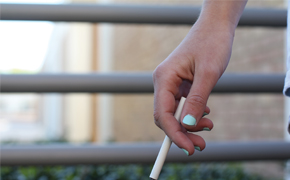 Vivid Vanilla, Piña Colada, Peppermint and Coffee are some of the appetizing flavors that candies and treats often come in. Recently, however, a new popular trend is making these flavors available in a vapor smoked through electronic cigarettes.
Electronic cigarettes, colloquially known as e-cigarettes, which are on the rise among teenagers, are offering these flavors through battery-powered devices that require neither tobacco nor a flame. Instead, they produce a vapor that the user inhales by converting liquid nicotine into a mist.
Blair, a junior who wished her real name not be used in this story, has smoked both regular cigarettes and e-cigarettes.
"I definitely liked the e-cigarette better," she said. "The regular cigarettes made me feel light-headed and my throat hurt. I even started vomiting."
The first e-cigarette Blair smoked was peppermint flavored, although "it tasted like Skittles," she said. Part of the appeal of e-cigarettes among teenagers is the flavor variety. While regular cigarettes do come in some flavors, most people just smoke un-flavored cigarettes.
"I also liked the e-cigarette better because the regular cigarette left a gross smell that took forever to wash out, but the e-cig didn't leave any smells," Blair said.
Most people, especially teenagers, also preferred the e-cigarettes because they believe the e-cigarettes to be healthier than the regular cigarettes. In a February survey taken by 290 Hockaday Upper School students, 66 percent said they believed that e-cigarettes were better for people's health than regular cigarettes.
But Medical Director of the Pulmonary Function Laboratory and Respiratory Therapy at Baylor University Medical Center Dr. Robert Black, husband of Middle School science teacher Patti Black, said that he thinks "there is general consensus in the medical community that e-cigarettes are less harmful than traditional cigarettes. However, that does not mean e-cigarettes are necessarily safe either."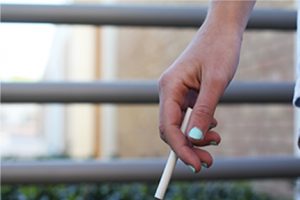 Regular cigarettes have been linked to numerous diseases such as lung cancer and heart disease. These conditions are linked primarily to harmful chemical compounds such as tar, which are contained in the regular cigarettes, Black said. Tar is not present in e-cigarettes.
Regardless, though the nicotine itself may not be an extensive health risk, the drug causes the addiction. "Some medical researchers have compared being addicted to nicotine to being addicted to caffeine in terms of its health risks," Black said.
Though e-cigarettes have options for different nicotine levels, Black warned that even if a person chooses to smoke an e-cigarette with zero percent nicotine content, there are still health concerns.
"There is a compound identified in e-cigarettes called propylene glycol. That chemical is somewhat responsible for the vapor that is used in stage production to create the illusion of smoke in movies, and it's in the e-cigarettes," Black said. "That compound has been identified as an irritant to the lung and been associated with lipid pneumonia, a form of lung inflammation."
Addiction to any substance can cause a variety of short and long-term effects in the brain. Upper School science teacher Dr. Katie Croft said that addiction can cause "changes in gene expression, connections in the brain and in levels of brain chemicals (neurotransmitters) and their receptors.  These altered connections in brain circuits can have major effects on learning, memory and impulse control."
E-cigarettes also increase airway resistance, according to Black. Airway resistance is a temporary, physical effect, but it is one of the physiological phenomena that happen when you have asthma.
The health risks of e-cigarettes are not entirely known because they have not been studied extensively, as the phenomenon is fairly new: e-cigarettes have only been on the market for six years and its popularity doubled in 2012.
According to a survey conducted by the Centers for Disease Control and Prevention, five percent of high school students tried e-cigarettes in 2011, but that increased to 10 percent in 2012. However, seven percent of those who had smoked e-cigarettes in 2012 had only tried e-cigarettes — never regular cigarettes. According to the survey taken by the Hockaday Upper Schoolers, 11 percent said they had tried an e-cigarette while only seven percent said they had tried a regular cigarette.
"The biggest concern about e-cigarettes is that there is a general perception that they're safer than regular ones," Black said. "There is also a concern that if younger people start trying e-cigarettes, it will lead to them smoking real cigarettes, which is what it is supposed to prevent."
The true purpose of e-cigarettes is to help those addicted to regular cigarettes to stop smoking.
"The idea is that the cigarette user is supposed to switch to e-cigarettes because they can control the nicotine levels in them, and then eventually the hope is that they smoke the e-cigarettes with progressively less nicotine," Black said.
However, despite its original intention, teenagers have been trying out these e-cigarettes. And Blair is not alone. Sophomore Serena, who also wished to remain anonymous, tried an e-cigarette because it was available to her and because "I was simply curious," she said.
The growing popularity of e-cigarettes is even reflected in the media entertainment. In the popular Netflix political drama "House of Cards," the characters Claire and Francis Underwood, played by Robin Wright and Kevin Spacey respectively, were often seen puffing on regular cigarettes. However, in the last episodes of season two, they were seen smoking e-cigarettes instead.
The repercussions of teenagers smoking e-cigarettes are detrimental. "Nicotine changes areas of the brain involved in motivation and emotion, which [can make] teens more vulnerable to nicotine addiction," Croft said. "Smoking during [teenage years] may also increase the risk of developing psychiatric disorders and cognitive impairment in later life."
To date, the FDA does not regulate e-cigarettes, but there is a push among Congress and the medical community that the FDA should regulate the production of e-cigarettes. Some places, such as New York City, have implemented laws that ban the use of e-cigarettes in public areas, the same way they ban the use of regular cigarettes.
Stores that sell e-cigarettes are referred to as "vape shops." More and more vape shops have been popping up all over the country. According to Bloomberg Businessweek, there are over 3500 vape shops in the country.
These shops, in general, have the same restrictions for the sale of e-cigarettes as for regular cigarettes. An assistant manager of a Dallas vape shop who wished to remain anonymous said that "I think that e-cigarettes are popular because the variety of flavors appeals to a variety of people. I see a lot of adults come in here, but we don't sell to anyone under 18."
It is difficult to enforce the age restriction, though. Since e-cigarettes are also sold online, they are easily accessible to minors. "People need to be careful in their use of e-cigarettes," Black said. "It is a growing health concern."
– Courtney Le