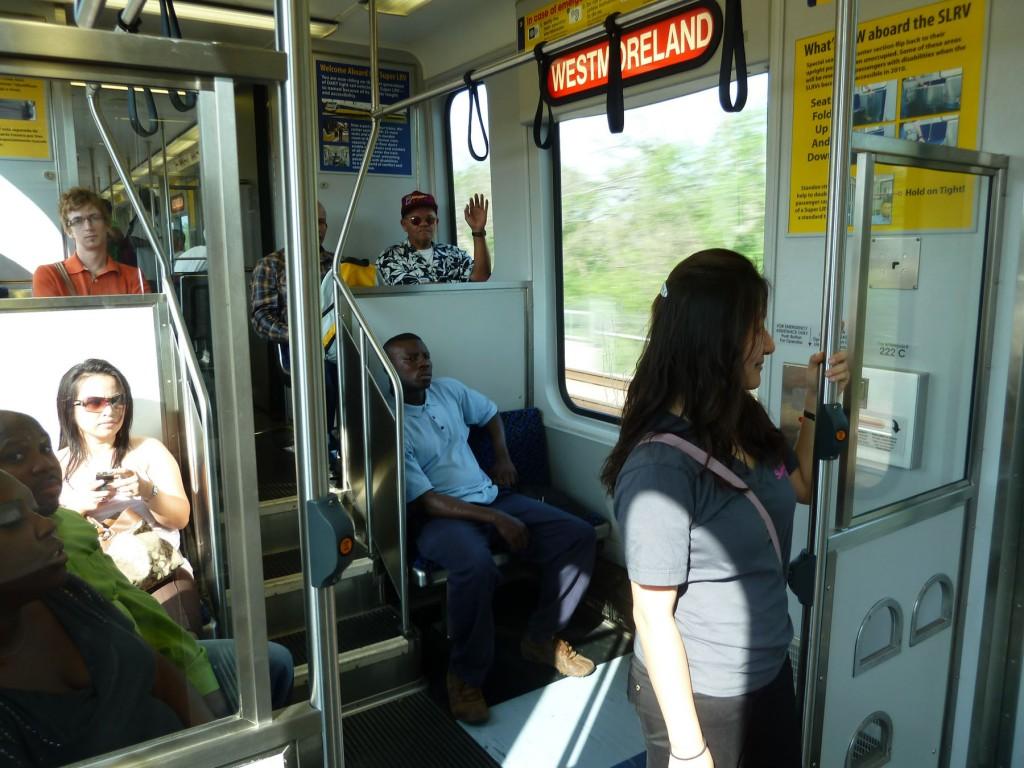 As gas prices continue to rise and downtown Dallas faces a revival, DART—Dallas Area Rapid Transit—seems to be growing by the minute.
With additions like the Winspear Opera House and the Wyly Theatre, the newly renovated Dallas Arts District is attracting attention from everywhere, but the infamous parallel parking often poses an ominous threat to Hockadaises just learning to drive, not to mention the forbidden  underground parking lot. But is anyone at Hockaday truly making use of the DFW public transportation system?
For some girls in the Hockaday community, the answer is yes. Juniors Erin and MaryFrances are a few amongst the many that are taking advantage of public transit. Earlier this year, Erin decided to take the DART Rail to an event instead of using her car.
"I was going to Fair Park and the parking there is kind of a nightmare; I didn't really want to deal with that," explains Erin. "DART seemed different, and I wanted to see how it was."
For MaryFrances, the reasoning was much the same, but cost was an added factor.
"It was cheaper to buy a roundtrip ticket than park my own car at the Dallas Zoo," MaryFrances says.
Susan Cowger, mother of junior Molly, started regularly taking the DART Rail in 2010 after her employer, the United States Attorney Office, offered a free public transportation pass to any employee who used it for over half of their commutes to work. Aside from the obvious economic benefits, Cowger was also interested in reducing her "carbon footprint." With her kids getting older and her need for a car diminishing, Cowger wanted to take full advantage of new modes of transportation.
"The park-and-ride stations at Forest Lane and Park Lane were both convenient, and the DART schedule allowed me to get back to my parked car in time to be at carpool," says Cowger.
While conditions are steadily improving, Dallas has had a prolonged battle with the idea of public transportation. Representing a large metropolitan area that focuses on suburbs, DFW has lots of land to cover and subpar pedestrian conditions. Public transportation is easy for cities in which the focus is directed towards the downtown and industrial areas, but in a city with massive urban sprawl and minimal downtown concentration, public transit can seem overwhelming, and sometimes, out of the question.
"This has always been a spacious city of cars and highways, so it's difficult to change that profile," explains Cowger. "But as people become more interested in public transit which they quickly do when gas is around $4 a gallon, more of it will—or should—be offered."
Sophomore Margaret, a Hockadaisy that has yet to explore the advantages of Dallas public transit, points out that due to the suburban nature of Dallas, public transit seems inconvenient.
"Honestly, DART seems like it would take up excess time, unless the transit took me somewhere directly and wasn't out of the way," says Margaret.
But recently, DART has begun to truly reach out to the suburbs and increase the frequency of the trains. Ongoing expansion projects are targeting areas like Los Colinas, Rowlett, and Garland, showing how DART is focusing on bringing the suburbs into the public transit system. In past years, DART has been noted as anything but rapid, but with DART's new expansions has come increased efficiency and safety.
"There were lots of different trains, so we didn't really have to wait a long time," Erin says.
With this increase in effectiveness and the influx of travelers, DART has also started to ramp up security measures.
"Stations have had increased police monitoring, which has made Dallas transportation a lot safer," adds MaryFrances.
Junior Cailyn confirms all of these things after taking the DART Bus multiple times. While the new and improved Dart Rail is getting lots of publicity, the DART Bus system is also an increasingly safe and efficient alternative to cars.
"Riding the bus was definitely different from going in a car, but it was a very good experience overall," Cailyn says.
With all of the growth and improvement that has recently been seen in both DART bus and rail systems, people are starting to take notice. The Hockaday community loves to sparingly use their Hockabuses, but Margaret believes that increased motivation to use DART is needed.
"If Hockaday could simply just introduce the benefits of public transit, then maybe people would start using it because I know that most people probably don't have a great impression of it right now," Margaret says.
Cowger thinks that Hockaday could do a better job at opening up the community to DART as well.
"The one thing that comes to mind is for the school to consider offering its employees the same benefit I was offered: a free transit pass," says Cowger.
Currently, Cowger bikes to work as a more eco-friendly form of transportation, but she still insists on the importance of a well-organized public transportation system. With all criticisms and inconveniences aside, DART has made huge improvements, and Cailyn, MaryFrances, and Erin all maintain that they will use it in the future.
"The train might not have been as fast as driving with all the stops and everything, but it was fun to get a change of scenery and not just drive everywhere," Erin says.
—Allie