Vaulting into the Past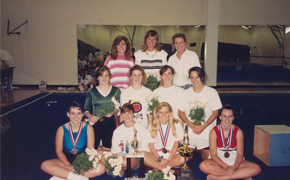 The Hockaday community remembers the gymnastics team that fell out of the lineup 20 years ago
Twenty years ago, Hockaday offered the same spring sports as it does today, with the exception of one sport: gymnastics.
Hockaday offered gymnastics for 19 years during the peak of interest in girls' gymnastics in the U.S. from 1975-1993. In 1977, for example, 3,655 schools across the country offered the sport, according to The New York Times.
The interest in gymnastics worldwide increased when a 14-year-old Romanian gymnast, Nadia Comaneci, scored the first perfect 10 in the sport's history during the 1976 Summer Olympic in Montreal. During the 1970s, some schools began to accommodate their student's ambitions by forming gymnastics teams; Hockaday did so in 1975.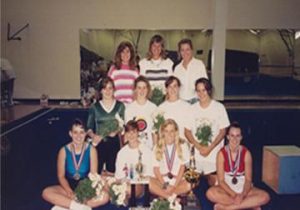 Hockaday's gymnastics team, usually made up of between eight and 20 girls, was classified as a spring sport and offered to students of all levels of experience. Practices were held on campus in the back third of Penson gym. This section was closed off from the rest of the gym and covered with floor mats, vaults, bars and beams from February to May.
Administrative Assistant to Head of Upper School Barby Power coached the gymnastics team at Hockaday from 1981 to 1990. Before coming to Hockaday, she coached at an Arkansas high school for 9 years after she herself had participated in a club team for Hendrix College.
"It was a great girl's sport at the time because of the interest generated by the Olympics, and there weren't as many private gyms at that point," Power said.
The Hockaday team mainly competed in the Southwest Preparatory Conference against schools like the Greenhill School, the Trinity Valley School and the Cassidy School. The team also participated in the Metroplex Independent School Conference that was comprised of the Dallas area private schools.
Lower School World Language teacher Carolyn Cooper '84, who was an athlete on the team while Power was coaching in 1981 and 1982, has fond memories of her experience with gymnastics at Hockaday.
"To this day, if you play the music [that I used to compete to], I can do the routine in my head that is how well you learn the routines." Cooper said. "I remember Mrs. Power helping me learn a back handspring, which was big, and she spotted me a lot, and I remember her helping me on the bars and giving me confidence to help me learn the bar routine."
During her years as coach, the team won SPC in 1981, '83, '85, '86, '87, and '88. The team not only thrived with Power, but won SPC seven other times as well.
Due to many of their competing schools dropping their gymnastics programs and SPC teams, Hockaday did not have an outlet for competition, and took the gymnastic team out of the athletic program in 1994. According to Athletic Director Tina Slinker, not one out of the 17 schools that Hockaday competes with in SPC has a gymnastics team, one reason why Power does not see Hockaday re-instating the team.
Power also cited liability issues and the increase of public gyms where girls could participate in gymnastics outside of school as reasons that the number of school teams dwindled. And there's more.
The National Federation of State High School Associations (NFHS) is the leadership organization for most high school sports and activities in the U.S. According to The New York Times, Ben Howard, a spokesman for the NFHS, believes that some athletes dropped out of high school gymnastics in favor of outside of school gyms that allowed for year-round participation, and that others wished to avoid the expense of gymnastics and stopped participating whatsoever.
Freshman gymnast Jordan Lazenby, who has competed on a club team since she was eight, would not join the team even if it was offered again. "I think that if gymnastics was offered at Hockaday, it would be at a level that is below what I am doing," Lazenby said.
During the period Hockaday supported a program, though, many school teams were in existence to introduce girls to a sport with which they were previously unfamiliar.
"More schools were offering programs, so it gave a lot of girls an opportunity to compete in something that they had interest in but couldn't get that outside of school," Power said.
– Megan Philips