Laura Bush to Speak at Centennial Luncheon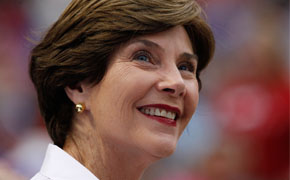 On Friday, former First Lady Laura Bush will speak to a crowd of 1,500 members of the Hockaday community as one highlight of a weeklong centennial celebration. Her speech will also be broadcasted live in Penson Athletic Center for the rest of the Hockaday community to watch.
Eugene McDermott Headmistress Kim Wargo said Bush will arrive to campus just shortly before her speech to meet with Hockaday underwriters, members of the Board of Trustees and families who have contributed greatly to the centennial campaign.
Bush, as a former Hockaday parent of former First Daughters Jenna and Barbara Bush, has expressed interest in visiting Hockaday in recent years. "She has always had a great interest in Hockaday and a good relationship with the school," Wargo said. "When we were thinking about who we could bring in for that big luncheon, we had a lot of people who know Mrs. Bush very well and helped us make an approach and ask her if she was willing to do this."
Wargo described Bush as the best speaker for the occasion.
"We were so thrilled that she accepted our invitation. Having someone of her prominence and stature who has done so much for women and girls around the world and was in fact also a former teacher, is so great. She understands schools and also has a connection to this school in specific," Wargo said. "It's a great honor to host her here at Hockaday."
The senior class will be representing the student body at the event as the only grade in full attendance. However, because the event is open to the entire Hockaday community, parents were welcome to buy tickets for their daughters of any grade.
"It was Mrs. Bush's desire that she would be able to speak to the students as much as the adults and that's why this luncheon was such a good fit for her. That's also why we opened it up to students and families, as well as alumnae, so that those who really wanted to be a part of this had that opportunity," Centennial Director Holly Hook said.
Senior Katie Williams expressed her excitement to attend Bush's presentation. "I am really excited to see and hear her. No matter what your political views are, she was a First Lady, and that is really cool. She is a part of our country's history, so I predict that a lot of people will be starstruck," Williams said.
Bush will become the second Former First Lady to speak at the school after Eleanor Roosevelt, who visited Hockaday once in 1937 and then returned in 1952 to deliver the Commencement address.
"Hockaday has had a huge tradition of prominent visiting speakers. Miss Hockaday collected friends and took pride in being able to bring important people like Eleanor Roosevelt to Hockaday," Hook said. "There are a lot of prominent names that decorate Hockaday's history. Mrs. Bush is one that we are incredibly honored to have. But this just continues the legacy of bringing in these speakers who embody everything we would want to present to our students and to inspire young minds."
-Avita Anand