Movie Theatre Attendance Falls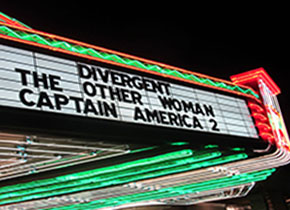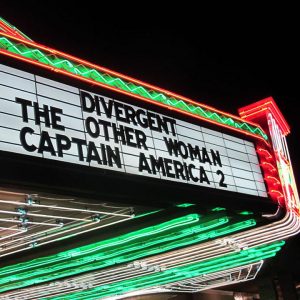 On an average day during winter break, sophomore Erica Kleckner lies in bed with her laptop and a cup of hot cocoa, ready to catch up on all her favorite TV shows and movies. Rather than spending $20 at a movie theater for a ticket and some snacks, Kleckner stays in the comfort of her own home.
In recent years, due to the popularity of websites such as Netflix, Hulu Plus and Amazon Instant Video, as well as free movie-watching websites like Megashare and Putlocker, Americans are beginning to turn to online, website-based technology for their media entertainment. While a movie ticket for Saturday evening costs around $9.75, Netflix charges $7.99 a month, and has hundreds of movies and TV shows available.
"Normally, I'll watch movies on my computer because one of my friends will say 'Oh, you've got to watch this movie,' and I don't want to go out and spend the money, so I'll just quickly look it up," Kleckner said.
On the other hand, freshman Asiyah Saeed has a better experience while watching a movie in theatres rather than on her laptop.
"There are those moments when everyone is looking at the exact same thing at the exact same time and its deathly quiet," Saeed said. "There's this weird connection because everyone loves the movie."
In a survey conducted by The Fourcast which received 188 responses, 55% of Upper School students said that they often use a free, illegal website to stream movies, while 56% stated that they go to the movie theatre. Similarly, a survey conducted through the Harris Interactive Poll in 2012 stated that slightly more than 61% (6 in 10) of adults reported that they rarely or never go out to the movies, supporting the trend that Americans are beginning to go to the movie theatre less.
However, Saeed did not notice this trend until it was pointed out to her.
"They're going to the movies less?" she responded. "I think people are starting to go to the movies more, but I guess if they are going less it's because [the movies] are being illegally put on the internet," Saaed said.
For this very reason, as well as due to Netflix and kiosk rental locations such as Redbox, Blockbuster was forced to shut down as it was unable to compete with these more popular forms of movie watching. However, although the DVD form of movies is no longer popular, some Hockaday students miss the "good-old days."
Senior Kellen Weigand stated that she would visit Blockbuster two or three times a week because there was one down the street from her house.
"One of my favorite memories was watching all six Star Wars movies with my dad," Weigand said.
Similarly, Saeed enjoyed going to Blockbuster as it was a great way to spend time with family and friends.
"I loved looking through the movies and being with my family and friends while we were trying to choose which movie to watch," she said. "It's different than scrolling through Netflix; it's more like an adventure through the store."
Although 73% of students who responded to The Fourcast's survey said that they usually watch movies through Netflix, some students still attend movie theatres for premiers.
"It's a once in a while experience and I think it's more exciting," junior Aashima Garg said.
According to Garg, attending a premiere is a unique experience because "everyone dresses up as the characters from the movie," which is something you will not see while going to the movies in general.
"If it's a good premiere, you know that the entire movie theatre will be packed and there will be a lot of spirit coming from the crowd," Garg said.
Some students watch movies in theatres as a social gathering rather than for the sake of watching the movie.
"If my mom wants to go out to the movie with me, I'll go as more of a social thing, but if I want to watch a movie purely to watch it, I'll look it up online," Kleckner said. "The only downside is that you're by yourself."
"You definitely don't get the same effect that you do in a movie theatre," Kleckner said. "However, in this day and age, I know a lot of kids who don't
really care."
However, Weigand prefers watching certain movies, especially the Marvel movies, on a large screen with surround sound.
"I think there are certainly some movies that you should go to a theatre and watch," she said. "The graphics and the pretty things are better on a big screen and you can really appreciate it more on a bigger screen. But then there [are] some movies where it really doesn't matter."
While most students do not constantly think about the consequences from using free movie-watching websites, sophomore Nathalie Naor, who is also a film student, recognizes the effects that illegal movie-streaming websites have on the film industry.
"The people [movie producers] really do rely on how much money they make in theatres and how many DVDs are bought," Naor said. "It's important that people think about that in the back of their minds."
According to Naor, movie producers and directors are less likely to spend money and make another film if their first film was unsuccessful.
"You might like it [the movie], but if you don't support the movie-maker then they are not going to make another film because they will think the box office wasn't successful," she said.
Similarly, film teacher Glenys Quick, who tries to go to the theatre at least once every week, dislikes how movies are released online.
"I get angry about privacy. I just think it's dishonest," Quick said. "It's taking money away from people — they are cheated out of it."
Due to her studies, a BA in English, BSC in Broadcast Journalism and MFA in Photography, Quick often recognizes many things in a movie that the average person would not see, allowing her to have a better movie-watching experience.
"I always appreciate the cinematography and transitions," she said. "I'm aware of the composition, lighting, how the camera is used and how the story is told."
While watching a movie on a laptop may be the most convenient method, attending the theatre is more worthwhile.
"It feels like a performance," Quick said. "I have the idea that films are made for the big screen where the sound is better, the image is better, and there is virtually complete darkness."
 – Inaara Padani