Junior Heads to College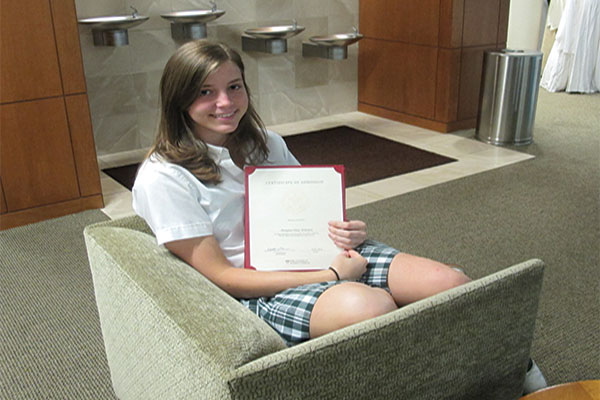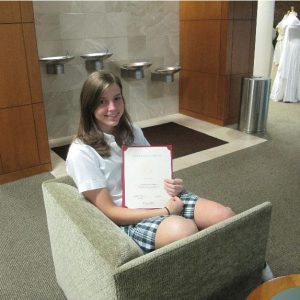 While the rest of her friends and classmates were finishing up their Junior Research Papers and studying for the SAT last January, junior Maggie Whitaker was waiting to hear if she got into college. Yes, you read correctly, Whitaker was applying to college as a junior. Whitaker, like many juniors had been receiving college flyers and promotions in the mail, but one stood out to her. "My parents pulled it out of a pile just to look at and throw away. It said 'Go to College a Year Early' but then I looked at it and then I looked at it some more," Whitaker said.
She decided to apply and went to Head of Upper School John Ashton to see if it was a real possibility.
Ashton said that the school strives to find a balance between maintaining the integrity of the Hockaday diploma while also providing the flexibility and opportunity for girls who want to pursue a nontraditional path.
"Our girls are unique and are going to go out and find great opportunities. I want to be an institution that supports the ambitions of our students," Ashton said.
Now with the school's support and approval, Whitaker began her application process. With the help of Director of College Counseling Carol Wasden, Whitaker turned in an application for a Dec. 1 deadline.
She didn't have to wait long. On a February morning she got a call saying not only that she had been accepted to the Resident Honors Program at the University of Southern California, but she was also nominated for the Presidential Scholarship.
"I couldn't be happy because I was in a state of disbelief. I couldn't believe I had gotten in and that it was a real option for me now," Whitaker said.
To graduate from Hockaday a student has to complete all the course requirements. Whitaker has met them all except for a fourth year of English, which a freshman English class at USC will fulfill, and self-defense, which she will take over the summer. She'll be eligible to get a high school diploma in 2015 and will have the option to go down graduation terrace alongside her 2015 classmates if she chooses to.
According to Wasden, college programs similar to this one that take students junior year look for a certain level of maturity in their applicants.
"If a student is going to make the decision to leave a little early and leave some of those senior experiences behind, the program will greatly consider the applicants maturity and their emotional readiness," Wasden said.
Whitaker, after watching her two older brothers go to college, thought that she was ready to handle the pressures of college and her mother, Mary Whitaker, agreed.
"Maggie has always been a girl ahead of her time. She has always been very mature and very focused. This year she has been working so hard and since she has been doing so well we trusted that she could handle it," Mary Whitaker said.
Maggie Whitaker, now having received the Presidential Scholarship and accepted into Thematic Option Honors Program at USC, committed to the school in mid-April.
After making her decision, she grappled with the thought of leaving her friends and missing out on a year of senior memories.
"I was going shopping the other day and I saw all of the prom dresses and it just made me really sad because I kept thinking I'm never going to go to senior prom," Whitaker said. "I think it's a trade-off. I could make these senior memories or go to this great program that I'm so excited about. I get to be a college freshman and instead of taking AP courses and testing to get college credits I just get college credits."
Whitaker also had to tell her friends, unsure of how they would react.
Junior Aparna Rakesh at first reacted negatively to the news of her friend leaving a year early.
"Initially, I was a little mad, but I had to get over the fact that I was going to lose my best friend before senior year. I knew it was the right thing for her, but it took me a while to get that and get over the selfish aspect of how I felt," Rakesh said.
Rakesh continued to say how the whole situation doesn't seem real.
"I don't think it hit any of us that she's legitimately not going to be here next year, but all of us have the mindset that whatever time we have we are going to have a blast and make it incredibly memorable."
Whitaker struggled with telling the rest of her classmates, worried about how they would react and judge her decision.
"I don't want to be Class of 2014," she said. "I will always consider myself Class of 2015. I don't think that I deserve to be treated differently and I pinky promise I'm not just saying that. I know that I am not smarter or more hard working than any other girl in my class. Going to college early for me was just about finding a great program that was the right fit for me."
– Avita Anand