Hockaday houses an Impressive Art Collection, but this is only known to a select few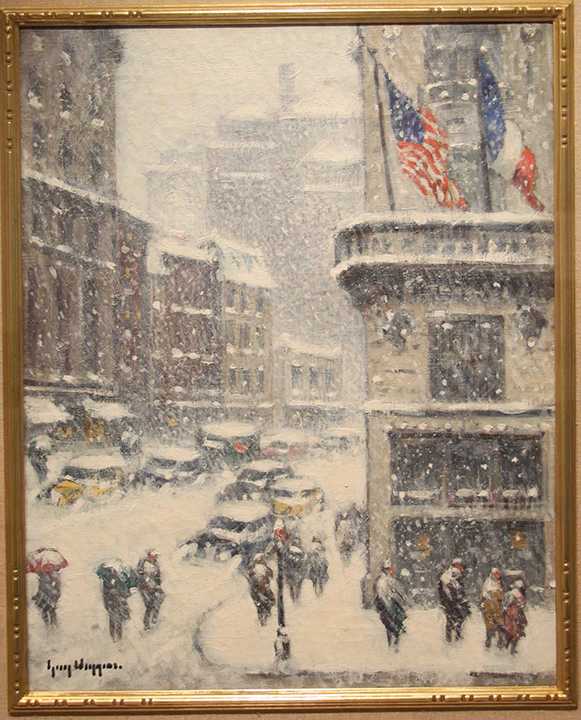 As Ed Long, Fine Arts Department Lead Chair, walks down Hockaday's hallways, he isn't looking at his phone like most people do on their way to lunch. In contrast, he looks at the walls.
On any given day, he meanders through the halls, occasionally stopping to admire one of the many paintings that hang on Hockaday's walls.
But not all of Hockaday's artwork is displayed on the walls we navigate every day. Two are displayed, with a plaque and lighting, in the Centennial exhibit located in the former Memorial Living Room. One of these paintings is an untitled 19th century portrait painted by the American Impressionist William Merritt Chase. The other piece in this room is an early 20th century painting by Miss Ela Hockaday's close friend, and famous American Impressionist, Guy C. Wiggins: a snow scene painted in his characteristic style, set in New York City, with a patriotic blurred flag dominating the foreground.
Both paintings, and most of the school's collection, were owned by Miss Hockaday and were added to the school's collection after her death.
The school owns three paintings by the Wiggins: "St. Regis in the Winter," located in the Centennial exhibit, "A Walk in the Park," which hangs in Chief Financial Officer J.T. Coats' office and an untitled work located in Memorial Dining Room.
A few other paintings from the collection can be found in Great Hall. In the shadows of the portraits of Miss Hockaday and other Hockaday figures, an imposing landscape hangs alone.
Other pieces are found in offices around campus, like the one that hangs in the office of administrative assistant Nita Brewer's back wall–Texas artist Frank Reaugh's "Cattle on High Plains" is  halfway hidden behind a stack of books. It's sister paintings, "Desert Landscape" and "The Wattering Hole," are not as lucky. They are constantly being covered by the doors entering Biggs Dining Hall.
"It's a pity," Long said, looking at the two paintings behind the Biggs doors. "Reaugh's scholars consider these a classical example of his pastel landscapes. But, they're completely ignored [here]."
Even in Technical Director and theater teacher Robert Kallos' office, behind layers of old props, stunning framed costume sketches are stacked waiting to be hung.
Hockaday student artwork, which is been added to the collection every year, is scattered around the Fine Arts building. The large scale paintings from "Mame," the musical, have been leaning against the walls outside of Hoblitzelle Auditorium for the past five years.
As an art project in the '80s, Ruth Harrison, a deceased Hockaday art teacher, assigned her students to create a large scale replica of Bruegel's charming masterpiece entitled "The Hunters in the Snow."
"It's one of the few things that we carried over from the old building," Long said.
The school shows it's Texas pride by featuring other Lone Star artists besides Reaugh, like his students Edward G. Eisenlohr and Olin H. Travis.
Considered to be the greatest Texan painter of all time by collectors, Julian Onderdonk is known for his bluebonnets paintings. In his decidedly impressionistic style, most of his paintings are small, like the sketch that hangs in the Memorial Dining Room.
However, the larger piece displayed over the fireplace in Wittenberg Dining Hall, is "one of the largest ever painted," by the artist, according to Long. The painting, which is on loan from a private collection, has been featured multiple times over the years in exhibits across the country.
Many people in in the community are not aware of the collection's existence. However, last week while in Wittenberg, junior Juliette Turner's jaw stayed open for a good 30 seconds in disbelief, staring at the captivating landscape abounding with misty indigo bluebonnets and an endless sky, before stuttering out, "I didn't know we had that! Why's it in here though?"
Hockaday's art collection includes work by William Merritt Chase, Edward G. Eisenlohr, Ellsworth Kelly, Julian Onderdonk, Frank Reaugh, Olin H. Travis and Guy C. Wiggins.
– Kate Clement
[nggallery id=112]