She Said Yes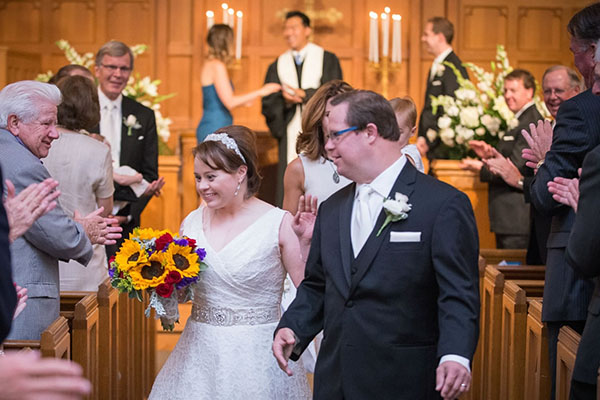 Hockaday's Jessica Smith tied the knot with her lifelong best friend, Austin Underwood, in June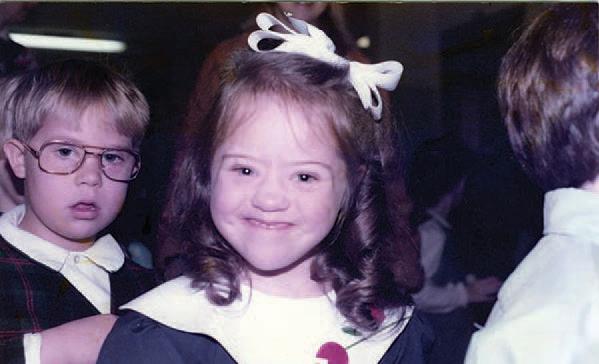 Jessica Smith gestured to­wards the orange, leather scrapbook before her on the dining hall table. As a cart of clean cups and plates were wheeled past, the worn cover of the scrapbook fluttered open, revealing Kodaks inside from her June wedding.
Smith standing in her wedding dress, the beaded bod­ice winking in the sunlight, her white train draped behind her. Smith, arm in arm with her fa­ther, at the head of the aisle. Jes­sica and her handsome groom, Austin Underwood, embraced in a kiss. She laughed bashful­ly, placing a small, ring-bear­ing hand over the photograph. "Not that one!"
Smith and Underwood, both 36, share a love story that has lasted over 30 years.
In 1982, the two families met at a Down Syndrome support group in Dallas. Throughout the years, Smith and Under­wood kept in close touch—partic­ipating in events such as the Spe­cial Olympics and escorting each other to prom. Once childhood friends, Underwood and Smith are now husband and wife.
Down On One Knee
It was Christmas Eve, and Smith left her home under the impression that she and Under­wood would spend the evening admiring Christmas lights. It turned into an evening that she would never forget. Underwood picked Smith up in a limousine, where he hid a video camera in a back corner to capture the mo­ment. Smith admitted that she was caught by surprise.
"I was so distracted by the Christmas lights that I didn't even notice when [Underwood] first asked me to marry him," Smith said. "He kept saying, 'Jes­sica! Jessica! I'm trying to ask you to marry me!'"
And marry him she would. Two rings now rest upon Smith's left hand. The first, the ring that Underwood proposed with, once belonged to his mother. The sec­ond, a ring identical to one on Underwood's hand, was a sur­prise gift for both Smith and Underwood from Smith's father.
Saying "I Do"
Smith and Underwood tied the knot on June 28 at University Park United Methodist Church in the presence of family and friends, including Marcela Ger­ber, a Hockaday Lower School Spanish teacher and a longtime friend of the Smiths.
"It was a beautiful wed­ding," Gerber said. "As [Smith] was walking down the aisle, she stopped the whole ceremony and started hugging everyone. It was very touching."
Smith and Underwood wrote their own vows as well.
A Western-theme reception followed at Eddie Deen's Ranch.
"After [Smith and Under­wood] cut the cake, I had never seen someone push a piece of cake in someone's face like [Smith] did," Gerber said. "Cake everywhere!"
The bride and groom spent their honeymoon at Rough Creek Lodge in Glen Rose, Texas.
The Newlywed Life
In some respects, Smith and Underwood live as the average married couple would. The two see movies, clean the house and share home-cooked meals to­gether. "Austin does most of the cooking," Smith said. "I just can't."
However, weekends mean more than Saturdays and Sundays off of work for Smith and Under­wood. It is the only time that the couple truly has together.
Underwood spends his weekdays in Fort Worth, hold­ing jobs both at his mother's store and at the local Campisi's Restaurant. Smith, on the other hand, resides in Dallas and is a Food Services employee at Hock­aday.
Despite their current cir­cumstances, the affection be­tween Smith and Underwood is unmistakable. "[Austin] loves me so much," Smith said. "He is a hero to me."
On May 14, Smith and Un­derwood's love story aired on NBC's The Today Show after journalist Maria Shriver, whose mother founded the Special Olympics in 1968, reached out to the couple.
Set in Fort Worth, the NBC special took a day and a half to shoot. Shriver interviewed Smith and Underwood as well as their mothers, Georgia Smith and Jan Underwood. Smith and Underwood are shown cud­dling in bed, holding hands and laughing. It is a picture of true love.
"You always want the best for your children," Mrs. Under­wood told Shriver. "You want to­tal happiness for them. And this is it."
– Faith Isbell