Hockaday senior gets involved with the current midterm governor's election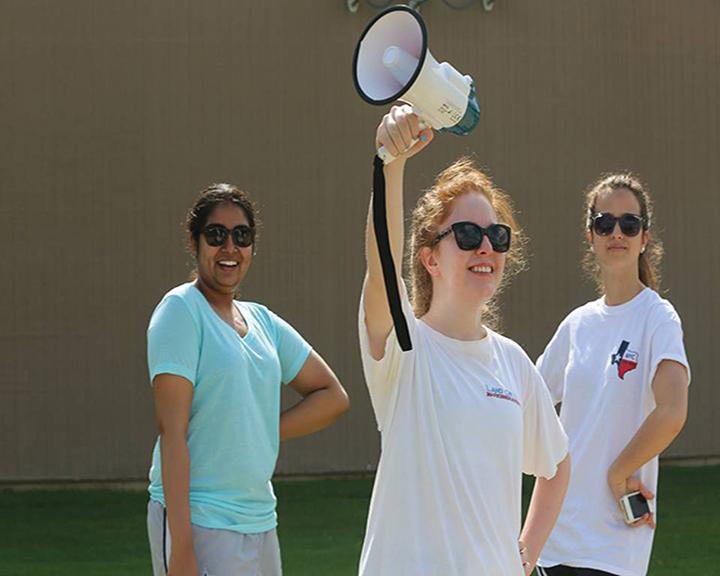 Joining the Democratic Battlegrounds Texas forces over the summer, Hockaday senior Bridget Colliton papered neighborhoods and called countless houses to help increase Democratic voting in Texas.
Battlegrounds Texas is an organization modeled off of Obama's previous Presidential campaign, Organizing for Action, that focuses on increasing the percentage of Democratic voters in Texas. Hockaday Upper School History Teacher and Teacher Sponsor of the Young Democrats Steve Kramer describe Battlegrounds Texas as an "effort on the part of the democratic party to turn Texas from a red state into a blue state, or at least a purple state."
In the last Governor's election, the voter participation percentage was at 18 percent and 12 percent of voters gone for Rick Perry. A goal of Battlegrounds Texas is to reach the other 82 percent of Texans who did not participate in the last election to vote democratic. The efforts by Battlegrounds Texas required hard work from volunteers.   "We did door-to-door canvassing and made phone calls. We were trying to set up these neighborhood teams, so that when we left there would still be democratic infrastructures," Colliton said.
The labor intensive campaign had an ultimate goal of leaving behind Democratic communities within neighborhoods to encourage voter participation. "What we are really focusing on is getting more people out to vote, and so I think you will really see that in this election. It will be interesting to see how many people will turn out compared to 2010," Colliton said.
Despite past elections where Republicans have swept the statewide polls and taken control of Texas House and Senate, Wendy Davis still stands as a strong Democratic candidate due to the changing Texas demographic. With the increasing population of non-whites, the Democratic Party thinks they can achieve their goal of making Texas a political swing state in the future.
Hockaday junior Juliette Turner, President of the Young Republicans Club, noted that this midterm election is the first time in fourteen years current Governor Rick Perry will not be running. "Because of this, it gives both candidates a better chance at winning," Turner said.
Another Democratic campaign point is what they call the 'Republican War on Women' because Republicans have had issues with female voters in the past.
"Republicans seem to be out of touch with women. It is interesting because recently graduated college women tend to vote democratic, and married women tend to vote republican, but it's not enough to overthrow the number of single women voting democratic," Kramer said.
However, Abbott has more experience as a politician than Davis and has worked as Attorney General to protect the state government when the federal government has overstepped its constitutional grounds.
Both candidates have inspirational stories about how they came to office and are interesting to the Texas public.
"Abbott in his mid-twenties went out jogging and a tree fell on him and he's been paralyzed since then. Davis has a good story to tell about being raised low income and going through college and going through law school through her own merit," Kramer said. "They both have good stories to tell."
By volunteering at Battlegrounds Texas, Colliton learned more about the difficult and long campaign process and more about the policies of both candidates, Abbott and Davis. "It made me feel like I had more of a say in it, even though I couldn't vote yet. It's kind of weird to see the connection between making a phone call and a certain issue," Colliton said.
– Claire Fletcher