Junior Austria Arnold won the National Youth Cutting Horse Association Senior Youth World Championship in June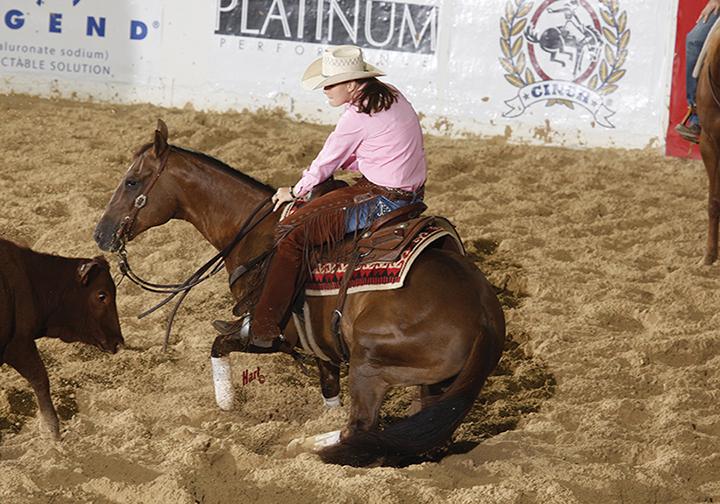 Sitting on a bale of hay in Sulphur Springs, TX in Aug. 2013, Ed Dufurrena, junior Austria Arnold's horse trainer, shared his aspirations with Arnold and her parents.
"I think this is our year to win it," Dufurrena said to them.
And from then on, that was their goal.
Cutting Competitions
Arnold competes in the Senior Youth Division of the National Youth Cutting Horse Association. Cutting, or separating cattle from the herd, is a judged event. Scores range from 60 to 80, and the average is 70. With each competition, points are accumulated; the total amount of points that can be received at one competition is six.
Unlike regular horses, cutting horses are trained to respond quickly and turn sharply in order to keep a cow from its herd.
The team is judged on how the horse moves in relation to the cow. The rider focuses on the cow's neck so as to anticipate its next move.
A rider has two and a half minutes to separate as many cows as they can from the herd. The goal is to separate three cows, but two are acceptable.
World Finals
Last June, Arnold stumbled upon the horse that would kickstart her journey to World Finals. Cowcattin, a horse with $250,000 to his name, was unrideable until Arnold decided to try him.
"We clicked pretty quickly," she said. "That was the first time I had ridden a horse of that caliber."
At the beginning of August, Arnold and Cowcattin were winning consistently, and doing better than she was the year before.
However, Arnold's clean streak was flushed down the drain in November, when the owners of Cowcattin decided to take him back.
"Everyone expected me to crumble," Arnold said. "It's hard when every time you compete, you know that there's a target on your back."
But Arnold came back fighting, stronger than ever. Freckles Meow, nicknamed "Kit Kat," was a mare with $70,000 to her name. After showing her in Gainesville and Graham, FL over the course of two consecutive days, Arnold received a 74 at each competition.
"I ended up buying [her]," Arnold said. "And that's the horse I won the World Finals on."
As Arnold consistently placed high at competitions, she asked her father if winning the World Championship seemed like a realistic idea.
"It's a huge commitment for the family," Arnold said. "It's very expensive and draining, emotionally and physically."
But Austria's parents, Dr. Kenton and Mrs. Carroll Arnold, were willing to go for it.
"If you get within ten points of first place, by December," Dr. Kenton Arnold told her, "We'll haul you with everything we got."
Arnold was four points ahead when December arrived, and rode hard from there. She passed Kolby Don Moore, a good friend and competitor of hers, for the top spot, and never let it go. Arnold accumulated enough points after that to go into the World Finals with a 30 point lead.
"It was monumental in our industry," Carroll Arnold said.
Arnold had qualified for the World Finals, which was hosted in Fort Worth.
The competition consists of three go-rounds, or runs, over the course of three days. The fourth day is called an average. On that day, riders don't compete and averages of the previous three rounds are tallied.
Arnold went into the World Finals 30 points ahead of everyone else. However, no one could catch her, because only a total of 20 points can be won at the World Finals.
"I wanted to prove that I deserved to be where I was," Austria Arnold said.
Arnold won the World Championship 29 points ahead, and ended up with 131 points for the year.
"It didn't really feel real until that night after the third round when they called my name and then I was like 'woah, this is real,'" Austria Arnold said.
Inspirations
Like most world-renowned athletes, Arnold seeks inspiration from role-models in her life.
"My parents have sacrificed so much for me to be where I'm at," Austria Arnold said. "Their sacrifice is incredible, and it makes me push harder."
Her parents also compete at cutting competitions. However, often they have to skip their classes in order to get to another show for her.
"It's a family effort," Carroll Arnold said. "When it turns around and my husband and I are showing, Austria supports us in the same way."
"I know it's because they care about me and they want me to be successful and follow my dreams," Austria Arnold said.
The relationship that Arnold has with Duferrena is another contributing factor for her success.
"He's really good…he's taught me how to tune my horse," Austria Arnold said. "He's a huge part of my success." Duferrena comments on his experience working with Austria.
"Austria did not win the World Championship by chance," Duferrena said. "Because of her work ethic she has developed her cutting skills at young age. It has been my honor to work with such a great young lady."
Looking Forward
Arnold's plans for the future changed when, two weeks after the World Finals, Freckles Meow had to undergo stomach surgery in Mississippi.
"She's the strongest horse I know. She was fighting all the way through," Arnold said. "And she survived, so now we're on the path of a four to five month recovery."
Arnold intends to make top 15 in the world this year, and is currently in fifth place. She is not going to try to win the World Championship again this year, though.
"Most people don't try to win over and over again, because you put everything into it," Austria Arnold said.
She has grown this past year,  not only physically, but also mentally and emotionally.
"She's an amazing competitor because she can put the mental part together. For a lot of kids and adults, when they compete they get really nervous," Carroll Arnold said. "Austria is very focused, she has the ability to just kind of find her place and focus on the task ahead."
Although Arnold is very successful at her sport, she believes that cutting goes beyond winning the first place prize.
"I want people, when they look at me," Austria Arnold said, "To see that I am not only a good competitor but that I am a hard worker."
– Erin Thomas