Double or Nothing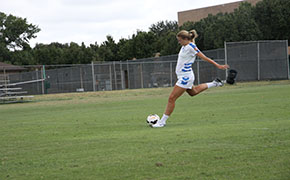 Hockaday athletes juggle the responsibilities that come with playing two sports in the same season 
Junior Christina Archer may not be Hannah Montana, but she does happen to lead a "double life."
Archer is commonly known for being a cheerleader, but what her cheer coaches don't know is that she also runs cross country.
She gets to cross country practice every morning at 6 a.m., goes to school for eight hours and then heads to cheer practice right after school until 6:30 in the evening. Often, Archer must complete her cross country workouts during her free periods with Assistant Director of Athletics Coach Laboris Bean who works his schedule around to help her with the workouts. Archer said that since cross country is more of an individual sport, it is easier to complete the workouts on her own, whereas cheer practices rely on the attendance of other people and are therefore harder for her to miss.
Some weeks, Archer gets only three or four hours of sleep a night and has a limited amount of time to complete her work – time which she says she uses very wisely. Despite her lack of sleep and the increasing homework load that comes along with junior year, Archer is adamant about continuing to play both sports during the same season.
"Cheer is more fun, but cross country is more rewarding," Archer said, smiling.
Archer isn't the only one on the Hockaday cross country team who plays two sports. A few other girls do the same.
Sophomore Carolina Campbell takes part in both cross country and club swimming.
Campbell spoke to Bean about playing two sports, and he decided that it would be best for her to attend cross country practices three days a week as opposed to the usual five.
"Both of my coaches have been very supportive and understanding of my decision to play both, which has been amazing and such a relief," Campbell said.
She shows up to cross country practice in the mornings and then goes to club swimming practice after school. Campbell has been swimming since she was six-years-old, but added that "it's always hard to decide which one [sport] takes priority over the other." Sometimes, Campbell feels upset that she isn't able to fully commit to cross country, but she knows that it isn't healthy for her to overexert herself.
Similarly, sophomore Maddy Skaife, who is on the varsity field hockey team and the Sting Club soccer team, must also cope with the exhaustion that comes along with playing two sports. After a long school day, Skaife goes to field hockey practice for two hours, and then has 30 minutes to recover and get ready for her soccer practice.
She balances both her school work and the amount of energy she exerts at each of the practices.
"I try to save some of my energy from field hockey for soccer, but it's still extremely exhausting," Skaife said.
Her club soccer coach isn't a big fan of her playing an additional sport because he fears it makes her more vulnerable to getting injured.  However, Hockaday's physical education and varsity soccer coach Rodney Skaife, who happens to be Maddie's father, believes that it's good that kids are versatile and that they try things to see what they're good at. His concern though, is a different one.
"I'm also a little scared of kids choosing one avenue, and then finding out it's the wrong avenue because it's hard to do that reverse u-turn," he said.
From the standpoint of a father, Rodney believes that playing two sports contributes to her daughter's happiness–at times, when one sport may not be going so well, the other is going great.
Even though playing two sports during one season is a huge commitment, all three girls enjoy playing on both teams, and they plan on continuing both sports in the future.
Campbell added, "To me, swimming and running cross country at the same time is so worth it because I love doing both and I am able to play both without having to quit one."
– Manisha Ratakonda