Lady of the Lake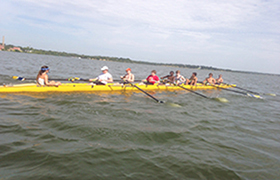 Junior Sarah Taylor takes a position as a coxswain of an all-boys boat on the Dallas United Crew Team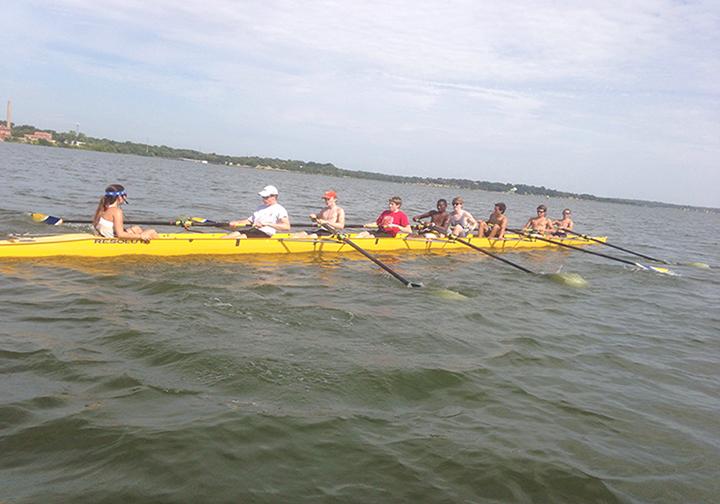 Across White Rock Lake in Dallas, junior Sarah Taylor's voice can be heard loud and clear. "I know what you are feeling, I know the pain. C'mon row through the pain!"
As a coxswain, the person in charge of motivating the rowers in a boat, on the Dallas United Crew Team, these words that Taylor speaks are nothing out of the ordinary. Her boat, her outfit, her position in the boat, everything that Taylor is doing fits into the afternoon scene at White Rock Lake, a common place for high school crew teams. The only catch: all of the other rowers in Taylor's boat are boys.
Although DUC is a co-ed crew team, Taylor elected to row with all-boys because she feels more in her element around them.
"I told the coach that I only wanted to cox for the boy's team because I connect better with boys," Taylor said. "I am used to being around boys all of the time, so it is not a big deal."
Coincidently, Taylor's twin brother, Drew Taylor, who also rows with DUC, influenced her to get into crew. Both Sarah and Drew used to be avid tennis players before a wrist injury sidelined Drew. And that is when they were introduced to rowing.
In order to regain his strength and heal his wrist, Drew began using the erg machine.
Drew joined the St. Mark's School of Texas crew team at the beginning of freshman year after enjoying his rehab work and then later transitioned to DUC rowing. Sarah was then invited to go to some of the practices, and the coach asked if she wanted to try out coxswain, and she obliged.
Sometimes Drew and Sarah row together in the same boat, and he does not believe that the dynamic of the team is any different.
"I don't get to communicate with her like we do at home because we're doing completely separate things at practice," Drew said. "But after practice, we hang out with the guys and girls, and it's normal — like hanging out with a friend group together."
The coxswain never rows the boat, but Sarah notes the long list of additional jobs that the coxswain must complete.
"I have to make sure that the boat is safe, and I have to make sure that it doesn't hit anything, or  that we don't accidentally hit someone in the head. When we are on the water, I have to make sure we don't run into logs," Sarah said. "I have to steer the boat. I have to critique the rowers in their form, and their blades, and their technique. I have to listen to the coach and make sure that I know what is going on because we run drills, and I am supposed to be calling the drills and making sure that everybody is doing the drill correctly."
Randy Dam, Sarah's coach at DUC and a former Purdue University coxswain, believes that having a girl as a coxswain is an obvious advantage.
"I've realized that, in general, girls have better control of the boys on and off the water," he said.
In addition, Dam also said that the mental game and respect of a girl coxswain out measures any boy coxswain.
"Sometimes, a male coxswain can be seen as an equal or lesser individual to the rowers which can really be a detriment to the team due to lack of respect," Dam said. "The gender division with girls and guys induces a sort of respect that you don't really see with a male       coxswain."
Dam sees Sarah as an extension of himself and believes that the boys respect Sarah because she is one of their coaches.
But not every girl can be a coxswain for an all-male boat; it takes a certain amount of courage and self-respect to hold the job.
"Coxing demands a lot of respect from the rowers, so if a girl decides to cox a men's boat and views herself as subordinate to the rowers, then she isn't the right fit for the boat," Dam said. "I've noticed that female coxswains tend to not mess around on the water as much as male coxswains, and the relationship between the coxswain and the rowers is not necessarily one of friendship, but they treat her as a mother figure along as a coach."
As for workouts, Sarah trains with her all-boys quad Monday through Friday, 4:30 pm to 6:30 pm, at White Rock Lake or CrossFit Lake Highlands. Sarah said that the place of the workout depends on the weather and how her coach is feeling. On Mondays and Wednesdays, there are optional CrossFit workouts from 5:30 pm to 7 pm, and optional rowing on Saturday mornings. Whether the team is doing a piece on the water or erging in the gym, Sarah works out with the boys. Sarah thinks that working out with the boys, although difficult and tolling on the body, adds to the unity of the team.
"If I just sit there, they kind of look at me and think, she is just kind of slacking off and she doesn't know how it really feels," Sarah said, who frequently has to yell at the boys during a hard workout just to keep them motivated.
Even though Sarah has never rowed for Hockaday, she has had experience coxing for an all-girls boat a couple weeks ago during an after school practice. She noted that the mental game of rowing changes greatly from gender to gender.
"You really have to be supportive for the girls because they will cry and they will scream. For girls, it's like a very emotional thing," Sarah said. "For guys, once you get them to tap into their testosterone, you can yell, you can scream, you can cuss at them and they will just row harder."
Although crew, and rowing in general, comes with its challenges, Sarah enjoys the power and control that comes with the job.
"It's really fun for me because when we are on the water and we are doing a piece, I can just scream whatever I want and they will just row harder," Sarah said.
– Mary Claire Wilson