Day of Service Becomes Tradition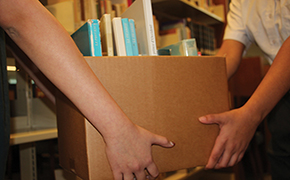 The 100th anniversary of Hockaday was a trek back in time marked with assemblies, a whole lot of hockapunch and the unforgettable Cen"TENT"ial. But last year wasn't merely a celebration of the past; it was the start of something new: Hockaday 2.0.
One of the many activities introduced during the Centennial was the first Day of Service. On Nov. 13, 2013, more than 1,000 students and 200 faculty members partnered with 16 different organizations in the Dallas area to conduct various service learning activities. But this project wasn't simply placed in a dusty box like most of the Centennial gear. Instead, Director of Service Learning Laura Day has worked alongside Eugene McDermott Headmistress Kim Wargo to plan Hockaday's second Day of Service in hopes of making it an annual tradition.
As one of the Community Service Board Representatives for her class, senior Elizabeth Michel has also participated in planning both this year's and last year's Day of Service. According to her, the wide range of activities that took place last year at this event helped the Board narrow down where they could go to make the largest impact for the second Day of Service.
"It's great if everybody can go to a lot of different places, but there's only so much one group of people can do in one place," Michel said. "It's better this year that we can focus on one thing and really make a difference."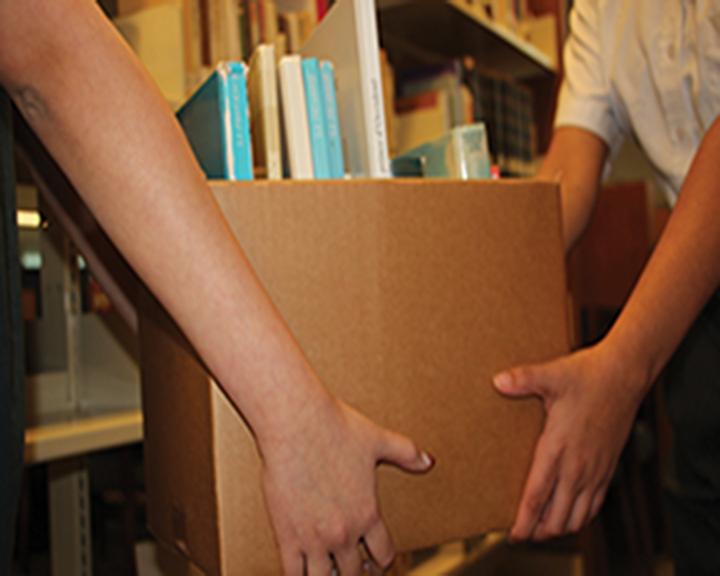 The 2014 Day of Service will focus on the theme of literacy—a type of service learning that about 150 Upper School students are already participating in during their free time. Currently, Hockaday students travel to six different elementary schools in the Dallas Independent School District and solely focus on ameliorating literacy skills.
"I think education is most needed in our community because if you can address that, then you can address so many of the other issues that we try to deal with," Michel said.
Both Wargo and Day agreed that focusing on work that is already being done is beneficial for not only the community, but for Hockaday as well. According to Wargo, this year's theme-based Day of Service will create a lasting impact, prompt conversation and motivate students to seek additional service learning opportunities after just the one day.
"It was really important to us to find a way to do [the Day of Service] again and to do it in such a way that we felt we could sustain on a regular basis," Wargo said. "We're going to focus on education; we're going to make the opening assembly about education, we're going to make what the girls do during the day about education, and we're going to make the reflection about education because we are an institution of education."
Junior Rajya Atluri, who has been tutoring at Sudie L. Williams Elementary for the past few years, appreciates the literacy-based theme due to her personal experiences.
"I'm really excited that this year's theme is literacy because I've witnessed how important it is firsthand," Atluri said. "Last year, the little kindergarten boy I tutored at Sudie started off needing a lot of help to get through a book.
He strengthened his reading skills week by week, and by the end of the year he was reading books by himself."
By focusing on this one theme, students will leave behind something truly sustainable.
"We're doing a lot of transformations of libraries, so our students will not just work with the kids this time but will actually leave a sustainable thing behind for the school, which is really meaningful and has a long-lasting effect," Day said.
The Lower School will relate their Day of Service projects to grade-specific themes. Kindergarten will focus on the elderly, first grade on animals, second grade on the environment, third grade on hunger and fourth grade on the youth. While the youngest Hockadaisies will stay on campus, Middle and Upper School students will be travelling to nine different elementary schools: Nathan Adams Elementary, Everette L. DeGolyer Elementary, Jerry R. Junkins Elementary, Herbert Marcus Elementary, Walnut Hill Elementary, Stephen C. Foster Elementary, Leonides Gonzalez Cigarroa MD Elementary, Sudie L. Williams Elementary and the K.B. Polk Center for Academically Talented and Gifted.
Due to the great number of students in the Middle and Upper Schools, only grades six, eight, 10 and 12 will be travelling off-campus. The remaining students will work on writing letters to elementary school students, creating take-home homework-helper kits for parents, and doing other hands-on projects that will support the service that is being done off-campus.
The Day of Service will be a beneficial learning opportunity for avid community service-goers, as well as for students who are still trying to find their niche in the broad spectrum of service learning opportunity.
"This day will force every single student to have an experience; many students will get to learn someone's story or meet a kid that touches them," Day said. "Maybe it will inspire them to want to give back."
Wargo hopes that the Day of Service will have both internal and external impacts. According to her, Hockaday is a school that's well-known for it's rigor and academic success, but she believes that Hockaday girls succeed in ways that are far beyond what goes on in the classroom setting.
"I hope that it is a really strong message to the outside world that to be a Hockadaisy is to care about your community and to be successful in that arena as well," Wargo said.
Similarly, Michel would like to make use of the numerous resources and advantages that Hockaday has to offer, as well as help her peers have an eye-opening experience.
"When you go to the other schools, you see how much they appreciate every little thing, and it really makes a difference," she said.
Day believes that externally, this year's project will have a huge impact because Hockaday is working to further develop the public-private school partnership, one that isn't quite common.
Within the gates of the school, the Day of Service will be a time to reflect and accomplish something as a community.
"That's where the learning part comes in: it's not just about going out and doing good in the world," Wargo said. "It's also causing us as a community to think about the world we live in and how we can create an impact that is worthy of our time."
Nov. 12 won't be an average day at Hockaday—it will be a day of eye-opening experiences, a day of consolidation and a day of dedication to serving the Dallas community.
"People may look different or have different socioeconomic statuses, but all of those kids are just as interested in learning," Day said. "I think the Day of Service will show Hockaday students that there is a completely different world just two streets down."
– Inaara Padani