Hello to Ello
Use Instagram, Whatsapp, or the company that owns both, Facebook? Paul Budnitz thinks you're the victim of theft and privacy violations.
In order to combat this, Budnitz, the 47-year-old owner of Budnitz Bikes, Kidrobot and several other businesses, founded Ello, described as "a simple, beautiful and ad-free social network."
Though Ello shares many qualities with Facebook, it was spawned in response to that media giant. Whereas Facebook monitors its users and individualizes advertising, it also sells its users' information to third parties. Ello has no ads and the creators' manifesto maintains that those who use Ello are "not a product" and their information won't be sold to data brokers.
Unlike social networks Tumblr and Instagram that broke their promise, Ello assures users that they will not break their promise of keeping the site ad-free. English teacher Jennifer Boulanger, Ph.D., whose students use class Twitters, doubts that Ello will retain its promise. "I think that is a good, noble goal …[but] Facebook started out initially saying that they were going to try to protect our privacy, and then as soon as it went public, I think it broke our trust." Ads on social networks pay for the costs of running the site, but Ello is free, making money by offering unique features people can buy to customize their Ello pages.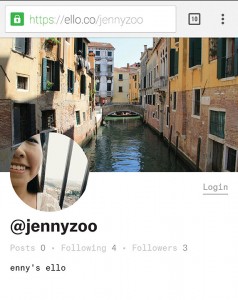 The information that Ello collects from its users – including language, country, location and amount of time spent on site – stays within Ello's database, and is never seen by a third party. Even so, this collection of data is optional: users can opt out of sharing their information using a technology called Do Not Track (DNT), the online equivalent of the Do Not Call list. Ello honors this program: if an Ello user uses DNT , Ello will not access their information. Facebook ignores DNT.
Sophomore Ello-user Abigail Spencer is "not a fan" of Facebook's ability to see its users' information.
"I think Ello is much better because they do not [monitor their users]," she said.
Though it was created in April 2014, Ello's popularity skyrocketed in mid-September when Facebook's Real Name Policy, which asks users to supply their legal name to the website, was contested by many users. Eleven million people have left Facebook since 2011, with 31,000 people per hour joining Ello on Sept. 25 2014, according to Vox.com.
Senior Lily Ramirez, a student in U. S. Government, has strong opinions on the Real Name Policy and wrote a paper for the course this September against the National Security Agency. Even after Facebook's eventual apology, Ramirez still felt strongly about the many wrongs the social networking site had committed.
"[The policy] angers me. I think that's horrible," Ramirez said, before elaborating that while she does use Facebook, she appreciates how Ello is making an effort to respect people's privacy. Keeping Facebook's issue in context with her paper, she asked, "Is Facebook an important power in the world?"
Ello also boasts a feature that Facebook does not: the ability to separate contacts into Friends and Noise. This keeps the dashboard of the app clean, while still allowing users to follow many accounts. But Ello still has a few problems.
"It's sort of confusing," Spencer said as she set up her Ello account, trying to find more people to add to the Noise section. "I think that once I get used to it, it could potentially be cool."
While Ello is still in beta mode and thus by invitation only, Ramirez said that she would move to Ello if more people joined and the site became more popular. "Everyone I know is on Facebook. If I move to Ello then it's just going to be me on Ello and I might as well not have a Facebook or anything. So it depends," she said.
Boulanger agrees, pointing out a generational gap that would represent a paradigm shift for older Facebook users who are committed to using that social media as a networking tool."I don't know if I would be that tempted to leave, despite the problems with Facebook, because I'm so plugged-in with colleagues and with friends all over the world through Facebook, and it'd be a real hassle to … switch all that over and to guarantee that everybody else would be switching over as well."
Spencer disagrees. "I think it's kind of cool that it's invite-only," she said. "It's like I'm part of a select club." Looking at her short, for now, Friend list, she added, "However, this select club has only one friend."
Nicole Klein, a sophomore who also took Ramirez's position for the NSA opinion paper, disagrees with her classmate and said that she would get an Ello. However, she doubts that Ello will stick with its promise not to monitor their users.
"It's there, and they could still do it if they wanted to," she reminded Ello users.
See Sophomore Jenny Zhu's Ello profile above.
– Maria Katsulos