Dancing to Neverland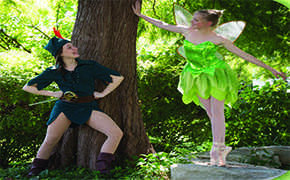 Here we come, Neverland. Hockaday Dance is bringing the magic of Peter Pan to the Hock­aday community this November. This will be the first time that Hockaday Dance per­forms Peter Pan in Hoblitzelle Auditorium, and also the last.
Performing Arts Chair and dance teach­er Beth Wortley and fine arts dance teacher Christie Sullivan agree that Peter Pan is the "perfect" choice for a ballet.
"I think everyone relates to the joy of escaping into a fantasy," Wortley said. "[Peter Pan] is kind of beautiful in that it gives the audience an escape."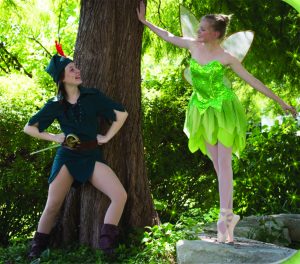 Hockaday Dance will be spreading the magic of Peter Pan to the Dallas community as well.
With the help of Director of Service Learning Laura Day, Wortley organized for 80 students from Sudie Williams Elementary to come to Hocka­day for the afternoon assembly performance of Peter Pan.
"We love sharing the talents of our Hockaday dancers with children who rarely get the op­portunity to get to see live per­formances," Wortley said. "We would love to always include a community service component to all our performances."
Wortley believes that Peter Pan has been the "most difficult" performance that Hockaday Dance has ever had to prepare for.
"We totally started from scratch," Wortley said. "It's been a good challenge, and it's good for us to push ourselves."
Casting and choreograph­ing occurred in early September.
"I was looking for the acting ability, the ability to portray a character, and that kind of stage presence," Wortley said. The main cast of characters was chosen from Dance Theater with senior Kathryn Shultz as Peter Pan, junior Heather Xiao as Wendy, and senior Ripley Mayfield as Tinker Bell.
"I knew that [being a main cast member] would not only re­quire dancing but also storytell­ing," Mayfield said. "You essen­tially have to become an actress on stage."
"Big productions require lots of preparation and rehears­als," Xiao said. "I'm actually ex­tremely impressed that [Wortley and Sullivan] have managed to put together an entire produc­tion, like Peter Pan, in just a few class periods."
Peter Pan will be performed on Nov. 17 at 11:40 a.m. and Nov. 19 at 7:30 p.m. in Hoblitzelle Auditorium.
– Faith Isbell