The Class of 2015 turned the Upper School halls into an American Horror Story.
With the hallways of Upper School adorned with fake blood and girls dressed as clowns, the senior class' theme for Halloween, American Horror Story, left Hockaday's students and facul­ty both impressed and terrified.
"The quality of the decorations and costumes was amazing and it also had that frightening as­pect to it," Junior Felicity Hen­derson said.
Seniors Laura Nagy, Kath­erine Banks, Katie Miller and Sydney Thomas were in charge of decorating the hallways, and, along with the rest of the senior class, they were successful in scaring underclassmen, leaving many girls terrified to be in the dimly lit hallways.
Freshman Bailey Brand said that one of her friends was fear­ful when seniors put her on a ta­ble and casted fake 'spells' on her. She added that this year's hall­ways exceeded her expectations and were more creatively put together than she had expected. However, Brand herself was too scared to go through the hallways in the morning. "When I saw one of the masks, I was so scared that I couldn't go in," Brand said.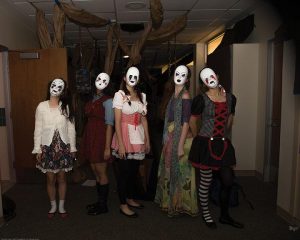 One of the seniors stationed in freshman hallway, Suzanne Schmitz, confirmed that many of the freshmen were terrified and even ran off crying.
"They got really scared when we unexpectedly moved or made noise. I think that was the main source of the tears," Schmitz said.
Senior Sam Toomey, who was dressed as a clown, said that the seniors' goal for the theme was "physiological terror."
"At first, I wasn't sure about the theme because I don't watch the show, but once it hit 8 p.m. [the night before Halloween] the hallways started to come together and look awesome," Toomey said.
She stood near the cars as underclassmen were dropped off, and even made two fresh­men cry when she "invaded their personal space and cocked [her] head at them."
Toomey then made her way to freshmen hallway where many girls who saw her screamed and scattered; others began to cry due to their fear of Toomey's persona.
This was the first Hocka­day Halloween experience for Spanish teacher Alejandra Su­arez. She said that it was both frightening and enjoyable.
"It was spooky, it was scary, it was great. The girls really did a nice job, and I had a lot of fun," Suarez said.
The dark hallways and creepy costumes were what ter­rified her the most, but accord­ing to Suarez, even though the the girls were prodding under­classmen, everyone was having a good time.
– Manisha Ratakonda