Sophomore Jessica Wang travels to China over the summer to refine table tennis skills.
She trains for at least 10 hours a week. Her prac­tices do not consist only of matches, but working out as well. And before she starts her practice match, she runs with sandbags on her legs. Her sport? Table tennis.
Sophomore Jessica Wang did four different sports: gym­nastics, karate, swimming and dance, before finding her niche.
As a child, Wang would al­ways attend her brother Char­lie's table tennis practices and pick up the balls for him. Seeing that her brother had fun with it, she also decided to try it out and began playing in sixth grade.
The sport of table tennis requires much more than hit­ting a small ball over a net. Although it does not require as much power as tennis, plan­ning a move is everything. Be­fore she hits the ball, Wang has many factors to consider – where to hit the ball, the speed and the spin on the ball. Strategizing and discovering the weak points of the oppo­nent are significant parts to the game.
"It's such a small table, so if you just hit with no tricks, it is obviously really easy for the op­ponent to return," Wang said.
According to Wang, a match is won when a player wins three out of five games. Each game is won by whoever scores 11 points first. If there is a deuce, or a score of 10 points to 10 points, the players continue until one wins by a two point margin.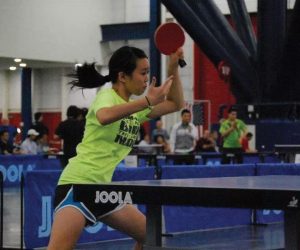 Every two weeks or so, Wang attends local competi­tions that allow her to boost her rating, which increases ev­ery time an opponent is defeat­ed. Towards the end of the year, Wang attends the U.S. National Championships for Table Ten­nis. This past year at Nationals, which took place in Las Vegas, she won second place and is currently training again for this competition, which is go­ing to be held again in Las Ve­gas this December.
For the past two summers, she travelled to Hunan, China for a month to train at Shen Dui, a school solely dedicated to ping pong.
"Those kids are super in­tense," Wang said.
However, Zhong An Wang, her coach of almost four years, is very impressed on how drastically Wang was able to improve. Coincidentally, they share the same last name but are not related.
"She was able to perfect and learn new tactics and skills," Zhong An Wang said.
Wang's commitment to ta­ble tennis has affected her sched­ule in many ways. With traffic, it takes her an hour to get from school to her club, QD Academy, located in Plano, Texas.
"It is always hard to fit [ping pong] in and my home­work in, but I still do it because I love it," she said.
According to her coach, her busy high school sched­ule has allowed her to become more "concentrated and eager." Wang even plans on playing in college, similar to her brother who is in the table tennis club at the University of Texas at Austin. She is excited that more and more colleges are forming clubs and becoming more seri­ous about this sport. However, in many aspects, Wang strives to surpass her brother.
"She always compares herself and her skills to her brother," Zhong An Wang said. "Jessica would get frus­trated if she didn't achieve a certain movement or stroke at the time her brother achieved it, or if she didn't win the same titles as he did."
But her brother thinks dif­ferently. "I was able to get closer to my sister," Charlie Wang said.
To avoid conflict, they usu­ally choose to enter different events.
Wang found ways to battle this challenge. Her coach said, "She realized that in order for her to get better she would have to stop comparing her­self and start to learn that she should play to please herself, not in order to beat others."