A Letter to Math Clocks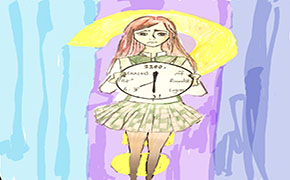 Dear Math Clocks,
Why are you the way you are? You're so enigmatic, so hard to read. I feel like we're just not on the same page. And hon­estly, I'm getting tired of you. Scratch that. I've been tired of you ever since our first encounter freshman year. Maybe I'm just expecting too much of you.
I know that by now we're expected to know the place­ment of numbers on the com­mon analog clock, but for some reason I can't wrap my head around you. Instead of seeing normal numbers, I only see equations. Math clocks, what is the point of you? Better yet, what number does 52-x2+x=10 represent? That's not mental math material. Help.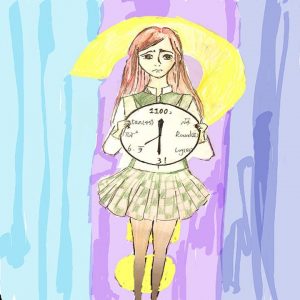 Recently, whenever I look up in math class, searching for some refuge from these difficult calculus equations, I see you. I don't want to have to do more math to figure out how much time is left in the period. Yes, the square root of 4 may be easy to solve. But you know what's even easier? Seeing that it's 2 o'clock without having to solve a math problem beforehand.
To be quite frank, math clocks, you make me more confused. I reminisce about simpler times, the days of sim­ple numbers, the days when looking at a clock didn't make me physically uncomfortable. When I sit in class, staring at your face, I can't help but grit my teeth in discomfort and at­tempt to ignore the complex horror that I lay my eyes upon.
Somehow we've gone from sundials, to analog clocks, to digital clocks, then to you, math clocks. Not trying to hurt your feelings or anything, but I'd prefer a sundial over you. Trying to read you is like trying to figure out why juniors are in my BC Calc class. I've reached my limit with you.
We all have responsibili­ties. At Hockaday, there's a lot expected of us. Your job is to tell me what time it is, to give it to me plain and simple. You're supposed to make my life eas­ier. But in reality, you've only caused more frustration.
You had one job, math clocks.
– Elie MacAdams and Sydney Yonack