Embracing Passions
While Hockaday students value their academics, many of them still pursue their artistic passions.
The most wonderful time of the year is finally here and Dallas is celebrating this holiday season with mov­ies, musicals, plays and perfor­mances. Everyone is hard at work; directors are envisioning, dancers are pirouetting, singers are carol­ing and actors are performing. But if you look closely, you might no­tice that some of these fine arts afi­cionados are our very own Hocka­day students.
This summer, juniors Sadie Lidji and Rajya Alturi began craft­ing a screenplay for a short film entitled "Something Not Unlike Myself." Through this film, Atluri was able to combine her love for writing with another passion of hers—acting.
"One aspect of acting that I love is that it teach­es you a lot about how to relate to others. In order to play a character it's im­portant to feel what that person feels and think how she thinks, and in order to do that you need to understand that per­son on some level," Atluri said. "It also teaches you a lot about yourself."
Atluri and junior Julia Pasqui­nelli starred in the film as main characters, while junior Evan Mill­er also had a supporting role. The five-minute film was released to the public on Dec. 12, illustrating themes such as friendship, perfec­tion, the idea of image, and jealou­sy between friends.
"We thought we could really reflect a lot of issues that girls our age deal with, especially girls at Hockaday because I feel like everyone goes through troubles in friendship and the idea of per­fection," Atluri said.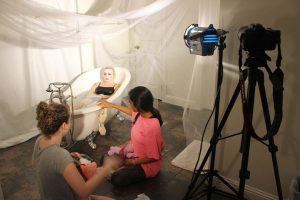 Lidji and Atluri finished the screenplay in October and imme­diately began shooting the film in November over a span of three weekends. Junior Lexie Chu was asked to produce the film since both Lidji and Chu are taking Ad­vanced Film Studies at Hockaday.
"I like writing and I'm also in yearbook so it's really fun to do dif­ferent kinds of writing for differ­ent kinds of fine arts," Atluri said.
The team devot­ed a large amount of time outside of school to acting in, directing, shooting and editing the film. According to Atluri, the girls wanted to really "stay true to [their] vision of the story and be able to convey that in [their] film."
The girls plan on submitting "Something Not Unlike Myself" to various competitions such as South By Southwest and Dallas In­ternational Film Festival.
Atluri would like to continue acting in the future; however, she is aware that the business is tough.
"For right now, I'm just work­ing on my craft and taking it day by day," she said. "I'm also inter­ested in other fields so I think there's a lot of possibilities for what I'll pursue in college."
Christmas Pops
Over the summer, when the holiday season was months away, Hockaday dance teacher Christie Sullivan '95 was asked to choreo­graph the dance portion of the Dal­las Symphony Orchestra's (DSO) "Christmas Pops," which takes place from Dec. 5 to 21 at the Morton H. Meyerson Symphony Center.
The entire production, which has not included a dance element for about eight years, features the DSO, the Dallas Symphony Chorus, the Children's Chorus of Greater Dallas and the Christmas Celebra­tion Dancers. Sullivan invited soph­omore Allyson Guba, who dances with the Dallas Conservatory, and junior Lily Sumrow, who is current­ly in Dance Lab at Hockaday, to join her cast due to their "work ethic and dedication to dance."
Sullivan also cast Hockaday alumna Alex Karigan Farrior '03. According to her, "the multigen­erational daisy" aspect is a major benefit for Hockaday and she be­lieves that "the Hockaday Fine Arts Department fosters the love of the arts, even if student don't pursue it as a career."
The "Christmas Pops" show will perform 15 times in three weeks. Both Sumrow and Guba, as well as Sullivan, have spent countless hours rehearsing in or­der to make each show a success. Although Sumrow was unable to participate in Hockaday's musi­cal, "The Sound of Music," she is extremely grateful for the chance to dance at the Meyerson.
"It was just an opportunity that kind of fell into my lap and I decided it's not something I would get to do everyday," Sumrow said.
The combination of the vari­ous arts in this show is especially unique. Specifically, dancing in front of a live orchestra is a brand-new experience for both Guba and Sumrow.
"Symphony and dance- that connection together in the arts community is just a blessing be­cause we need to help each other out and have as many collabora­tions as we can," Sullivan said.
Through these performances, Guba and Sumrow gain experi­ence by training with professional dancers. Sumrow said she is "gain­ing a lot of insight on what goes into a professional performance."
Sullivan appreciates the "in­valuable" relationships between the professional dancers and her Hockaday dance students.
"To work with professionals, to see how they are in rehearsal and that personal responsibil­ity that comes with profession­alism- I think they have been able to soak that in and really move forward with their work," Sullivan said.
Hockaday's involvement in this show displays the student's ap­preciation of the fine arts program.
"I think that just whenever Hockaday girls go and do per­formances or competitions, it's just a representation of how far-reaching the girls are and how hockaday girls can encompass many different types of talents," Sumrow said.
Both Guba and Sumrow hope to maintain a connection with the arts in the future; Guba would like to pursue musical theater while Sumrow hopes to cultivate her passion for dance in college.
"Christmas Pops" features eight different songs and is split into two acts. Act I involves tradi­tional and formal Christmas mu­sic, while Act II consists of popu­lar holiday songs that are filled with Christmas spirit. Although the first show was on Dec. 5, there are still 4 shows left.
 From Arabia to Neverland
Junior Heather Xiao, who also played the role of Wendy in Hockaday's dance performance of Peter Pan on Nov. 17, has been dancing since she was 4 years old. Growing up, she mainly learned Chinese dance, but is also skilled in ballet, jazz and lyrical dance. Xiao has been dancing with the Royale Ballet Dance Academy for about six years, and on Dec. 6 and 7, she participated in her fourth performance of "The Nutcrack­er," which the studio where she dances produces annually. This holiday season, Xiao played the role of Arabian Princess. Mem­bers of the Royale Ballet Dance Academy auditioned over the summer and began rehearsing in August, around the same time school began. Since August, Xiao dedicated 15-20 hours every week to prepare for The Nutcracker, yet her passion for dance has never stopped growing.
"Dance gives me a form of expression," Xiao said. "It's a destresser, but I also enjoy being in a big production because of all the adrenaline and being able to dance with all my friends."
Xiao also said that she appre­ciates that she has the opportu­nity to "do what [she] loves with the people [she] loves."
Xiao hopes to either minor in dance or teach dance classes on the side while she pursues other academic interests.
Say Hello to the Hey Heys
In July, freshman Quinn Brodsky was asked to be the vo­calist for a band called The Hey Heys after the band's previous vo­calist left. The band includes four other boys, Justus Winkler, Carter Elliott, CJ Miller and Anton Cari­ffe, who all attend schools in the Dallas area. The Hey Heys hold two to three concerts per month and have previously performed at The Boiler Room and Trees, both in Dallas. Brodsky and her other band members produce a wide variety of music from rock to jazz to blues, and if you get a chance to attend one of their concerts, you'll probably hear covers of current music as well as originals. Although she joined the band about six months ago, Brodsky's journey with music began as soon as she could speak.
"I feel like [singing] is the most physical way that you can express yourself," Brodsky said. "You can really put yourself into what you're doing."
The Hey Heys practice twice a week, which often takes away from Brodsky's academic life. However, the performance experience she gains makes it all worthwhile.
"I wouldn't know how to hold myself without a band with me," she said. "I think it's made me more outgoing."
This winter, the Hey Heys will be performing at Rick Fair­less' Strokers Dallas on Dec. 23 and again on Dec. 30. On both dates, their performance will be­gin at 9 p.m.