Hockaday Joins the Conversation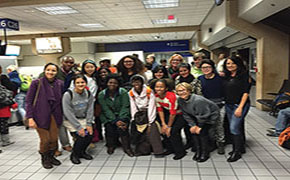 The Fourcast explores the nature of race relations and social justice discussions at Hockaday.
In the last couple of weeks, the nation has engaged in a re­newed conversation about discrimination and prejudice in America, inspired by the grand jury decisions on the deaths of Michael Brown and Eric Garner. People around the country are par­ticipating in city-wide protests and voicing their opinions over social media, using the hashtags #crim­ingwhilewhite, #ericgarner and #mikebrown. However, these con­versations haven't fully permeated into the Hockaday hallways.
Senior Staci Shelby, co-pres­ident of the Hockaday chapter of the Dallas Area Diversity Youth Organization, said that although Hockaday is an educated commu­nity, topics such as race and sexual orientation are still avoided and seen as taboo.
"I think people here can ig­nore it," she said, "and that's a priv­ilege that people here have that they don't know they have."
In a recent poll to which 172 Upper School students responded, 43 percent said that they did not believe the Hockaday community talked enough about race rela­tions and other societal issues.
Shelby credits this culture to the fear of being judged. In the same poll, 67 percent of the Upper School confessed to having withheld their opinion for fear of being criticized or offending someone.
And this fear is also per­ceived outside the Hockaday walls. DADYO President at the St. Mark's School of Texas, Se­nior Miguel Plascencia, said that many people devalue their own opinions by saying that because they are not directly directed, they should not participate.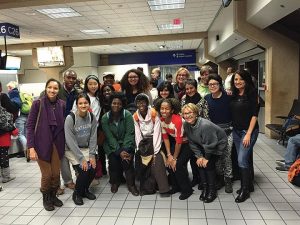 "None of us know every­thing about any situation but that doesn't mean you don't have to talk about it," he said. "It's not the specif­ics of any singular event; it's about the conversation and the concerns that arise out of them. And every­body has an opinion on that."
Senior Sarah Bourek, who has been participating in these con­versations, explained the reason behind this thinking. "I feel like for some topics there are some people who have the belief that since they aren't subject to the discrimina­tion, they wouldn't be able to un­derstand or contribute. But that isn't true," she said. "This conversa­tion is for everybody."
But girls might not be confi­dent enough in their conversation­al abilities in order to speak out.
Upper School Guidance Counselor and sponsor of the Stu­dent Diversity Board, Dr. Margaret Morse, said that "many girls might not know how to handle confron­tation or how to disagree with each other in a graceful or respect­ful way. So when we take these conversations out of the formal setting of a forum, you get stu­dents who might not know how to approach disagreements."
Head of Upper School John Ashton urges the Hockaday com­munity to have an open-mind when it comes to discussing race relations and be willing to be un­comfortable.
"I think a starting point for us is to start from a place of good intentions and to acknowledge that everyone is seeking to un­derstand. If we can hold those two beliefs together and agree to those assumptions, I believe we could really create a space to have this conversation," he said.
Shelby, as a diversity leader at the school, asks the student body to join in on the conversation.
"If we are trying to be a com­munity that is fostering women of the future, I think it's impor­tant to discuss these things in an environment that isn't always uncomfortable because the world isn't always comfortable," she said. "Talking about racism should be uncomfortable. It's uncomfort­able to be oppressed, but we have to talk about it."
– Avita Anand