Hockaday Goes Red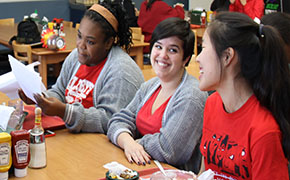 Red shirts lined the lunch room on Friday, Feb. 6, as Upper and Middle School students participated in a half free dress day along with teachers and staff to celebrate National Wear Red Day, sponsored by the American Heart Association.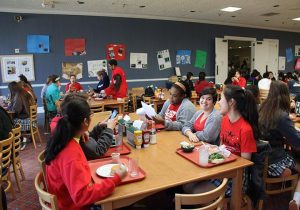 Hockaday does not recognize many days sponsored by major organizations because of the large number of days and difficulty to keep track of them all. However, Director of Service Learning Laura Day, found it important that this day was recognized because of its connection to women.
The number one cause of death in women is heart disease and one in three women die of heart disease or stroke each year. Throughout the day, students and staff members were encouraged to walk around with friends to get exercise.
Healthy habits such as these have also allowed Hockaday to receive gold level recognition from the American Heart Association. "We were the first school in the state of Texas to get that because so much of what we do in terms of the food we have and the amount of walking meetings we do and the workout classes for adults and how to school is structured," Day said.
Day hopes that students and teachers realize how easy it is to do something active. "Try to do something that is good for your heart that day," Day said. "That's the goal."
– Sonya Xu