How St. Mark's and Cistercian approach the arts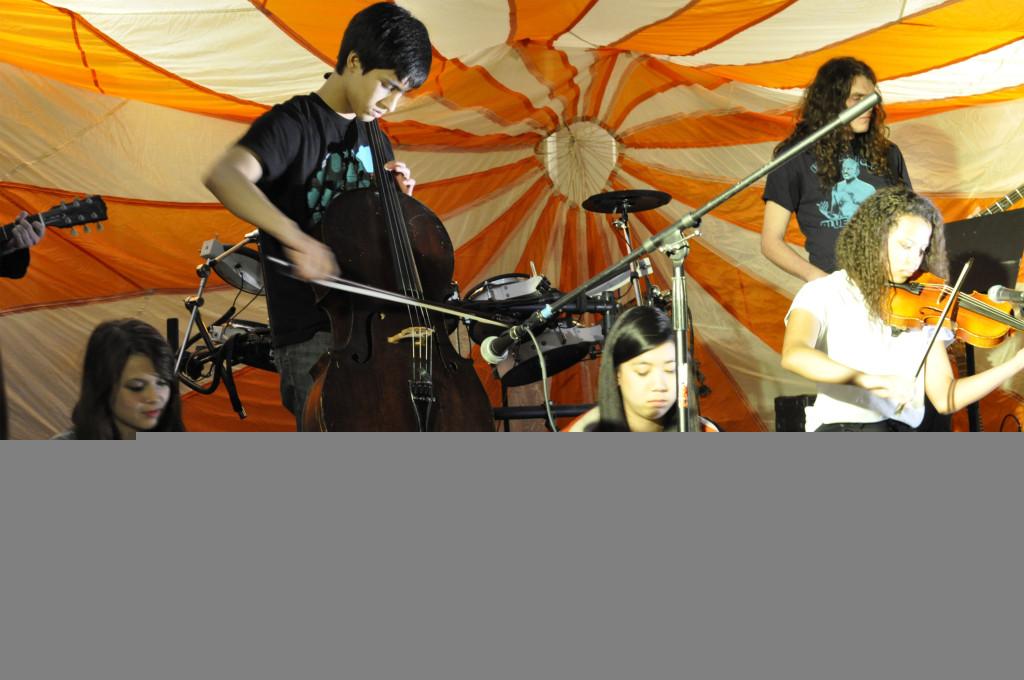 Although the arts may seem more prevalent among girls, fine arts programs at boys' schools are an important part of producing well-rounded students. Cistercian Preparatory School and St. Mark's School of Texas both offer arts courses to their students that receive appreciation and attention.
But the two schools approach the arts very differently. St. Mark's offers year-round classes in the visual and performing arts, as well as film and shop classes. Students also have the ability to join an orchestra and jazz band. St. Mark's students can choose to participate in the Hockaday plays and orchestras, as well as take fine arts offered at Hockaday and not St. Mark's. Hockaday girls, if interested, can pursue arts that St. Mark's offers which Hockaday does not, such as film.
At Cistercian, students can take a few visual arts classes, and audition for Ursuline plays and musicals. In the spring, students at Cistercian are required to participate in Braveart, an "arts ambush" week, which is dedicated to exploring different types of arts as well as performing at a coffeehouse.
Senior Clay is ecstatic about the arts offered at Cistercian; they are limited but unique. "We do acrylic painting, different types of printmaking, encaustic painting and ceramics," he says. As a senior, CLay has had the opportunity to try them all. "My particular favorites are encaustic painting and ceramics," he says.
Even so, Clay sometimes feels as though the majority of his peers lack a thorough appreciation for the arts.
"Cistercian definitely encourages its students to be 'well-rounded,'" he says. "I would not say, however, that [the arts] is given the praise it deserves."
"[Braveart] is kind of Cistercian's way of saying 'we have an arts program!' but then all interest in art from the student body usually dissipates" afterwards, says Clay.
Max, a St. Mark's senior and actor for the St. Mark's and Hockaday drama department, praises the arts at his school, specifically the faculty.
"The quality of the teachers has created incredible artists in nearly every field," he says. "The students enter with a sort of unarticulated passion and the teachers succeed in channeling it and training it into an artistic maturity."
Students at St. Mark's appear slightly more willing to explore the arts than those at Cistercian since more opportunities are offered. "St. Mark's offers courses in various types of music, visual arts and acting. Outside of class, students can audition for plays and the winter musical,"  says Max.
"Many of the music programs and other arts such as photography and woodworking have very dedicated students that stay with the program all four years."
Students at both schools are required to take art classes in Middle School, which Clay believes could result in less participation once boys reach high school.
"I think that [middle school art classes] turn a lot of people away from [art] in the upper school, but every year there are about 15 to 20 guys that actively participate in electives and art club," he says.
At St. Mark's, like Hockaday, only one full year of a fine art is required in high school. "I think that a few kids try to get their requirement over with as quickly as possible, but most students enjoy them," says Max.
Both Cistercian and St. Mark's participate in the ISAS Arts Festival in the spring. For Cisterican, about 15 students are chosen to display pieces of visual art at the festival. For St. Mark's, "students that are either performing or showcasing artwork get first priority. Then, students that contribute to the productions or pieces of art more peripherally may apply to enter," says Max.
Although all students do not take advantage of the programs offered, these two schools try hard to supply their students with gender-appealing activities to nurture their artistic interests.
"It seems that the opportunity to join the drama program led me to a greater love of the theater, however, because the productions have nurtured my activity and passion so well," says Max.
Clay has learned a great deal about his artistic style from art at Cistercian. "Personally, I like to work more with the abstract…with the ceramics, I'm a big fan of the extrusion method." He's known as "the Clay master," among his classmates.
Fine arts at boys' schools is a core element of the curriculum whether they are offered in large amounts or smaller doses. Either way, high school boys have the opportunity to explore their creativity just as much as the girls, with equal enthusiasm.
—Lily