Hollywood Defies Cultural Roles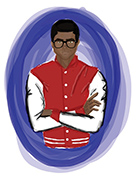 Pop culture and mass media reflect the change in society today.
Over the past few decades, the media has centered their stories around strong male lead roles. But over the last few years the importance of diversity has caught up with the entertainment industry.
In an effort to be more inclusive, many television series and movies today are centered on minorities. Trendy hipsters and tech-savvy geeks flood the halls of high schools. Ethnic backgrounds are being represented. Empowered women have embraced their identities as capable and strong members of society that can advocate for and create change. And most importantly, men are no longer necessary to fulfill their dreams.
This shift in the media, including film and print, brings to light society's patterns and expectations.
Realistic or Stereotypical?
Pop-culture enthusiast sophomore Melanie Kerber has noticed some changes.
"I think there's definitely more diversity, but it's not enough in my opinion," Kerber said.
Recently, Marvel Entertainment, a prominent character-based entertainment company and a subsidiary of The Walt Disney Company, has expanded its scope of characters to include other than white caucasian males as role models. In the most recent Marvel comics, the new Spiderman is portrayed as an African-American teenager, as opposed to his white counterpart in the movies.
"I think it's exceptional that comics are trying to spread out," Kerber said.
And the shift does not end there. Marvel even went a step further and transformed Thor, Norse God of thunder and lightning, known for his superior strength and masculinity, into a female role model, speaking to the new wave of feminism and the rise of strong female leads in books and movies. Written by Jason Aaron, this series came out last October.
"This is not She-Thor. This is not Lady Thor. This is not Thorita. This is THOR. This is the THOR of the Marvel Universe. But it's unlike any Thor we've ever seen before," Aaron said.
Marvel has even introduced characters from different religions.
In January of last year, Marvel introduced the new Captain Marvel named Kamala Khan, a female teenage Muslim who lives in New Jersey. She faces problems caused by her conservative parents and her religion's culture.
And even though Marvel has made a lot of innovations, the minorities' roles in these productions have raised controversy.
"A lot of the time what happens is that they try to reduce minorities into ste
reotypes and not give them actual conflicts," Kerber said.
Director of Counseling and Student Diversity Board sponsor Dr. Margaret Morse '93 also notices the lack of conflict amongst minorities.
"I think we'd be naïve to think that people from different backgrounds, genders, races or cultures don't deal with different kinds of issues," Morse said.
Minorities take on qualities of stereotypes, sometimes to an extreme, but that's not always a bad thing, according to Morse.
"Sometimes when the stereotypes are so over the top, it's like this is so not reality and we can laugh at it," Morse said.
ABC's sitcom, "Modern Family" achieves exactly this through its characters, which includes a gay couple, a Colombian immigrant lady and nerdy and dorky teenagers. The characters resemble much of society's classification of them.
"I think the thing about Modern Family is that it's so stereotypical, but it's so in your face that let's laugh at how stereotypical these stereotypes are and how absurd they can be. It's like poking fun at the stereotype makes that point," Morse said.
The stereotyping, however, can be commendable and praiseworthy.
Recognized for their achievements and valued for their brain power, nerds have replaced the typical jock as those at the head of the social hierarchy.
Disney's animated, action packed, fantasy comedy "Big Hero 6" places significance on intelligence, appreciating talent from characters in the science, technology, engineering and math fields.
"What I liked about it was that none of the people in the movie were the stereotypical scrawny nerd or dork of the previous generations. They were all edgy," Morse said.
The characters in the movie consisted of a multitude of backgrounds and nationalities, including Japanese and African- American.
The movie follows the story of high-tech robots and other nerdy misfits that call themselves "Big Hero 6." They must save the fictional city of San Fransokyso using their brains.
"They were all like hipsters, channeling that creativity in ways that can be helpful to our community," Morse said.
Upper School film studies teacher Glenys Quick has not seen this shift with people appreciating nerds.
"I can't say myself there's been this evolution, with nerds being rejoiced, being celebrated ratherthan jocks," Quick said.
However, she does enjoy watching vulnerable characters. "An eccentric, vulnerable character is far more interesting than a jock," she said.
However, the image of the "dumb jock" is still perpetuated in TV shows, books and movies today. "I think that's unfortunate," Morse said. "I think it's sad if we say one thing's more valuable than another, because there's a lot that athleticism and team collaboration brings to our community."
Strong Female Leads
In Disney's "Frozen," Elsa and Anna, the main protagonists battle gender stereotypes.
While Anna did not actively pursue romance and love like many Disney movies portray, Elsa did not have a romantic interest at all in the movie.
A groundbreaking scene in "Frozen" was Elsa's transformation to an ice princess where she was made aware of her powers and full potential without relying on a lead male along her side. On top of this new depiction of a Disney princess, her relatability to the audience—her flaws and personality—captivated movie-goers.
Regardless of the recent changes, women's depiction in movies as the main character still remains low and even significantly lower compared to men. According to research conducted by the Geena Davis Institute, "Gender Bias without Borders" that investigated female characters in movies across 11 countries, including the US, only 23% of films feature a female protagonist.
Reflecting on the future of film, Quick said, "Until society changes more, then there's never going to be that equality in the representation of women. "