Charlie Hebdo Attack Raises Concerns
A recent attack in Paris on the offices of Charlie Hebdo has widened religious tensions and stimulated global protests.
What Happened
The morning of Jan. 7 com­menced three days of terror in Paris following an attack on Charlie Hebdo, a satirical weekly French magazine. Gun­men Cherif and Said Kouachi killed a total of 12 people and accredited their violent ac­tions to avenging Prophet Mu­hammad, who is revered by Muslims as the final messen­ger of God.
But this was not the first threat against the magazine. In 2006, Charlie Hebdo gained in­famy in Muslim countries after publishing a front-cover image of Prophet Muhammad sob­bing into his hands, with the caption "Mahomet débordé par les intégristes" ("Muhammad overwhelmed by fundamental­ists"). The remainder of the pa­per contained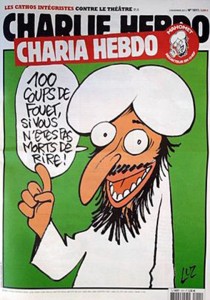 12 cartoons of the Prophet, which produced an onslaught of disapproval from Muslim individuals. Although the French Council for the Muslim Faith sued the weekly magazine, the court ultimately sided with Hebdo.
Exercising its freedom of press, the paper continued to print caricatures of Muham­mad, despite growing resent­ment from Muslim communi­ties. In Nov. 2011, the front page of an issue, headlined "100 lash­es if you don't die of laughter," displayed a sketch of Prophet Muhammad and jokingly re­quested him to serve as "guest editor" of the paper. The fol­lowing day, the Charlie Hebdo offices were firebombed. Later in the same year, the website was hacked after presenting yet another cartoon drawing of the Prophet, this time portray­ing him as gay.
In the recent Jan. 7 issue, a cartoon created by editor Stéphane Charbonnier noted that France had not yet expe­rienced any terrorist attacks. "Still no attacks in France," reads the title. "Wait! We have until the end of January to give our best wishes," says the man in the drawing.
A mere five hours after the issue was released to the pub­lic, Charbonnier and his co­workers were shot.
Why It Happened
According to AP Compar­ative Religion teacher Steve Spencer, the attack could be attributed to the long-standing animosity between French and Muslim commu­nities, but is not a byproduct of religious tensions.
"The conflict is really be­tween historical groups associ­ated with Islam, like the Ottoman Empire, versus the domination of the Church in Europe," Spencer said. "The Islamic empires in the 11th through 14th centuries were prominent, wealthy and prosper­ous, and medieval Europe was looking at them in envy."
Eventually, Europe rose to power as well, resulting in both political and economical power struggles, which had little to do with the respective religions of each empire. In fact, Spencer be­lieves that people are quite sur­prised when they learn about the similarities between the basic teachings of Christianity and the fundamental values of Islam.
President of Model United Nations and senior Aneesha Bandarpalle hopes that the re­cent events in Paris will bring the true ideals of Islam to light.
"Majority of Muslim peo­ple are kind, everyday people," Bandarpalle said. "I hope that because this has happened, it'll open people's eyes to see that majority of Muslims are not radicals like the terrorists were."
Ever since France became a colonial power and first started controlling parts of North Af­rica, an increasing number of Muslims have immigrated to the country. But the integra­tion of the two cultures has not been easy.
Upper School French teacher Catherine Berryman, who was born and raised in France, has recognized a grow­ing cultural rift between the French and Muslims.
"A lot of the young people who grew up in the suburbs somehow don't assimilate into the French society," Berryman said. "They have a hard time getting into the school system and getting a job, and I think they're feeling resentful. This creates a big imbalance."
Spencer, too, noted that most individuals who are born into the North African Muslim community of France live in the poorest parts of town and are therefore unable to become "full-functioning, prosperous members of the society."
While the French govern­ment has tried to change this by forcing companies to hire Mus­lims and removing pork items from school lunch menus, the efforts have not necessarily been effective.
According to Berryman, many of these Muslim citizens find other means of survival and as a result, end up in pris­on, where they are introduced to violent ideas.
"That's what happened to one of the [Kouachi] brothers; that's how he became an ex­tremist," she said.
The Daily Mail reported that the attackers were most likely trained by the Yemen-based Al Qaeda group, who claimed responsibility for the killings through a publicly re­leased 11-minute video.
Without much govern­mental and societal support, the gap between French and Muslim peoples may only con­tinue to grow. Spencer agrees that these immigrant Muslims have a right to be angry with their circumstances, but Islam is not a religion of anger.
"There are so many mis­conceptions," Spencer said. "It's based on complete ignorance and a total lack of understand­ing of the teachings and tenets of the religion. Muhammad promoted such a different kind of attitude; he was opposing those oppressive, discriminato­ry, hateful kinds of behaviors."
What's Happening Now
French citizens took to the streets on the night of Jan. 7 to pay respects to those killed in the attack. As an act of solidar­ity, social media users around the world began tweeting "Je suis Charlie," translated "I am Charlie," to display their sup­port as the search for the at­tackers continued.
On the contrary, vari­ous peaceful protests, some turned violent, have broken out in African and Middle Eastern countries against Charlie Hebdo, as the news­paper continues to print im­ages of Muhammad. CNN reported that the deadliest protest took place on Jan. 21 in Niger, where 10 people were killed and multiple homes and churches destroyed. Ten days later, anti- Charlie Heb­do protests in Kabul, Afghan­istan resulted in violent con­frontations between police and demonstrators.
Since the protests could grow more violent with each image of Muhammad that Charlie Hebdo releases, the question of "how far is too far" must be addressed.
Both America and France strongly believe in their val­ues of free speech and freedom of the press. Although Berry­man "felt attacked, just like the French did," she believes that the magazine has a right to ex­press its opinions, despite the danger and risk.
"I think they play a role in French politics," she said. "You have the right to not buy the newspaper if you don't want to see it. It's not an easy yes or no question because clearly, there are some repercussions."
According to Bandarpalle, these repercussions could in­clude increased tension between religious communities, but she remains hopeful that time will heal all.
"In reality [this event] probably will worsen the gap," she said. "But at Hockaday, we talk so much about femi­nism and women getting all of their rights — that's kind of what I'm thinking about — it's a process and it'll hopefully happen eventually."
While Western countries such as the United States are granted certain freedoms, Spencer believes that individu­als can use their words as tools and therefore create less ani­mosity between cultural and religious groups.
"I think it's perfectly legiti­mate that people should criti­cize those [drawings] that are racist or discriminatory," he said. "But people should not be killed over it."
Recently, the magazine reported that it will not re­lease its 1,179th edition on Feb. 4, which was the sched­uled date. In fact, new editor-in-chief Gérard Biard has not yet set a date since the staff needs time to deal with grief, fatigue and overexposure to media attention that has resulted from the attack, ac­cording to NBC News.
– Inaara Padani, Copy Editor