Tipping Your Hats off to HAARTS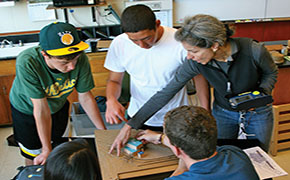 HATS Off to HAARTS, a new program celebrating both the arts and sciences, will take place on Feb. 18.
Hockaday Alumnae in the Humanities, Hockaday Alumnae in Technology and Science and Hockaday Alumnae in the Arts have joined forces in a new program called HATS Off to HAARTS.
Inspired by Hockaday's entrance into its second century, HATS Off to HAARTS'  inaugural event will showcase distinguished alumnae and will take place on Feb. 18 as "A Celebration of the Arts and Sciences."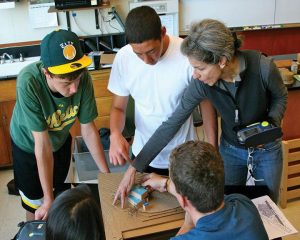 "We recognized that in Hockaday's second century we wanted to rebrand and grow the program and expand the boundaries of what we were going to be able to do with it," Director of Alumnae Relations Amy Spence said. "The second century was the perfect time to start that."
In previous years, HAH, HATS and HAARTS alternated throughout the year as separate programs. HATS Off to HAARTS, however, will celebrate both the arts and sciences, bringing HAH, HAARTS and HATS under one umbrella.
"I think this makes it more connective and more cohesive," Spence said. "I think students also have the opportunity to really get a stronger grasp on what our alumnae are doing when they're all together with one program as opposed to spread out at different time periods."
This year, HATS Off to HAARTS will present a discussion panel that features four distinguished alumnae in different fields: interior design, architecture, project management and engineering.
The alumnae, Adrienne Akin Faulkner '81, Susi Marzuola '78, Dealey Decherd Herdon '85 and Abbie Ryan '05, represent, according to Spence, a "wealth of experience in different backgrounds."
HATS Off to HAARTS was also created in honor of Hockaday's STEAM initiative in addition to the opening of its new science center.
"I think we also recognized that this new, fantastic and fabulous facility that the girls have, the faculty have, with the science center was such a great opportunity for us to expand the program and focus on more than just art," Spence said. "With the STEAM initiative being such a strong focal point of what Hockaday is focused on and what's important to Hockaday. [HATS Off to HAARTS] just seemed like a natural fit."
According to Spence, only focusing on the arts was limiting. "Of the 6,500 women out there in the alumnae association, there are so many women who are doing amazing, fascinating, remarkable, world-changing things that we want to spotlight them, not only to the Hockaday community but particularly to the current students."
According to Marshall Bartlett, Ph.D., Chair of the Science Department, connecting the arts and the sciences has been a Hockaday objective for several years now. This objective has manifested itself in the Centennial Center plan of combining the science and arts buildings and the STEAM initiative, at the center of which promotes creativity and pushes students to view their education more holistically.
Bartlett hopes that the HATS Off to HAARTS discussion panel will not only focus on the arts and the sciences, but also on the connection, the "creative nexus," between the two disciplines as well, which he believes fosters immense creativity.
And, according to Spence, HATS Off to HAARTS will open young women's eyes to more possibilities in career fields.
"Women can do anything," Spence said. "I think the fact that we have got a young alumna who is leading her team at the NASA space center—she's been involved with some of the space shuttle launches—the fact that she just graduated 10 years ago from Hockaday, and she's doing that, I mean that's amazing. It's amazing."
Bartlett agrees, claiming that Hockaday has been successfully fulfilling its objective to inspire girls to pursue careers in science. He cites from the 2014 Young Alumnae Survey sent to the classes of 2008 to 2013 that approximately 40 percent of Hockaday girls have pursued careers in STEM. While he finds that "there is room to grow," he hopes that alumnae pursue their careers in creative, rather than technical, ways and witness the connection between the humanities and the sciences.
"I know that all of these women on this panel will directly attribute their education at Hockaday as where the seed was planted," Spence said. "[The belief] that they could do anything they want to do.
Spence has bright hopes for the future of HATS Off to HAARTS, believing that it will grow and expand to focusing on other career fields as well, such as gaming, media and law.
Spence said, "I see in Hockaday's next century, the next 100 years, this program continuing to grow and continuing to spotlight the strong alumnae, women who are out there using their Hockaday educations and making a mark on the world."
– Catherine Jiang, Sports Editor