In a room of over 200 Hockaday students, alumnae, parents, board members, faculty and staff, the future of Hockaday may have been changed forever.
On Jan. 31, members of the Hockaday community took part in Visioning Day, an all-day program intended to discuss and determine Hockaday's goals for the next five years. Guiding prompts for discussion included "By 2020, Hockaday will be…" and "what must be accomplished in order for the vision to be achieved?"
Cathy Murphree, assistant head for academic affairs and provost, said she and the strategic planning team, members of the Hockaday community appointed by the strategic planning committee that consists of all trustees, have been working since April 2014. out of all these issues that we wanted to bring to a large group of people," Murphree said. "We didn't want to just create a well-written vision that got stuck up on a wall and never used again…We did this to create a meaningful, for­ward-thinking vision that will really motivate the school."
In order to help make the day a success, Hockaday's stra­tegic planning team spoke to other independent schools, who have previously worked at forming new visions for their institutions.
"When we talked to other schools, most of them men­tioned Christina Drouin, who does independent strategic planning," Murphree said. "She does vision planning for a living."
Drouin joined the Vision­ing Day strategic planning team as a consultant and helped organize and lead the day's activities.
In preparation for the event, Assistant Head of Upper School Elizabeth Jones noted that she was impressed with the amount of student interest.
"We hit full capacity on students," Jones said. "And we had such diversity in terms of how long the girls had been [at Hockaday] and their mixed ex­tracurricular interests."
And beyond solely student interest, Director of Commu­nications Susan Brower '92, a member of the strategic plan­ning team, noted the event al­most reached the maximum number of participants before holiday break.
"The amount of people we had was a true testament to the Hockaday community," Brower said. "People saluted the effort and really wanted to be a part of it."
Visioning Day began promptly at 8:30 a.m. with speeches by Drouin and Eugene McDermott Headmistress Kim Wargo. After the welcomes and introductions, everyone was split into groups of around 10 people and sent off to different areas of the school.
In her speech, Drouin in­spired those in attendance with these closing words: "when is the best time to plant a tree? Ten years ago. Go vision."
Groups spent the morn­ing contemplating the fu­ture of Hockaday and, using these ideas, drafted a vision statement that they would then present to the rest of the groups before lunch.
Despite the encouraged free reign discussion at the event, there was a great deal of organization and pre-plan­ning involved. The strategic planning team developed five strategic drivers: Optimize the Student Experience to Fully Achieve Mission, Advance Fac­ulty Excellence in a Changing Environment, Build an Au­thentically Diverse Commu­nity, Leverage Both On and Off Campus Opportunities to Maximize Learning and As­sure Institutional Sustainabil­ity—all of which were given to each group in order to proper­ly drive the conversation.
In group four, the discus­sion focused primarily on how to make Hockaday a less stress­ful place for the students.
Stephanie Farquhar, who graduated from Hockaday in 1999, remembered that as a student at Hockaday it was easy for girls to get weighed down in the relative impor­tance of a test or project grade, but in the long run, "girls need to realize that that isn't the end of the world," she said.
"[Hockaday and the com­munity] need to be building toward the whole life, not just life at Hockaday."
Along the same lines, she also noted that it's important for girls to feel safe when taking risks.
"We need to create a safe place to fail and to learn and to grow," Farquhar said.
Senior Barrett Smith also attended Visioning Day. In her group discussion, she voiced a concern about athletics.
"Athletics is often forgot­ten here. It's very removed," Smith said. "And there are few people that ever cross not just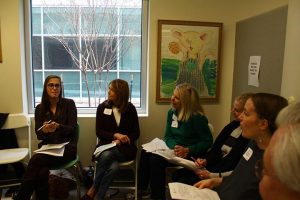 that boundary to athletics but any boundary. People are very isolated to certain things."
After lunch, the individual group discussions shifted to an­swer the second question: "what must be accomplished in order for the vision to be achieved?"
With Visioning Day com­pleted, the next steps include reviewing the results, includ­ing vision statements, goals and strategies and then coming up with a plan for Hockaday. The strategic planning team is tasked with this project.
"[The strategic planning team and I] are going to come up with a final vision state­ment, which we will then take to the strategic planning com­mittee," Murphree said. "If they approve it, it will then go to the Board of Trustees."
Brower said that Visioning Day was an undeniable success.
"The conversations were lively and full of enthusiasm and energy," Brower said. "What stood out to me most was that people weren't limit­ing their imaginations. Any­thing was possible, but they were still making sure that the idea of the whole girl was wo­ven through everything."
As a member of the ad­ministration now, and a for­mer Hockadaisy, Brower has a unique perspective. Remem­bering her etiquette classes and her time with former English teacher Pat Saxton and Spanish teacher Marcela Gerber, Brower is certain that she wouldn't be who she was today without Hockaday, a fact that makes her so excit­ed to be part of the strategic planning process.
"I've only worked here for six months, but I was a student here for 13 years. My time here was the most es­sential experience I could have had to become a suc­cessful adult," Brower said. "I learned all of those core val­ues that are so critical in de­fining who you are."
Brower added that com­ing back and working at Hockaday has given her much more of an appreciation for what both the students and the faculty go through.
Smith, who hopes that Visioning Day will produce change, also recognizes what Hockaday has done for her.
"I've learned confidence at Hockaday. If I was a freshman, I never would have signed up for this Visioning Day because I wouldn't have thought that my voice mattered," Smith said. "Hockaday teaches you to voice your opinions, and it gives you opportunities to take initiative."
Looking forward to the visioning process, Brower of­fered her own perspective about Hockaday's future.
"By 2020, Hockaday will be the primary choice in in­dependent school education based on the experience we can provide the girls," Brower said. "Hockaday continues to evolve. It's almost beyond com­prehension to imagine what Hockaday will be like in five years because it changes so rapidly every day. But, Hocka­day was great when I was a student, and it's great now."
– Alexis Espinosa, Editor-in-Chief