Alumna Runs for Research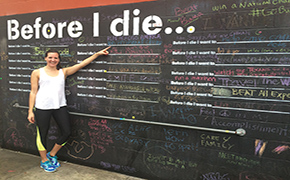 Hockaday alumna trains for a cross-country run benefiting cancer research.
San Francisco to Baltimore. 4000 kilometers. Seven weeks. One cause.
It is 6 a.m. on a Tuesday, and Hockaday alumna Elizabeth Cowle '10 is strength training. She does this again every Thurs­day. In addition, she runs 40 to 45 miles five to six days a week. And she does all of this for her mom.
Cowle's trainer, Jane Fitz­patrick, who has been working with her since August of 2014, is a National Academy of Sports Medicine personal trainer and Aerobics and Fitness Associa­tion of America certified group instructor at the Jewish Com­munity Center in New Orleans.
"A typical workout for Liz includes a good warm-up and stretching, followed by intervals of cardio and resistance," Fitzpat­rick said. "Liz just jumps right in and is not afraid of a challenge."
Cowle has been training since Holiday break to partici­pate in the Ulman Cancer Fund for Young Adults' 4K cancer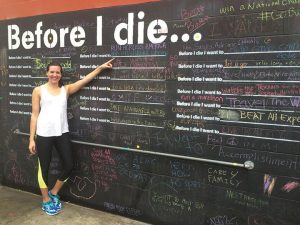 run. This organization hosts several events every year across Amer­ica. Its goal? To offer hope, in­spiration and support to cancer communities along the way.
Cowle's connection to cancer started when she was very young.
"My mom died when I was four years old," Cowle said. "She was diagnosed with cancer when she was eight months pregnant with me. A week after I was born, she went into an 11-hour surgery, and they found that [the cancer] was a lot more invasive than they had initially thought."
Now, Cowle wants to keep her mom's memory alive.
Starting on June 13 in San Francisco, Cowle will start a 42- day journey. She will be stay­ing at churches, high schools, YMCA's and people's homes across the country with only a duffel bag, a backpack and a sleeping bag. The marathon will end on Aug. 1 in Baltimore, Md.
She and her team of 30 other college-aged students will collec­tively run a total of 4,000 miles. In groups of two to three, the entire group will take turns run­ning with a bus trailing. Each person will cover approximately eight to 12 miles each day for a combined total of 100 to 150 miles per group per day. The students who are not running will be fol­lowing in a van behind.
The only expense for the runners will be the van's gas. Cowle was required to raise a minimum of $4,500 but had set a personal goal of $20,000. She started raising money the first week of December and within the first three weeks, Cowle had already raised $5,000.
"I was just shocked at how supportive people who didn't even know me were being," Cowle said. "I had people I didn't even know donate to this cause be­cause they thought it was amaz­ing, so I started to just go ahead and see how big of a change I can make, and now I am trying to raise as much as possible."
Cowle is able to fundraise through a variety of outlets such as Twitter and email. Word of mouth also helps; her friends and family have been instru­mental in spreading the word.
"I am just so excited for what I think this will do. I know that if I put in the time now, I will see such a big benefit in the end," Cowle said.
Unlike most marathons, this one required an application and interview. After applying online, Cowle received a phone call a week later for a phone interview, asking her about her connection to the cancer community.
When her mom was di­agnosed with cancer, Cowle's mom and dad traveled around the country for four years in search for a treatment. "Luck­ily, they had the means neces­sary to get the best treatment available, but, in the end, it just wasn't enough," Cowle said.
The 4K for Cancer run will raise money and will spread awareness about the Ulman Cancer Fund.
According to Cowle, the little things such as mother-daugh­ter teas at Hockaday and prom dress shopping remind her of her mom. "Things like that that people don't really think about is just a constant reminder of my mom, and I think that giving back to the cancer community is the best way I can pay tribute to her memory," Cowle said. "I feel so lucky to have my health and my fitness that I see this as a good way to put it into such good use."
And running will person­ally benefit Cowle as well. Run­ning helps her calm down and organize her thoughts.
Being in shape is not new for Cowle. While at Hockaday, she was involved in many var­sity sports. But even with the proper training, Cowle faces obstacles and does her best to overcome them. When run­ning long distances such as 10 miles, counting down the miles is extremely difficult for her. After running two miles, she thinks, "oh I still have eight." As a solution, she tries not to look at her phone to check the time.
"I've seen so many people that are not able to run and when I want to quit, that's what keeps me going," Cowle said. "At least I can."
To donate or help Cowle with her 4,000-mile 4K for Can­cer run and the Ulman Cancer Fund for Young Adults, go to 4kforcancer.org/profiles/liz-cowle/ or visit her twitter page at twitter.com/lizcowle.
– Sonya Xu, Asst. Perspectives Editor