Sophomore Steps into the Spotlight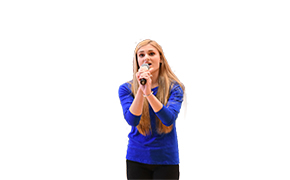 It only took sophomore Ally­son Guba under a year to record and edit her eight-song album that appeared on iTunes on Jan. 21.
Guba has been involved in musical theater since she was eight-years-old and loves to be on stage. She decided to take that pas­sion and talent into the recording studio to create a demo of songs.
"I wanted to be able to have re­cordings of what I sound like at 15," Guba said. "We didn't really plan to put it on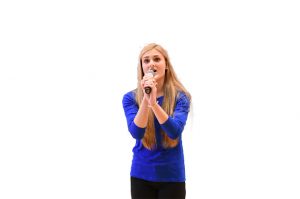 iTunes."
Guba spent days singing and perfecting a number of songs. The entire production process took longer than she had expected; however, the producer, Paul "Pap­py" Middleton, was able to give her tips and advice along the way.
"Singing in a studio is very difficult compared to [singing] on stage because you can hear every­thing, and there is no room for a little mistake," Guba said.
She currently takes dance, voice and acting lessons at the Dallas Conservatory. In addition, she takes private lessons when preparing for auditions or other roles. These roles vary widely as Guba has been in over 15 musicals, including "Peter Pan" and "Annie." Guba spends approximately four hours a day during the week prac­ticing her craft and six hours prac­ticing on Saturdays. She is current­ly preparing for a musical theater showcase that her dance studio is producing. The long hours of preparation often help Guba cre­ate a bond with her castmates.
"A lot of my close friends are ones I have made through my stu­dio or my shows," she said.
Guba hopes to begin acting for different television segments. She also hopes the demo will at­tract the attention of an agent who can help her find new roles.
She aspires to be on Broad­way and admits having difficulty choosing a favorite musical. Guba tries to take a trip to New York City when possible so that she can see different Broadway shows. Check out her music on iTunes under Al­lyson Guba. Each of her songs cost 99 cents. Her voice is sure to im­prove anyone's day.
– Austria Arnold, Asst. Features Editor