Swinging for the Green
Middle School student gives back by raising money "fore" local Dallas hospital.
For eighth grader Charlsie Doan, golf is more than a hobby. It is her way of saying thanks.
By playing golf and fun­draising through the charity program KidSwing, a golf tour­nament for kids in which the players fundraise money for Scottish Rite Children's Hospi­tal, Doan has raised over $167,000 since 2002, not including the ap­proximate $90,000 she brings to the program from corporate underwriting ever year.
Because Scottish Rite did not charge patients' families for any of the services they pro­vided until recently, the hospi­tal relied on charity events like KidSwing for funding.
Scottish Rite Development Officer Kelly Glasscock, who has worked with KidSwing and the Doan family since 2010,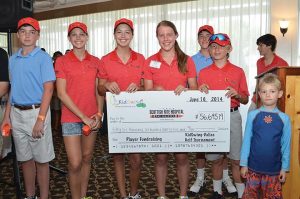 feels that KidSwing benefits the hospital and the children.
"In addition to raising $1.7 million that goes directly to patient care and spreading the word about TSRHC [Texas Scottish Rite Hospital for Chil­dren], KidSwing provides a unique opportunity for kids to be involved in a golfing activ­ity while giving back to other kids," Glasscock said.
For Doan, who was born without her right hand and has been a patient at Scottish Rite Hospital, the tournament is her way of giving back. The Hospi­tal has provided her with the prosthetics that enable her to play violin and support her both physically and emotionally.
Since she was already fami­ly friends with the family of Ben Sater, who created KidSwing in 2003, participating in the pro­gram was an easy decision.
"My dad had a connection with the father of the patient who started KidSwing, so it's kind of a way our family connects and comes together," Doan said.
In order to receive dona­tions, Doan contacts potential sponsors with letters, phone calls or even in-person visits.
Doan said she relates her experiences at Scottish Rite to that of others.
"I just try to connect with as many people as I can and share my story and the story of the hospital," Doan said.
Kelly Doan, Charlsie Doan's mother, agrees that her story is inspirational for potential donors.
"[Donors] see this child who wants to help a place that helped her," Mrs. Doan said. "She has always spent time giving back to others with her time and energy, in addition to her fundraising efforts, and people recognize that."
Although she has already raised a substantial amount of money for the hospital, Charlsie Doan takes her mission to give back to the hospital even fur­ther: she usually brings in an­other $90,000 every year from big companies to cover the costs of the KidSwing event itself. "I find interesting companies and present to them," Doan said. "It's always pretty fun."
And Doan can see the re­sults of her hard work. The money raised from KidSwing has funded the renovation of Shivers Park, which is located right outside the hospital.
"It's awesome […] that any­one, even non-patients, can visit. It's really neat," Doan said.
KidSwing has also helped fund a camp for preteens with hand differences, the Special Prosthetics department and Scottish Rite's Movement Sci­ence Lab, which the wife of Middle School teacher Darin Jeans works at. According to Doan, a lot of patients at the hospital, including herself, have benefitted from the work done at KidSwing.
According to Mrs. Doan, her daughter's work has been impactful, not only for the hos­pital but for children in gen­eral. "She is showing other kids that despite being different or having struggles, you can still help others and make a differ­ence in the world," she said.
Glasscock also thinks Do­an's work is important. "Charlsie has a wonderful […] passion for helping other kids," she said.
Charlsie Doan encourages Hockaday students eligible to participate in KidSwing to do so or maybe even to volunteer at the hospital itself.
"Even if you don't want to [participate in KidSwing or vol­unteer], just go and visit Shiv­ers Park on a nice day," Doan said. "Scottish Rite is a wonder­ful place, and I think all Hocka­day students should be exposed to it in some way."
To find out more informa­tion about KidSwing and how to volunteer for the event, please go to www.kidswing.org.