Letter to the Environment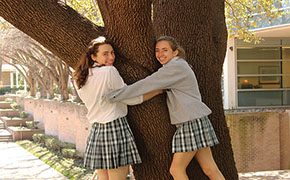 Hey, Mother Earth! It's us again. Wazzup?
We would like to ex­press our apprecia­tion for you. Actually, that's an understatement. We. Love. You. We love your vibrant colors, rolling hills, diverse plant life and lovable animals. We love the rain that you bring, the sunlight you shine down on us and the species you support. You're really the whole pack­age. But recently, we've been abusing you.
So, now we're writing to check up on you! Are you do­ing okay? Humans inflict so much harm on you daily. Boys spit on you every day for Pete's sake. Our species creates pollu­tion, amasses huge amounts of waste and walks all over you. Frankly, humans treat you like dirt. Yet you love us uncondi­tionally. And for that, we thank you. There is no one as tolerant as you.
In light of recent events, we would just like to make a for­mal apology for all the frack­ing; we know it's killing your vibe and screwing up your tec­tonic plates. That's simply un­cool. We, Elie and Sydney, hope that it ends soon.
Mother Earth, please know that Elie and Sydney have tried to do nothing wrong. If any­thing, we have got your back. We recycle our water bottles and shorten our showers, but we know that there's more to be done — things that reach beyond our jurisdiction. Al­though America needs oil and gas, the fracking needs to end.
People can no longer ig­nore the fact that you are get­ting hotter (and not in the good way). Ice caps are melt­ing, animals are losing their homes and ecosystems are diminishing before our very eyes! But we guess that's just not enough for some people to try and help, and that makes us furious. Is it safe to say that infuriates you too?
A lot of us care about you. We really do. Our favorite color is green. Mother Earth, you've provided us a home, captivat­ing mountain ranges and ap­ples (thank you SO much for the apples), but we have not done enough to repay you.
We, the Hockaday commu­nity, take you, Mother Earth/ Blue Planet/Terra, to be under our protection. We promise to be true to you in good times and in bad, in pollution and in natural disasters. We will love you and clean you all the days of our lives.
– Elie MacAdams, Perspectives Editor