Terry Murray was officially introduced to the Hockaday community on Monday, and will be replacing John Ashton has Head of Upper School.
On the morning of Monday, March 23, Terry Murray was dropped off to Hoak Portico by his wife and walked into the building with a backpack over his shoulder. Hours later, filled with nervousness and excitement, he attended his first Upper School assembly, where he put on his new gifts: a cap with the words Hockaday stitched across the front and a green and white Hockaday windbreaker. Standing in front of approximately 483 students and 75 faculty members, he was formally introduced as the next Head of Upper School, effective July 1, 2015.
After current Head of Upper School John Ashton announced that he would be leaving Hockaday to become Associate Headmaster of the St. Mark's School of Texas, the school began looking for a replacement. Murray came across the opening at Hockaday though a national job search conducted through a search company.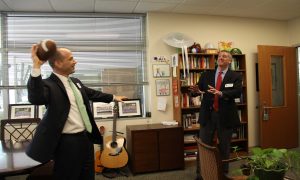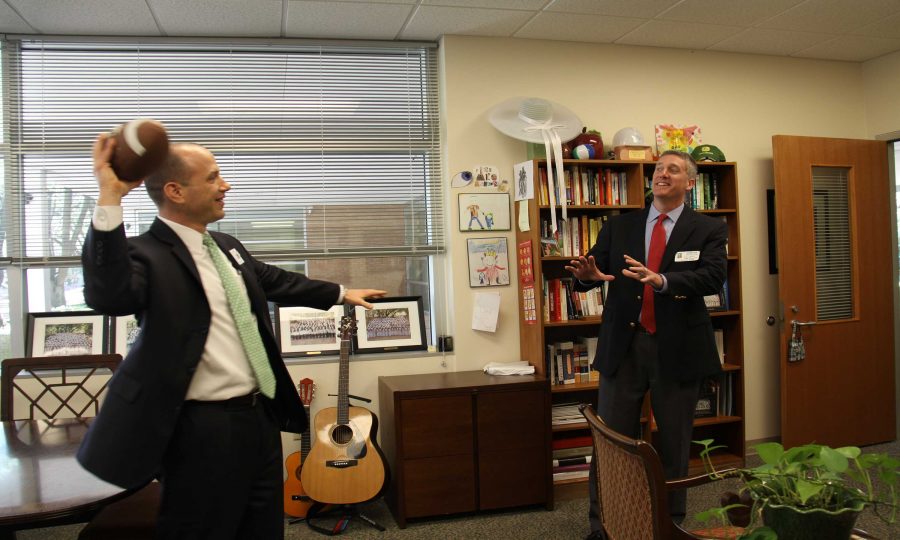 "I was looking around the country at different opportunities, and I was looking very carefully because I wanted something I liked but also a school that kind of fit me," Murray said. "I was looking for a school that when I walked on campus, I went 'Man, I really belong here.'"
And Hockaday was perfect.
Early in the selection process, the various candidates for the position had the opportunity to tour the school. Murray also had the chance to sit down with Upper School students, and this interaction is what drew him most to the job.
"I was so excited to come [back] because I had such a great visit with the kids last time. It was short, but it was just really comfortable – we laughed, and we were just kind of joking back and forth," Murray said. "I felt really comfortable here. I didn't feel like I had to show something different."
Describing the community as "caring," Murray noticed the camaraderie amongst Hockaday girls.
"The younger girls were very comfortable with who they were and their spaces, and you don't always get to see that in schools," he said. "It was nice."
Throughout the interview process, Ashton and Murray shared various phone calls and have gotten to know one another, and Ashton is confident that Murray's perspective "is a healthy thing to bring to the school."
"I am very excited for the school to have found and identified an educator and a person like Mr. Murray with a perspective that fits so well with Hockaday." Ashton said, "[His perspective] is a thoughtful, deliberate, playful, human-centered and willing to try thing."
An advocate of single-sex education, Murray first began his career at a Jesuit all-boys high school, and is now a parent at a single-sex school.
"I'm drawn to single-sex education, particularly for girls," he said. "I'm a big fan of empowerment and finding ways for young women to find their strengths in society."
Furthermore, as an educator, connecting with students is extremely important to Murray. For the past 13 years, he has been a head soccer coach, history teacher and dean of students for the Mary Institute and St. Louis Country Day School, an independent school of 1,200 prekindergarten through 12th grade students in St. Louis, Mo.
"I come from a world where I'm heavily involved in student life, and I need to be able to continue some of that role even though a lot of times head of Upper Schools are drawn away from that," Murray said. "My hope is to be able to find a balance where I can be the administrative role but also have that contact and interaction with student life and student activities."
While Murray may be assuming a new role, he won't be forgetting his old ones. Rather, his 23 years of experience will help him become a well-rounded leader of the Upper School.
"Maybe I don't get to have my own team or I'm not going to be teaching a course in this role, but if I do this job as a teacher or coach would, I can collaborate well, rely on the resources of those around me, build good teams and trust the adults and students in this community to do the work that they need to do," he said.
While Hockaday looks forward to its future with Murray, it will also miss the work Ashton has done. Although this summer marks the end of Ashton's sixth year at Hockaday, he will remain engaged with the school.
At the professional level, he will be involved in maintaining the Hockaday-St. Mark's relationship. And at the personal level, his connection to students and faculty members will only continue to grow.
"I'll [continue to] be a parent here, and I'm looking forward to that because this is the school for my daughter," he said. "We believe in the mission so much."
Additionally, Ashton plans on attending as many Hockaday events as possible, including the next four commencement ceremonies until the current Form I class graduates.
This school has taught Ashton a number of valuable lessons that he will always carry with him.
"I am going to miss you girls. Really, I have about 483 reasons I can list that I will miss," he said. "These past six years at Hockaday have been a professional highlight for my career, which I feel incredibly fortunate to have because I have loved so much of it."
Since Ashton first came to Hockaday as the Associate Head of Upper School, he has developed "a greater ability to be very comfortable trying things without having to perfect things." Under his leadership, the Upper School has explored and expanded, and Ashton hopes to do the same at St. Mark's next year.
"Some things we've done we've gotten right and some things we haven't," he said. "I think we operate best that way– to try things and see if they work, and if they don't, we deviate them."
Murray shares this philosophy with Ashton, and he hopes to continue the work that's already being done, while learning and growing in the process.
"I'm just thrilled to be here. It's kind of the place I want to be," Murray said. "It's different enough that it's going to challenge me but it's also comfortable enough that I feel like I know what this school is about in some ways."
During the first few transition months of the 2015-2016 school year, Murray will do his best to get to know the faculty. And by the end of year, he hopes to walk around the hallways and call the students by name.
"It's going to be about building relationships, supporting teachers and their spaces and making sure you guys are well-supported and that you have a voice," he said.
Like Ashton, Murray will be leaving behind a school he loves greatly, but he is thrilled to begin a new chapter of his life. His family is referring to this opportunity as "a big adventure."
"I can't wait to get to know Dallas; it's a new city for our family," he said. "I have a tendency to stay places, and I hope to do the same thing here and find a home here."
– Claire Fletcher and Inaara Padani