Dear Zayn Malik
Dear Zayn Malik,
Will you marry me?
But in all honesty, my email is [email protected]­day.org—feel free to hit me up.
The first time we met was in March of 2012. I was in the eighth grade, and you were 19 years old. It was basically love at first sight.
During spring break, my friends and I waited in line for more than four hours to win tickets for y'all's meet and greet. The day eventually rolled around. We were ready to meet our future husbands.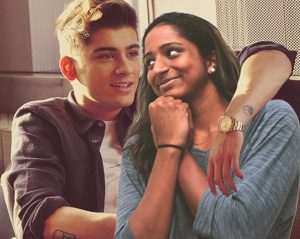 I remember tearing up when the security guard opened the door for me and said, "your turn." Everything in my life had built up to this moment. Album in hand, I walked in calmly–careful to make my first impression un­forgettable.
I casually said "hi" to Liam and Louis and gave them high-fives before I got to you. And then, we finally met. We made eye contact for a solid three sec­onds before I literally became faint. Everything started mov­ing in slow motion, and my vision had become somewhat impaired. I tried to act relaxed, but it clearly didn't work.
"Are you okay, babe?" you said to me.
No, I was not okay. This was all too much for a mere eighth grader to handle. But I decided to play it off cool.
"Ye-hes," I replied.
You held up your hand for me to high-five, and at that exact same moment, I swear I heard the angels singing from the heavens.
But now the year is 2015, and we have both come a long way since then. I grew a few inches taller, you got a few tat­toos. I left middle school, you left your band. But hey, no hard feelings.
After being in the spotlight for five years and producing four albums, it is somewhat understandable that you have decided to call it quits. You left the band to become a "normal 22-year-old who is able to relax and have some private time out of the spotlight." While this seems somewhat impos­sible to do considering your fame, on behalf of all the for­mer One Direction-obsessed middle schoolers, we wish you the best of luck.
XOXO,
Manisha
– Manisha Ratakonda