This issue marks the last one for the Fourcast se­niors. In honor of that, as some of us prepare to jump into the next chapter of our lives (college!), we're focus­ing on how our perspectives of Hockaday have changed since freshman year.
No one truly knows the benefits of all girls' education quite like those who have expe­rienced it. However, often the benefits are not truly under­stood or appreciated until the final year of all girls' school— or even after graduation.
In our first few years of at­tending Hockaday, we started out narrow-minded: most of us were embarrassed about at­tending an all girls' school. Our judgments of our environment and of each others' differences are what separated us into pet­ty high school cliques. In those first years, we lamented about having to go to school with only girls—notoriously the gender that is the cause of all drama (not true).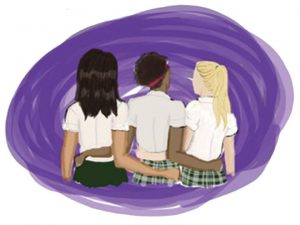 The journey to senior year is diffi­cult but reward­ing. In this year, we start to be­come proud of our all girls' edu­cation. It continues to con­tribute to the strong and confi­dent girls that we are. By our final year in high school, our growth as a class reaches its apex: at Allaso, we mend old dis­agreements and speak freely about our love for one another in a no-judg­ment zone.
Somewhere in the timeline of senior year, we realize that we're all on the same team. We don't resent each other for being different. Cliques be­gin to break apart; they're replaced with an unspoken bond between each girl in the se­nior class. We're fi­nally able to love and appreciate the disparities that make each of us unique, interesting and special.
As cliche as it sounds, when you enter Hockaday, you don't just enter a school. You enter a sisterhood. Underclassmen: you may not be able to understand this idea right now, but just wait. By the end, you'll understand just how much you got out of Hockaday. With each experi­ence as a class, we learned how to trust each other. We learned that these are the people we can count on: the 122 sisters that can pick us up when we're so sleep-deprived that we can barely move; the sisters that back us up in arguments (albeit Facebook arguments) over sexist or jaded beliefs; the sisters who all face common struggles (like body-image and self-esteem), yet still come out unscathed and stron­ger. Having 122 sisters to count on has made it all worth it.
– Elie MacAdams